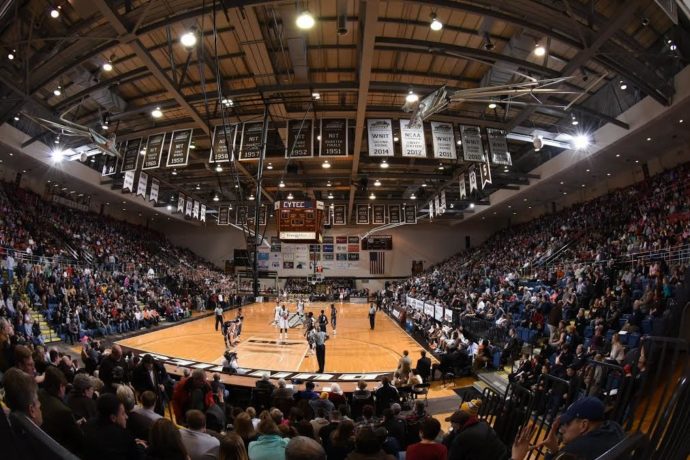 Streaming Q and A: With Steve Mest
On Saturday afternoon the Bonnies played their lone exhibition game of the season in the RC and unveiled several new "pieces" including new uniforms, court and video board. While those items were well received by fans, many were left frustrated over some technical issues surrounding the video stream of the game. We turned to Steve Mest, Bonas' Associate Athletics Director for External Relations, with some questions to help paint a more clear picture of the streaming process for basketball games. Below is our Q and A with Steve. 
———————————————–
Q: What happened on Saturday that the game was not available for free at first? Who is responsible for this issue?
A: Saturday's game was not free at the start due to a glitch in the system. It was fixed as quickly as possible, and we restored the free stream. It was a simple fix and it won't happen again.
Q: It seems that these issues occur each season. Did the responsibility parties complete a "dry run" prior to the game to check availability, sound, etc?
A: I do not agree with the assessment that these issues occur each season. Last season we did not have any major glitches. SBU-TV, as I think some fans understand, produces a good percentage of the home games – men's and women's. They are in the very capable hands of professor Paul Wieland, who for many years produced Buffalo Sabres games, and engineer Joe Paciorkowski. Joe and Paul always test their equipment and train their students, who work the games as part of a broadcasting class. But it is impossible to simulate a game. The exhibition games serve as the first test run for the regular season, and we always go into the exhibitions knowing that there may be some kinks to work out. We hope that our fans would understand.
One of the new challenges we have this season is the video board. We've set up a control room for the board on the east side of the arena. In addition to running all of the video board operation from there, we also needed to move our video streaming equipment to that room. In past seasons, that setup was on the west side of the RC, very close to SBU-TV's production truck. The new control room requires a much longer fiber run from the truck to the video streaming equipment. All of this was tested, and we did not see any problems. So the audio loss on Saturday surprised us. The video board, for obvious reasons, was our priority since it was installed in July. The board requires a tremendous amount of skill and manpower to run. We have hired a full time Digital Media Director, Asa Johnson, to create content for the board and to direct operations on game day. Matt Fidurko, a student who's worked here in many roles since he was just a kid, loads content for the board, sets the timing, and makes the switches during the games. We also allocate a third staff member, Ryan McDonough, to create live content for the video board as the game is being played. All of this setup, while it is really exciting, is new to us and brings with it a pressure to get it right. We've spent considerable time this off-season preparing for the start of the season with this new "toy."
Q: Why was there no sound during the game? Who is responsible for this?
A: We did test the sound prior to last Saturday and we felt good that everything was fine. Then we got into the game and lost audio on the stream. We address issues to the best of our capabilities. Sometimes a technical issue comes up that just can't be fixed during a game. Computers are not perfect. These are issues anyone can experience from time to time, but it's very frustrating to us when issues like that arise.
Q: Will all the games be free this season once again?
A: The games that we are allowed to stream, yes. We actually have a full announcement on this topic that was posted on GoBonnies.com Tuesday. The only games we can't stream are George Mason (Jan. 7), Fordham (Jan. 14 in Rochester) and VCU (Feb. 4). The rights agreements with NBCSN and CBSSN prohibit schools from streaming games those networks televise.
It has always been our contention that video streaming, like conventional TV, serves as an infomercial for the basketball program, Athletics Department and St. Bonaventure University. Fortunately, Dan Collins, a trustee and a VP at Corning, has supported this over many years, allowing us to keep the video streaming free. This season, seven A-10 schools are charging their fans to watch basketball broadcasts while the other seven are free. People aren't aware that every game that we stream for free, NeuLion charges us $150. We also have staffing and equipment expenses. So there is a substantial cost to St. Bonaventure to stream the games. Without Dan Collins' support, we would have to switch to the pay-per-view model.
Q: Would the school be able to provide an HD broadcast if they charged all viewers all season?
A: In theory, yes. You need to jump to the next answer for the full story.  But let's just tackle this question first. Last year, we averaged 1,453 viewers per game. So if we charged $4.95 per game (the standard daily rate set by NeuLion) times the 14 games, the gross revenue would be $100,692. After NeuLion's share, the A-10's share and after we pay our expenses, St. Bonaventure would net about $60,000. And that's assuming we don't lose viewers by changing from the longstanding free model to a pay-per-view model. I believe we'd lose a good percentage of the viewers who have become used to the free model; how many is impossible to predict.
Q: If not, has the school considered upgrading to that and do you know the feasibility, price-wise of that improvement? Many fans have said they'd be more than willing to pay over $100 a season if it resulted in a better product.
A: We have looked at what it would take for Athletics to produce its own HD broadcast for basketball that would meet our standards. The price tag starts at $100,000 and could easily exceed that mark. I think there is a common misconception that anyone can set up a stream for a minimal amount of money. That may be true for something like a U-Stream, but to produce a TV-quality broadcast, it takes a six-figure investment on the front end. Having said that, our desire is to continue the existing partnership with the Jandoli School of Communication. The learning lab this partnership creates for students is invaluable. It's a great drawing card for prospective students and prepares our current students well to break into a very competitive job market. This model works well for us and certainly it is also working at other universities. The J-School is currently planning for a completely new broadcast lab. This will replace the old GameCreek video production truck that sits outside the Reilly Center and all of the SD equipment that SBU-TV uses, which is so badly outdated. I want to emphasize that fact – the SBU-TV equipment really limits the production. It's like using peach baskets instead of modern rims and nets. The projected cost of a new production facility and HD equipment is $2 million on the low end. Hopefully, that money can be raised soon, possibly as part of a capital campaign. The planning is on-going and I'd expect it will go public in the next six months. However, this leads into your next question.
Q: Who is responsible for what when it comes to broadcasting a home game? What does SBU produce, what does the league provide? What about NeuLion?
A: The Athletics Department takes the broadcast feed and routes it to NeuLion, which operates the A-10 Digital Network. That is really Athletics' main role.  The Atlantic 10 subcontracts the digital rights to all Conference games. This year, NeuLion has those rights again. The digital/video staff of the Atlantic 10 oversees the operations and troubleshoots any problems in that chain. As I outlined before, SBU-TV produces some men's games; this season, they have two games – this weekend's home opener is their last men's game of the season. After that, we stream the feed provided by TV outlet who has the rights to the game: Time Warner SportsChannel has six and American Sports Network has five. So the previous question about HD is not a factor when we are talking about those 11 games. What this should show you is the complexity of the streaming. Things change from week to week, game to game, depending on whether we are working with SBU-TV, TWSC or ASN. So, the responsibility to get the games to the end viewers is shared among all the parties. It is a fairly complex system, and it requires multiple people working together to ensure it runs smoothly.