Four Mile Brewing Post Game: 90-84 win over Buffalo
The Jump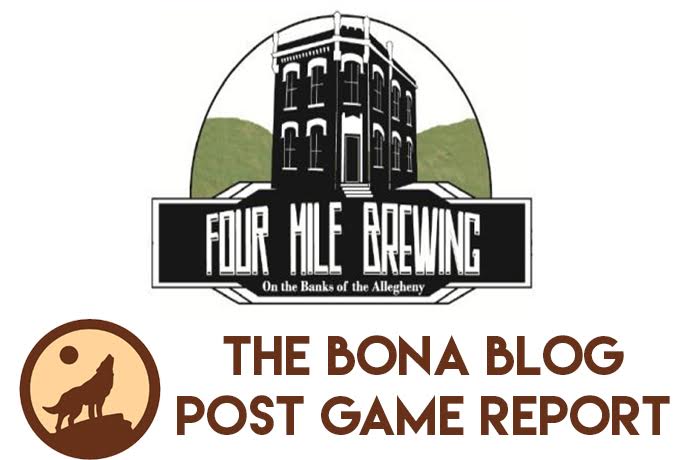 In a game that should have been a lot less stressful than it was, the Bonnies downed Buffalo 90-84 at the Reilly Center on Saturday, earning their forth win a row and improved to 5-2 on the young season. The Bonnies received 29 points from Jay Adams and 16 from Idris Taqqee, and held off a Buffalo team that would not go away until the final possession. Taqqee drained four straight clutch foul shots to close out the win in a game that the Bulls nearly stole thanks to their red hot three point shooting in the final minutes.
The Bonnies had a 48-35 lead at the break thanks in large part to 18 points from Jay Adams. At the break the Bonnies were +6 in turnover margin, -8 in points in the paint and oddly enough, had grabbed 12 offensive rebounds compared to 11 defensive ones. SBU ended the half on a nice run and it looked like they'd continue to pull away over the final 20 minutes but, no such luck for those fans with heart conditions. This one was going to be hotly contested.
Buffalo climbed back from that 13 point hole and would eventually cut the lead down to two possessions on a number of occasions before getting it to just three points in the final minute plus. But, forced to foul, Taqqee knocked in four freebies in a row and the Bonnies used a press/zone to force a traveling call with 14 seconds left to essentially seal the win. Buffalo would make 12-27 threes on the day, and received huge games from "knowns" Blake Hamilton (20 points) and Nick Perkins (24 points). 
All's well that ends well but this one was much closer than any Bonnies fan would have imagined at the half. SBU entered the game as a 10 point favorite but like Siena, the Bulls proved they were up to the task in the Reilly Center. Now, the team takes their two home wins and packs up the bus to Hofstra for their only remaining non-conference road game of the season on Tuesday night.
This was a great win on a day where the 1977 NIT team was honored and Gregg Sanders #53 was hung in the rafters and retired. It was incredible seeing the emotion and joy on Sanders' face as he spoke and was spoken of, as the jersey was revealed. I could not help but think that Sanders would likely not have been there today if not was not for the work of Vinny Pezzimenti and his stories on here last year. Vinny was able to find, and connect with Sanders, when it seemed no one else could. His name won't be mentioned in any athletic department letter or speech but those who read this site know that Vinny had a huge hand in what happened in the RC today. Great work, Vin.
5 Takeaways
Jay Adams, the Consummate PG-

Jay Adams went absolutely nuts in the first half scoring 18 points and knocking in a number of deep three pointers; the usual really. I even tweeted that it felt like he could go for close to 40 points on the day. As it turns out, Adams spent most of the day making those around him that much better in finding them open looks. Adams did a great job recognizing his double teams and had quite possibly, his best overall game as a Bonnie from a film perspective. Adams was exceptional at getting into the lane and drawing defenders only to pass the rock off to open teammates (Often Gregg, Andoh and Ayeni) for clean looks. Jay finished the day with a line of 29 points, 8 assists, 4 rebounds. It was a great performance by a budding star.

NY Basketball is Alive and Well-

Bonas battled and held off Siena this week to take back the Franciscan Cup for the first time in four years and was pushed to the limit today by a good UB team. Non-conference games tend to lack juice but these two have been really fun to watch and the teams seem to have a genuine dislike about them (in a good way). This game was chippy at times, there was some trash talking, and the Bulls would not die no matter how many punches the Bonnies threw. The more games we can see like this among the NY teams the better, because they're great for the teams and the fans. 

Supporting Cast is Front and Center

– We've had to call for the supporting cast if you will, to step up and aid Matt Mobley, Jay Adams, and to a lesser degree, Denzel Gregg. Well today, we got just that on an afternoon when Mobley (9 points, 6 assists, 5 rebounds, 2-8 shooting) was human. Idris Taqqee posted 16 points and 7 boards, Josh Ayeni had 10 points and 5 boards and David Andoh had 12 points and 5 boards. Ayeni and Andoh were deadly at times in pick and roll/pop situations and you can tell that David is getting better health wise as time goes on. 

Offense is Alive and Well-

The Bonnies have scored at least 80 points in their four straight wins and are averaging 90.5 points over that span. SBU won a close game today without relying on Matt Mobley and got big efforts from up and down the floor. David Andoh looks better each game offensively and, if Idris Taqqee stays within himself and starts hitting open looks from 3, he will become even more dangerous. Josh Ayeni also looks more impressive with each game and has a deadly 15 foot jumper and is superb at the foul line. SBU currently ranks inside of KenPom's top 50 teams nationally in offense (43rd). Not bad for a club that lost Dion Wright and Marcus Posley….Not bad at all. And if they can eventually add Kaputo and get anything from Obokoh… 

Credit Buffalo-

This was a game that to be honest, I thought was over at half-time. Bonas had flexed their muscles, gained a 13 point lead and I thought that was all she wrote. Playing at home I thought Schmidt's team would "curb" (his saying) the Bulls and end this thing with 10 left. But Nate Oates team would not die and they fought until the end making some completely ridiculous shots in the process. This was a fun game to watch and had me thinking of the famous Maryland-Duke 10 point meltdown back in the day when Jay Williams went off with Steve Blake fouled out for the Terps.
Other Quick Thoughts
As noted above, Taqqee air-balled a wide open corner three to start the game. He's going to get these looks this season, the more of them he knocks down the more dangerous he becomes as a scoring option to keep other teams' honest.

Has Matt Mobley taken a three pointer inside of 26 feet? He seems to prefer the NBA and beyond three pointers only. 

Denzel Gregg's short 2 game double-double streak came to an end today but he played well and had some huge blocks to get the win…his two alley-opp dunks were highlights of the game.

David Andoh knocked in his first 3 ball as a Bonnie but more impressively scored twice taking his man off the bounce. He looks like he's going to be an offensive weapon given his smooth jumper and re-emerging athleticism coming back from surgery.

SBU did fine work doubling the post early and looked best when going to their 2-3 zone. Schmidt has shown more of a willingness to play zone this year.

SBU had three or four turnovers that were totally unforced where they threw the ball into the scorers table or crowd. Not a great look. They've got to cut down on the those unforced errors vs. better teams, especially on the road. 

Mobley was held scoreless until 7:24 in the first half. His three ball bounced high off the rim and in. He made just 2 shots today.

Josh Ayeni showed teams today that if he's open, he will shoot it and he can make them pay. Great to see a freshman big man taking 11 shots and making 4 of them. He's a good one.

How about that 30+ footer from Adams with the shot clock winding down in the first half? How many times have we seen this from him? Wow. 

SBU had four turnovers in the first half, then four in the first five minutes of the second. They finished with 14 but forced 20 from UB.

Jay Adams was held scoreless in the second half until the 5:50 mark when he made 1-2 free throws. He then snatched a steal and converted a lay-up under a minute later.

Blake Hamilton can flat out play. Some of those UB three balls were almost comedic in fashion.

UB's length was a factor today on the defensive side of the ball.

SBU's defense will have to be better if they want to win on the road vs. Hofstra. They need to tighten up on the perimeter and do a better job keeping guys out of the lane as well. Rotations were not great today.

SBU was favored by ten in each of the last two games and failed to cover. I was surprised the line was that high in both and each time picked the Bonnies to win by 7. I've been nearly spot on (didn't see us scoring 90 today though…) 

It's early, but the SBU defense is ranked 80 spots higher this year than it was a year ago. An improvement on that end no doubt to this point….though the last two games haven't been stellar efforts. 
Moment of the Game: A few options to choose from but I'm going with Idris Taqqee's foul shots to ice the game in the closing moments. Taqqee was a 44% FT shooter as a freshman and a 63% shooter last year. Now he's knocking them in at nearly 90%. Incredible work on his part. A great kid whose worked his tail off and is seeing it pay off in games. Well done Idris. 
Stats: (Taken via Gobonnies.com tracker)
Up Next: The Bonnies go on the road for the final non-conference away game of the season at Hofstra on Tuesday at 7PM. Hofstra is 5-3 and plays tonight away at Florida Atlantic. After they face the Bonnies they take on #1 ranked Kentucky. 
Quotes From Coach:
"I thought it was a great college game. It was a great environment. The '77 team coming back brought a lot of attention and a lot of excitement. This place has great tradition… his shows how important Bonaventure basketball is. Our job was to go out there and give them a good show and make them proud. I thought we did that. We didn't play a perfect game, but we found a way to win."
On players other than Adams and Mobley scoring: "It's going to be important as we go forward. They're gonna look at our team and try to take away our guards (Mobley and Adams) and our role players have to step up and we certainly have a lot of confidence they can. I thought [Idris Taqee] played terrific. Denzel has been doing this all year. Josh hit those elbow jump shops. When they try to take something away, we have those other guys we can go to and when they have the success they had today it gives them confidence. This game can only help us as we go forward."