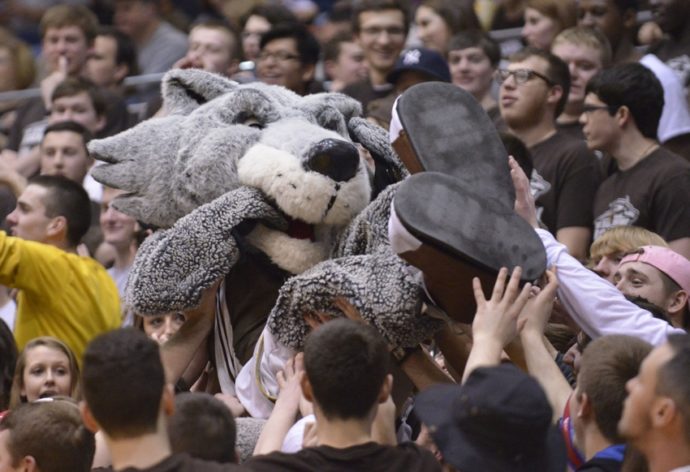 Is Saturday the Biggest Non-Conference Game in "Years"?
We had quite a few folks inquire on Twitter following the Hofstra game, if Saturday's contest with UNCW is the biggest Bonnies non-conference game in "years".
Someone even went as far as to wonder if it could be the biggest non-conference game this decade? That seemed a bit rich to me, but figured we should do some quick homework on the question and find out the answer.
Yes, the Bonnies faced a top 25 caliber team in Florida on the road in game two of this year, but as you'll see below, that game doesn't quite fit for me here. For the same reasons, I don't think the Bonnies loss last year at Syracuse was quite as big either. Also, consider the fact that losing a road game to a top 25 team isn't nearly as damming a losing a home game to a team from the CAA, MAAC, etc. When I think about "biggest game" I think about a game you can't lose (or would really prefer not to lose) while riding a lot of momentum with high stakes. For those reasons, again to me, the Florida game and the Syracuse games were not as "big". Would they have been huge road wins? Yes. But, if you lose those games no one says anything. I think Saturday's game is so interesting because it's the rare non-conference true home game where SBU is both on a roll, and the foe is a real, quality mid-major who is as good as the Bonnies. That's why this game has so much juice. 
Sure, SBU has faced bigger names, better teams and done so on the road or away from the RC. But, I believe the question being asked is really this: In relation to our recent winning streak, current talent level and season expectations, is this the biggest game we've had? I think the Florida game wasn't as "big" if you will because we were only 1-0 and we didn't feel like we "had" to have that game. If you're talking NCAA bubble conversation, this weekend's game is more important to win than the Florida game, IMO.
This is clearly a tough topic to rank, but let's give it a shot.
Let's take it in reverse order starting with last year's season and pick out the biggest non-conference game in each year and compare it to this weekend match-up with the 7-1 Seahawks. We will use KenPom rankings at the time of the game in this article. 
2016
The Bonnies had won four in a row, were 7-2, and headed into their game with Siena (128th) on December 22nd. They were a two loss team (Syracuse and Hofstra) and we didn't know it at the time but this loss to the Saints may have been one of the biggest blemishes on their NCAA resume. They'd lose the game by three points. This game is slightly bigger, but it's close. Again, for reasons above, I'm not counting the Syracuse game.
2015
SBU was 6-1 and riding a five game winning streak heading into Pittsburgh (78th). The Bonnies had already beaten a top 60 team in Buffalo and were anchored by the play of Posley, Ndoye Dion Wright. Jay Adams was beginning to emerge and the Bonnies nearly won this game in the final moments. This is also really close, I think it's a toss up to be honest with you. 
2014
The 3-0 Bonnies traveled to #164 Siena and lost on November 19th. Not close.
2013
No games worth considering in this 14-15 season. What a disappointing year this was.
2012
Andrew Nicholson led a 3-3 Bonnies team into 76th ranked Illinois on December 7th, the team would fall by a final of 48-43 in a game many thought the Bonnies needed to ensure a quality NCAA resume. SBU had already lost to Cleveland State (80), Virginia Tech (83) and Arkansas State (195). This game is bigger because SBU was only 3-3 at the time and I don't think expectations were quite as high as they are now.
2011
Coming in at 4-2 SBU traveled to 41st ranked St. John's for a true road game. An Andrew Nicholson virtual buzzer beater would lead the Bonnies to a one point win. Unfortunately, the Bonnies would next drop a home game to brutal Niagara (301st) by eight points. This game is bigger because of the expectations of the team at the time. 
2010
At 2-1, with their lone loss coming against St. John's, the Bonnies headed to a tournament featuring Southeast Missouri State, Norfolk State and Illinois State. They'd win the first two but got tripped up by 89th ranked Illinois State on a neutral floor. They'd finish the year 15-16. Not nearly as big.
2009
SBU is 7-3 and aided by a budding star in Freshman Andrew Nicholson, they take on 75th ranked Niagara at home. Bonas has already won at Rutgers (149) and downed a solid Robert Morris team (145) at home. In this test against the Purple Eagles the Bonnies are blown out in am 83-65 loss. SBU would win three in a row following that loss and finished the season 15-15 in what was probably the year that began to turn around this program. This game was important but again, given that SBU was coming off an eight win season, not as big.
————————————–
So, we've gone back to 2009 and there's no point in going back much further since we know there was never a big non-conference game under Anthony Solomon, or during Mark Schmidt's first year as head coach.
But, If you go back to 2002, you will find a game bigger than this weekend's one vs. UNCW.
The Bonnies, led by J.R. Bremer and Marquis Green (oh look, another all-time back court) were red-hot at 7-2 and heading to UConn against 18th ranked Connecticut. SBU's losses to this point were against 71st ranked Boston College and 5th ranked Oklahoma (remember I'm using KenPom rankings, not AP).  SBU would down the Huskies, crushing them by 18 points and put themselves on the national map.
Unfortunately, they followed that win up with two loses (one to a great Kent State team) and finished the year 17-13.
So, I believe the answer to this question would be that this weekend's game probably is the "biggest" since December 28th, 2002, but we've had close ones in the most recent years. If you don't think it's the biggest you'd have to agree it's the most intriguing match-up in the RC between two really high quality teams. 
Let's see if the Bonnies can't continue this winning streak and make it six in a row before they face the "weaker" portion of their non-conference schedule. The RC should be rocking on Saturday.