Four Mile Brewing Pre Game: at St. Louis (5-12, 1-4)
By: Mike Morgan and Ian Nolan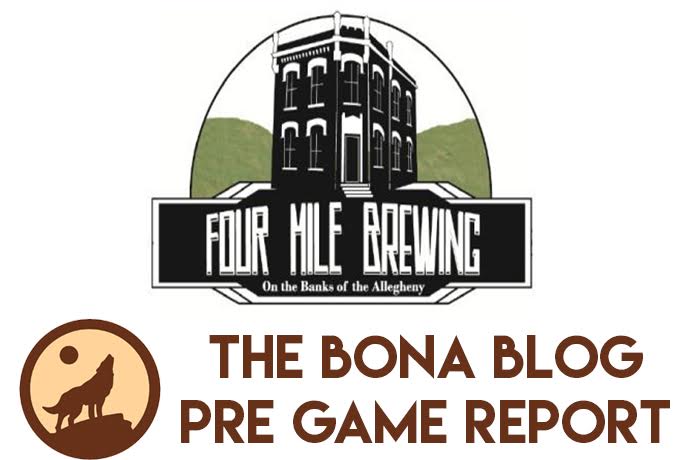 The Skinny on Saint Louis: The Bonnies travel to St. Louis to take on the St. Louis Billikens tomorrow night and game will tip off at 8 pm.  The Billikens are coached by Travis Ford, who is in his first season in St. Louis, taking over from Jim Crews who was fired at the A10 Tournament a year ago after succeeding wildly than failing miserably. 
Ford is no stranger to the Atlantic 10, having spent three seasons at UMass from 2005-2008 before departing for greener pastures, if you will, at Oklahoma State.  Ford was the head man with the Cowboys for eight seasons, making five NCAA Tournament trips and finishing one season ranked as high as 17th. Last season, Ford's club finished 12-20 and it was clearly time to move on for a coach who has the reputation of wearing out his welcome a bit (fair or not). SLU has an opening and Ford was a fit. 
Ford's UMass' teams always played the Bonnies tough but the Minutemen personnel was much stronger than the current roster he inherited at Saint Louis this year. SLU is coming off an 11 win season and the year before last they won 11 games as well. This after years of running all over the A10 with a loaded class. I can't think of a program that has gone from so good to so bad this quickly. 
So, needless to say St. Louis has fallen on some tough times in recent years and are shell of their former selves. It is really amazing to think that this program won 28 games in 2013, 27 games in 2014 and then just fell flat on their faces. Those classes with players like Dwyane Evans, Jordair Jett, Cody Ellis, Kwmain Mitchell and the like were the reason the Billikens made a winner out of Jim Crews. When they departed it became clear that either Crews couldn't coach or he couldn't recruit but either way he had to go. 
Currently, they SLU sits at 5-12 having dropped their first four conference games before defeating George Mason on the road Saturday (kind of shocking).  None of the Billikens first four conference losses were very close (21 points on average) and they find themselves tied for last in the Atlantic 10 as of today. KenPom projects their record to finish around 8-23 so they likely don't have many wins left in them; let's hope that tomorrow isn't one of them. They're ranked 307th by his system making them far and away the league's worst club. 
St. Bonaventure has won the last four match-ups against St. Louis including one on the final night of the season a year ago to gain a three-way share of the A10 title.  The Bonnies are 3-6 in games played in St. Louis during the series.  SBU won by nine last year with Jay Adams scoring 23 points and Marcus Posley adding 18. 
The Billikens are lead by Jermaine Bishop, however he has not played in the last eight games due to an ankle injury and he's not expected to play tomorrow either. Statistically, he still leads the team in points, assists and steals per game even while sitting on the bench. If SLU couldn't score with him, forget it without him. 
Freshman Jalen Johnson has really stepped up in Bishop's absence and has been a bright spot for St. Louis this season. He is coming off a double-double to help the Billikens defeat George Mason this weekend where he finished with 17 points and 10 rebounds. Johnson is a 41% three point shooter and shoots just 33% from two; a theme with this club…they can't score. His 17 points vs. Mason were a career high. 
Another big known is senior Reggie Agbeko.  The Buffalo native has been on a tear lately while coming off the bench for SLU (Man I would have loved for this kid to be a Bonnie).  He has made 68% of his shots over the last two games while leading the team in rebounds at 8.2 per game. Agbeko is 76th nationally in defensive rebounding percentage so he cleans up on the glass and will be tasked with keeping SBU off the window on that end. He's a monster on the boards and a presence in the paint as well. 
Keep an eye on Davell Roby and Mike Crawford.  These two Billikens combine for nearly 20 points per game, which is 1/3 of their entire offensive production. Roby though is just a 39% shooter on 2PT shots which is hard to fathom and his true shooting percentage of 51% leaves something to be desired for sure. Crawford has scored in double figures seven times this season but has come on strong of late, collecting ten points or more in three of their last four games. He shoots a horrid 21% from deep but will take those shots when open (1-4 vs. Mason). He's a guy you hope just keeps shooting and missing from deep. 
St. Louis comes into this game as one of the worst teams in the Atlantic 10 statistically.  They are last in the league in field goal and free throw percentage, while averaging 61 points per game; also dead last and five full points behind Fordham. They have not scored above 66 points in their five conference games so far. They are ranked 337th nationally by KenPom offensively and just 179th defensively. SLU's 2PT defense is one of the worst in America and their effective FG% isn't much better.
All in all Saint Louis is a really poor team who SBU should hammer; be it home or away. That's a fact. You can talk about it being a "tough road game" all you want but the fact of the matter is the Bonnies are significantly better and should win somewhat easily. 
Whether or not the Bonnies turn the trick in under the Arches is another story. Players are players and no robots so anything is possible, but on paper, this is a game Bonas should not lose, or come close to losing…Jay Adams or not. 
My phone tells me SBU is opening up as a 9.5 point favorite on the road. If that doesn't tell you how bad Saint Louis is I don't know what does. Don't get used to it though, Ford has assembled one the best recruiting classes in the country this year…how? I have no idea. 
Stats: 
Three Things to Watch:
Bonnies picking up where they left off – Jaylen Adams hasn't played in the last two games while the team has gone 1-1 in his absence. SBU has had mixed results in those two games as they struggled to score vs. Richmond but had no issues at all against a good-ish Fordham defense on Saturday.  This is an incredibly winnable game for Mark Schmidt's team even without Adams in the lineup due to SLU's poor offense.  If Adams can't play, it is crucial that the strong effort that was exhibited in the second half against Fordham comes out in St. Louis. If the Bonnies shoot it like they did against Fordham (50% from 3, 53% from 2) I can promise you this game will not be close…as long as they don't cough it up nearly 20 times and play absolutely no defense. 

Jay Adams health – Just as with our Fordham pre-game, this shows up in this column too. It is possible that even if Adams is say 85% that maybe Schmidt holds him out and waits for the full 100%.  If the Bonnies pick up their pace from the Fordham game, everything should work out and Jay doesn't need to risk anything by playing.  But, the trip to St. Louis is always tough and the Billikens have played SBU tough their in the past. I thought Adams would be good to go on Saturday and obviously he wasn't. If he's held out of this game I may begin to wonder if the injury isn't more serious than we originally thought. Still, this is a game the Bonnies should win even without Adams so let's not make excuses before or after the game here. 

Keeping Agbeko off the glass – SLU doesn't rebound too well but when they do, they are successful overall as a team.  Reggie Agbeko is one of the league's best rebounders (2nd, 8.2 per game) and if he allows St. Louis to continue to get second chance opportunities, this game might be closer than you'd think. He can also keep the Bonnies off the offensive glass as well, limiting our second chance opportunities. It would be great to see Josh Ayeni have back to back great games and hit the glass again against Agbeko, but that's a tall order. 
Three Things That Will Happen:
 Bonnies will out-rebound St. Louis by 10+.

 SBU will get hot from three – Look for 40% plus including at least seven three pointers.

 Bonnies D will force 15+ TO's and hold SLU to 63 points or less.
Twitter-Length Closing Take: The Bonnies take it to St. Louis early and often (with or without Adams) and keep it rolling earning their first back to back wins in the league this season. 
Prediction: SBU 73  St. Louis 61