Four Mile Brewing Pre Game: Vs. Saint Joseph's (9-9, 2-4)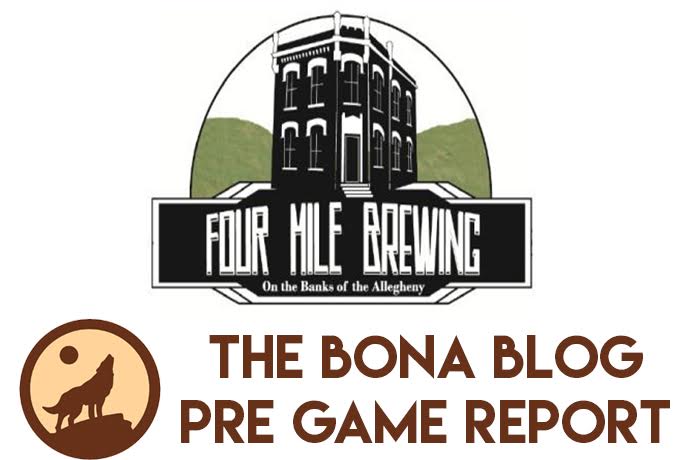 The Skinny on Saint Joseph's: The reigning Atlantic 10 Tournament Champions make their way to Olean tomorrow evening as old friend Phil Martelli's Hawks take the floor of the Reilly Center.
Saint Joseph's is currently 9-9 and 2-4 in A10 play. Believe it or not but the Bonnies have beaten the Hawks five straight times, most recently dropping 98 on them in Rochester a year ago when Marcus Posley scored 47 points. What a time to be alive.
SJU just snapped a three game losing streak by beating UPenn on Saturday. Previous to that, the Hawks had dropped contests to UMass, Richmond and Mason after beating Fordham by 15 at Rose Hill. 
These aren't the Hawks of a year ago, not even close.
Phil Martelli lost NBA first rounder DeAndre' Bembry as well as another A10 Player in Isaiah Miles who was the most improved player in the conference a year ago. A year after having the 32nd ranked offense in the country the Hawks are now sitting just inside 200, learning that replacing firepower isn't as easy as Mark Schmidt is making it look this season. The Hawks were a special team a year ago and right now there's nothing special about them at all.
To make matters even worse for SJU, they lost junior guard Shavar Newkirk for the season with a knee injury a few weeks ago. Newkirk had been SJU's best offensive player by quite a wide margin, and so a team that already struggled to score the ball took another hit. Since his injury, the Hawks have scored 58, 70, 67, 66, 57 and 71 points….averaging 64.8. He was a massive loss and we wish him the best in recovery. 
Further, Newkirk was also their best 3PT% shooter by a mile (39%), so the Bonnies dodge that bullet from behind the line. They should really be able to pack it in tomorrow night…at least to start the game. 
Filed under "good news for the Hawks", they did get back 6-6 junior wing James Demery for their A10 opener after he missed every game aside from their opener against Toledo. Demery is deceptively quick for his size and gives the Hawks some defense and rebounding help on the floor. He's never been a good three point shooter, but he's really struggled to shoot it inside the arc this year as well (44% compared to 57% a year ago) so expect the Bonnies to sag off him early and give him some looks. He's scored in double figures in five of their last six and is their best weapon heading into tomorrow. Also, he's not worried about the RC fans as evidence from this now-deleted tweet that was sent to the blog via a reader. (No idea with ION means….)
In short, the Hawks are a poor offensive team that simply doesn't have the weapons to really scare you defensively. They rank 312th in three point shooting, 252nd in 2PT shooting and 293rd in foul shooting; add it up and you get a team that simply struggles to put the ball in the basket. SJU ranks 295th in effective FG% (SBU ranks 96th, FYI) so the margin is quite drastic. Don't expect this to be a game where SBU's loses some high scoring affair. If the Hawks score over 75 points it's because the Bonnies simply didn't defend. 
Defensively the Hawks are still a top 100 team and could pose some challenges to the Bonnies if they can stop Mobley and Adams from knocking in threes.
The Hawks don't defend the three point line particularly well (36.3%), don't take the rock away whatsoever (286th), but are forth in defensive rebounding percentage (.732). SBU's guards will likely have plenty of open looks from deep based on the Hawks' past perimeter defense and it won't shock me if Adams and Mobley combine for upwards of 18 three point attempts. If the Bonnies are knocking down shots from deep, such as they were vs. SLU, this game could get away from Martelli's boys. 
If the Hawks are going to win this thing it's going to be because they turned the game into more of a defensive grind-it-out affair. Martelli will want to muck it up as much as possible, slow down the games' pace and make the Bonnies beat him in a game played in the 60's. Meanwhile, Schmidt and company believe that if they can play well enough offensively, get the game into the mid 70's there's a great chance the Hawk's can't hang with them; and they're right. 
Stats: 
Three Things to Watch:
SBU's Defensive Effort: The Bonnies have held their last two foes to 52 and 53 points respectively and have a chance to hold the Hawks under 60 points tomorrow. Granted the effort was less-than-stellar in the 2nd half of the SLU game, but they had to score at some point. It would be great to see Schmidt's guys put together three really solid games defensively at this point, as it could signal a turn in the right direction on that side of the ball.

Three Point Shooting: The Hawks really struggle to defend the three point shot, and the Bonnies love to take, and make them. I'm not saying that SBU will pour in a dozen like they did vs. SLU, but I'd be stunned if they didn't attempt 25 of them and make a good percentage. This is the type of game where on paper, it looks like the Bonnies could win the game entirely by making threes, and preventing SJU from doing the same (They shoot 31%).

Don't Let Em' Hang: No one ever looks past a Phil Martelli led team but this year's version simply isn't that strong and given that the Bonnies have the students back in the building, they should be a somewhat heavy favorite (Seeing -7) today. SBU needs to come out with the same energy they did against SLU and try and get the Hawks to stop flapping their wings early on. I don't expect this thing to be a blow-out by any means, but I do think the Bonnies could have a "comfortable" lead with under six minutes to play if they don't lay an egg. 
Three Things That Will Happen:
Bonnies will hold Saint Joseph's under under 34% three point shooting and under 70 points.

SBU will knock down 38% or more of three pointers, dropping in eight or more deep balls.

Idris Taqqee has a fine game against the Hawks again, and records at least 12 points, 5 rebounds and three assists. 
Twitter-Length Closing Take: The Bonnies have had the Hawks' number in recent years and this year's battle in Olean will continue the trend of SBU's dominance over SJU. SBU turns in another solid defensive effort and wins their third in a row before dealing with URI on Saturday.
Prediction: SBU 75, Saint Joseph's 67.