Four Mile Brewing Post Game: Bonnies 67, St. Joe's 63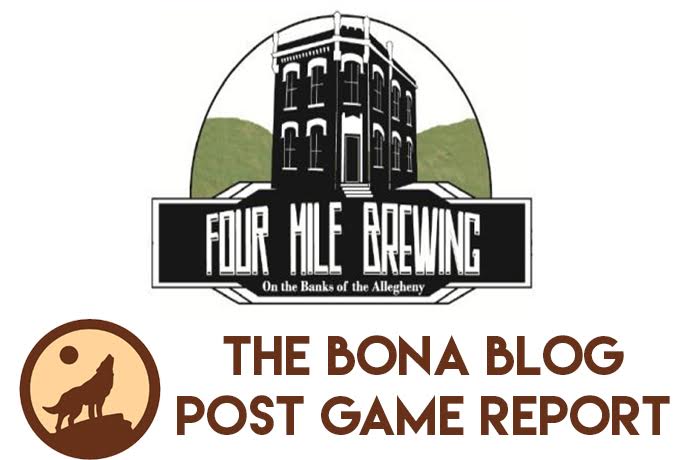 Quickly
The Bonnies entered tonight's contest a 10 point favorite against the undermanned Hawks and seemed poised to back together back to back solid defensive efforts and move to 5-2 in the Conference. It seemed their sixth straight win against SJU would come much easier than the previous five.
However, by halftime the Hawks, who had one of the weakest offenses in the league, were pouring it on the Bonnies as they led 42-27. SJU was shooting over 50% from the floor and the Bonnies, who nearly put 50 on Saint Louis in the first half just days ago, couldn't find any sense of flow offensively in the RC and the students. An Idris Taqqee half court buzzer beater kept the smallest amount of hope alive at the break.
However, Schmidt's bunch came out of the locker room and slowly chopped away at the 18 point deficit before finally snatching the win from the Hawks by a final score of 67-63. It was one of the better come back wins you will see in the Reilly Center if I do say so myself. 
The Bonnies are now 5-2 in the A10 and have positioned themselves well for a potential top four finish thus far.
SJU scored just 21 points in the entire second half, while the Bonnies really found their feet offensively and finished with 40 in the second frame. A tale of two halves to be sure; similar to the Saint Louis game.
For the GoBonnies.com recap of this fantastic comeback, click here. 
 5 Takeaways
Tremendous Fight: I will not lie, with just over six minutes left in the game and St. Joe's still leading by more than a dozen points I tweeted that this game was over. Nothing during the course of the game gave me reason to believe the Bonnies would come back and win this thing inside the last half a dozen minutes. But then Matt Mobley came alive, the Bonnies got stop after stop after stop and some more Jay Adam's free throws led to a stunning SBU win at home. Just as I was ready to hammer Schmidt and the team for their noncompetitive play in the first 20 minutes, you have to give them a ton of credit for the way they fought back to win this game in the second half. This was a great character building win for the Bonnies on a night where they simply did not play well for a vast majority of the night. Beating the teams you're supposed to beat at home is one thing, but coming back from down 18 points is another animal and a feat that most teams cannot pull off.
Mobley Comes Alive: Matt Mobley was benched just two minutes into the second half as Schmidt was clearly displeased with the juniors' play to that point as he had yet to score. But like a manager in baseball who knows sometimes you need to let you Ace pitcher battle through a tough inning, he went back to Mobley down the stretch and boy did he deliver. Mobley would knock down some massive threes as well as some lay-ups to really fuel this come from behind win. Credit Schmidt for sticking with his guy and credit Mobley for not giving up during a tough night. He would finish with 13 points and five boards.
It's Great to Have the Students Back: I am honestly not sure if the Bonnies would have come all the way back to win this game if the students were not on campus. The energy in the RC during the final five minutes or so was electric and I believed it helped the team finish the job. When the students are gone the RC is an entirely different building. Tonight they were fired up to be there and despite being quite for most of the game (no help from the team) they finished strong and helped the guys seal the win.
The Defense Stepped Up: So the defensive work in the first half was simply awful. Letting a team with the offensively capabilities of St. Joe's put nearly fifty on you in your building in 20 minutes is truly troubling. But holding them to just 21 points in the second half? That's some great defense. Bonas has now had two great halves, and two really poor ones defensively in the last week. If they want to be elite they need to find a way to put together a true 40 minute defensive effort. This will be needed to beat the top teams in the league, such as URI this weekend on the road. 
The Bigs were Big: Josh Ayeni came off the bench again tonight and scored 12 points while senior Denzel Gregg scored 12 of his own and also hauled in a dozen rebounds for yet another double-double. Ayeni's head-fake followed by a 16 footer jumper was a huge play in this game .While David Andoh gave Schmidt nothing (2 points, 1-6 shooting) the other pivots did some serious damage inside. I'm not trying to beat this point to death but I think it's time to give Andoh's minutes to Griffin. He's not been the same player since conference play and if he's not shooting well, he simply does not do enough elsewhere to be out there. 
Stats
Media Timeout Thoughts
First Half

Under 16: Poor start offensively for the Bonnies as it's 2-2 with 15:48 left. Bonas have already missed two wide open threes and a few other good looks. Martelli has to love this start as his offensively challenged team is holding the Bonnies down early in a big way. Bonas is 1/7 from the field and SJU is 1/6. 

Under 12: It's 16-4 Hawks with 11:54 left after an 11-0 run and a 7 minute Bonas scoring drought. Bonas 2/10 from the field, Hawks 6/12. SJU defense really making life hard right now on Adams and Mobley who can't seem to get into the paint at all. 5 turnovers to this point for Schmidt's team hasn't helped either. Bonas needs to get it under control here and not let this thing go from 12 points to 20 before the next media.

Under 8: Hawks still leading 23-10 here as the Bona defense is now becoming an issue. Schmidt is stomping his feet on every made Saint Joe's basket (They're shooting 52%) here while Bonas is slowly finding their footing offensively. Bonas is 0-6 from three and Charlie Brown has eight points. 

Under 4: Things not getting any better here in the RC. Hawks lead 33-17 and are still shooting it 50% to Bonas 33%. Of course St. Joe's is 5-9 from deep and the Bonnies are 1/7…because of course they are. Bonas is currently getting out rebounded 17-10 and are getting outscored 16-8 in the paint. Big four minutes here before half, need to close this gap to some degree.

Halftime: Hawks lead 42-27. Idris Taqqee made a half court shot at the buzzer off the glass but that was about the only highlight of this half. The Hawks who couldn't throw it in the ocean this season hang 42 on the Bonnies and do so shooting 55% from the field and 6/11 from deep. Meanwhile, also couldn't defend the three and SBU is shooting 2/8 from distance. If Schmidt can't get the defense figured out in the second half the Bonnies have no shot here. This was a stunning first half to say the least; Bonas is 0-5 trailing at the half.

2nd Half

Under 16: Not in a position to trade buckets if they want to win this thing, it's 49-33 with 15:09 left. Brendan Casper who was shooting 15% from deep just nailed one and the Hawks remain comfortably ahead. Matt Mobley, who is 0-2 from the field was pulled 2 minutes into the half in favor of Nelson Kaputo (who also missed a three). Nothing seems to be working on either end tonight for Schmidt's bunch and time is running out. 

Under 12: Matt Mobley finally drains a three pointer (his first basket) to move the Bonnies to 53-41. SBU is hanging on by a thread here in the RC. They need to really get red-hot here to finish this thing and they have to get Mobley going. This is going to take lots of stops and some three pointers. 

Under 8: SBU mounted an 11-2 run to cut the lead down to nine after a Gregg dunk and the RC was rocking with 9:47 to go as Phil used a timeout following an air ball. Mobley would than turn it over, Andoh would miss an open three pointer (and a lay up) and Demery would connect on a lay-in to put SBU back down 11. Andoh's two open misses really hurt here, he's been very poor in conference play. Bonas will need a huge finish to steal this win now.

Under 4: 61-54 SJU with 3:52 left after Mobley drained a three pointer that just dropped in. Bonas getting more stuff going to the rim here late and Mobley looks more confident after his highlight reel dunk. Still, SBU has little room for error and needs stops and scores to pull this out. They fouled Fresh Kimble on the next possession and sending guys to the line is the last thing they can afford to do. Strap in and hope for a massive come from behind win.

Final: SBU cut it to a three point lead with 3 minutes to play after a Mobley three and some Ayeni foul shots; the RC was rocking. This is a 28-11 run for the Bonnies who got it within 1 after a Mobley lay-in. From there the Bonnies kept punching and found a way to not steal, because steal isn't the right word (though I used it earlier) to EARN this fantastic come from behind win. Down 18 the Bonnies didn't give up and kept fighting tonight. I gave up on them on Twitter with six minutes left, but will own it here. What a great character building win for the Bonnies tonight. 
Moment of the Game:  In a game that came down to the wire, let's go with Lamar Kimball's dropped in-bounds pass with six seconds left that down four, gave the ball back to the Bonnies. From there the game was over. 
Player of the Game: Matt Mobley. He was not the most consistent player tonight by any means but when the team needed buckets in the final minutes he did not disappear but instead rose up and took over. Tremendous guts and confidence by Mobley tonight. 
Schmidt's Quotes (Per Gobonnies.com):
"We didn't play well, especially in the first half …we were just stagnant. Even the second half, the goal was to try to cut it to single digits by 10 minutes and we did it one time and they came back … we were dead in the water."
"If you don't have character guys, and tough guys and guys who want to win, we would've quit. It's a credit to those guys to come back and hit the shots that we needed to hit and get the stops. We couldn't have played better in the last five minutes. We found a way to win as a team when we weren't playing our best."
"There are going to be days and games where you're don't play well and those are the games you need to pull out if you want to have a decent year. This was one of those games where we didn't play well, but we found a way. It's a great lesson never to quit and our guys didn't."
On second half: "We changed defenses a little bit and played a little bit of zone. I thought the kids were really active with it. But, the bottom line is that we played harder. We had more passion. We had a sense of urgency that we didn't have for the first 30 minutes of the game. In this league, if you don't play with that urgency, if you don't play with that passion, if you just think you're gonna show up and play, you're not gonna win. I don't care who you're playing."
On Mobley: "Matt needs to score for us to win. He did that. He showed some toughness. He didn't play well for the first 30 minutes, but he kept on working at it. And when you keep on working at it, good things can happen."
Up Next: The Bonnies travel to Rhode Island to face the Rams who are still on the NCAA bubble despite a less than stellar showing in the non-conference. URI sports one of the top defenses in the country again and with E.C Matthews back, have a great back court to pair with big man Hassan Marin. This will be a massive test for the Bonnies who will be serious underdogs in Kingston. The game is on NBC Sports. 
Credit to Steve Harrison Photography for the cover image tonight.