Four Mile Brewing Pre Game: At Rhode Island (12-7, 4-3)
By: Mike Morgan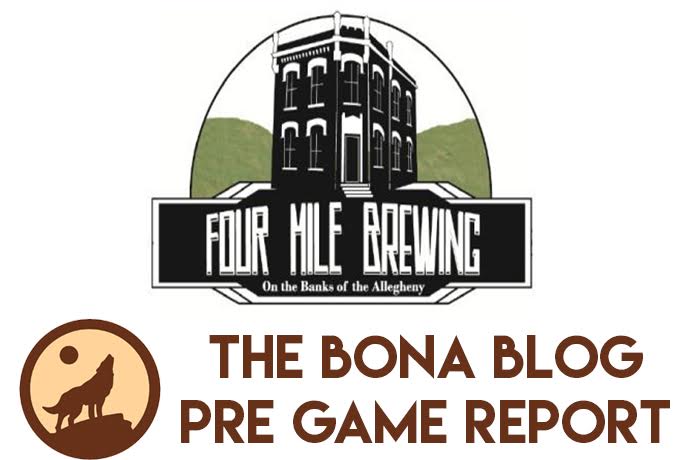 The Skinny on Rhode Island: The Bonnies travel to Kingston to take on the Rhode Island Rams on Saturday afternoon in a critical game for both clubs. The game will tip off at 2 pm.  You can check it out on the NBC Sports Network; always nice to get off the stream and onto the TV.
Rhode Island is coached by Danny Hurley, who is 74-71 in his five seasons and is in the middle of a difficult and disappointing campaign.  Rhode Island enters the game at 12-7, 4-3 in the A-10.  They dropped a contest to Richmond, 72-63 on Wednesday as they trailed from start to finish in a stinker down south. URI's NCAA at-large hopes are just about gone at this point, but they'll still battle for a top four seed in Pittsburgh with our Bonnies and so this is a big tilt. For the Bonnies, it represents a chance to earn their best win of the season, by a mile,and send a message to the rest of the league that Schmidt's club is a serious contender…and not just for a first round bye.
Rhode Island has been going through a rough stretch as of late (Have lost three of five games) but are still a dangerous team given their balance (offensive and defensive) and overall talent level. Of their seven losses, none of have been by more than 11 points and several have been by just a single possessions. They had a very difficult non-conference stretch with games against Duke, Valpo, Providence, Cincinnati and Houston and others but only notched one win in that group. They have been close often, but won little over quality teams. Good news for them is their worst loss is La Salle (112) so they've avoided that resume blemish thus far. 
The Rams are led by junior guard and lefty-shooting E.C Matthews who is averaging nearly 16 points per game a year after missing the entire season with an ACL injury. The Detroit native is on several national player of the year watch lists and is one of the top scorers in the league on the wing. He's their most notable player, but not necessarily their best anymore.
The duo of Hassan Martin (C) and Jared Terrell (G) are really what make Rhody go, averaging 14 and 13 respectively.  This trio (With Matthews) accounts for nearly 60 percent of Rhode Island's scoring.  
Martin scored 17 against the Bonnies last year in SBU's five point victory at the Reilly Center. Martin is also the A-10 leader in blocked shots, even though he has missed five games. Martin's ability to alter shots, defend the paint and act as a safety net for the URI defense allows them to play more aggressive on the wings. He has the ability offensively, to get our bigs into quick foul trouble and really alter this game if he's right. Martin has been dealing with a quad injury for some time and does not always appear to be 100%. When he's right though, he's the Ram's best player, period. 
Terrell is a three point threat and is second on the team in made threes (35%). His 47% shooting inside the arc isn't nearly as good, but he's a big physical guard at 6-3, 215 who can bully you. No one on the Ram's gets to the line more, so he will look attack the rim in order to draw contact.
The last time SBU visited the Ryan Center, they had one of their worst shooting performances in the Mark Schmidt era, connecting on only 35% of shots, yet nearly pulled out the victory thanks to a monster game from Dion Wright. Several Bonnies fouls in the last 90 seconds sent Rhody to the line time and time again, and Hassan Martin had some big blocked shots to seal the five point victory for URI as they completely shut down SBU's guards. This is a real concern heading into the weekend; can the Bonnies avoid that same fate?
Another big known is senior forward Kuran Iverson.  The 6'9'' big is averaging close to a double-double a game and needs to be watched on the rebounds.  He has seven career double-doubles and has scored in double figures in 12 of Rhody's 19 games.  A great rebounder, Iverson is a huge X-factor and could turn the game on it's head if he's engaged. He's a 31% three point shooter at 6-9, so he must be guarded on the wings as well. 
Rhode Island is incredibly skilled at valuing the ball, making teams use the entire shot clock and guarding the perimeter (see stats below). URI ranks 4th in scoring offense, 3rd in scoring defense, 7th in field goal percentage defense and third in rebounding margin. Their biggest weakness is at the foul line where they shoot just 63%, last in the league.
For this game we also turned to an expert on the opponent to provide fans with even more insight.
Below is a Q and A with Chris Disano, Writer for Atlantic10.com, and Cox Sports New England. Chris knows the Rams better than anyone out there, and has for a long time. Here's his thoughts on the Rams as we head into this critical game for both teams in Kingston…
1. URI has lost to Valpo, Providence, Houston and Dayton by a combined 14 points. Really good teams find ways to win close games, it seems that the Rams haven't been able to do that this season. What's the biggest reason why?
That's why Dan Hurley gets paid the dollars he does. To figure it out. Part of it is free throw shooting which has dropped off a ledge since conference play began. Another issue is simply making the right basketball play at the right time… and there have been instances where veteran players have not made veteran plays. It's also been a constant challenge for this staff to integrate all of the talented pieces and get them playing optimally as a unit — on a consistent basis. They've done it at times, but not a game to game carryover effect. It's not that any particular players are selfish, because they're not. But they have skills and talents that complement each other in some ways but crowd one another in others. It's up to Hurley and staff to figure out how to best deploy them in roles down the stretch of the conference season… and postseason, in whatever form that ultimately takes for URI.
2. URI's offense is significantly better than a year ago now that E.C Matthews is back but the defense isn't as good as last year. What's new, or different on both sides of the ball for them since last season? How are they better or worse?
Offensively, again, it's the meshing of the three guards, Garrett, Iverson and Terrell. Garret (as of the writing of this) is battling an unknown illness, was "off" over the last month even when playing, and is now out. Matthews and Terrell are capable and talented, but sometimes defer too much to the other to where only one gets in a groove while the other is overly passive. Iverson is a huge key game to game. When Kuran is active on the glass and aggressive in and around the lane, Rhode Island is much better. When he becomes a jump-shooter first, that hasn't been a good sign for either he or URI. Defensively, some of the issue there have been due to irregularity in lineup. Hassan Martin was injured against Providence on Dec. 3rd, missed significant time after that and still isn't 100%. His healthy presence allows the guards to play more aggressively on the perimeter and funnel drivers to him; not to mention how many mistakes Martin's shot-blocking covers up. He's the anchor. Against Richmond, he had no lift for some reason. Whether the explosive Martin shows up or not is a pivotal factor. The guard defense overall (with some exceptions, namely Jared Terrell) has been less than award-winning; and Dan Hurley after a recent loss challenged his perimeter guys to take it personally when scored upon. There has been some improvement recently.
3. Fouls have seemingly been an issue for URI. The Rams put teams on the line more than 326 teams in the country and shoot only 65% (303rd) from the line. How has the foul line factored into their season thus far?
Hurley's teams always play aggressive man-to-man defense and foul more than others. It's part of this team's DNA. That said, they can do a better job of avoiding silly fouls, which have plagued some Rams, particularly defending out high in the ball screen defense game. Other reasons for high fouls is the integration and consistent playing time of both Cyril Langevine and Jeff Dowtin, two freshmen. They're coming along, but you're going to have your learning curve – esp. on defense – and they have. As far as free throw shooting, URI was actually very good in the beginning of the year, up around 70%. The last 7 or 8 games, it's been atrocious. Some of it is a matter of who is drawing the fouls and the "right" guys making trips to the line. But the bottom line is there's no defender in front of you. Concentrate and make 'em. Especially if you have designs on winning close games and positioning yourself for postseason play.
4. What would you say to someone who said EC Matthews is the third best player on his team behind Terrell and Martin?
I'd tell that person that I respect that take. Matthews is without a doubt the most pure scorer on the Rams and one of the best in the league, but as far as both sides of the ball, Martin and Terrell do many things (not all of which show in a box score, particularly in Terrell's case – i.e. making the proper pass, taking the right angles on defense, etc.) that are arguably just as valuable or more valuable for the Rams. That said, Terrell is in a funk over the last five games and Rhode Island needs him to break out.
5. URI can earn an NCAA at-large if____________________________
Well, believe it or not, Joe Lunardi still had them as one of the last two teams out earlier this week. But that was before the Richmond loss. They own a good win over a 17-2 Cincinnati team and although they didn't perform up to their expectations in the non-conference schedule, they played the 17th toughest non-conference slate in the nation.  Now the sobering stuff… Because the A10 has a tougher middle-pack this year, no truly elite teams, and a couple of RPI bummers at the bottom, the league won't buoy its members. And Rhode Island does not own a "good" road win yet. It will be an uphill battle to say the least… anything less than 13-5 and a win or two in Pittsburgh is going to leave them sweating. At 4-3 right now, there is no margin for error.
Team Stats and Roster:
Three Things to Watch:
Bonnies carrying the St. Joe's motivation forward – What an incredible comeback against the Hawks earlier this week.  SBU could have easily quit, but they chipped away right down to the final moments and pulled out a stunning come-back win. If the Bonnies play like they did for the first 35 minutes of that game they'll have no shot this weekend. If they play like the last five, they'll be fine. This year's URI team has a real offense, so unlike past years under Hurley, this game probably won't be in the 60's. SBU will have to score it, and defend it well to earn a road win. It should be noted that the Rams are 9-1 at home this year, losing only to La Salle. 

Rhody's Shooting – URI is 36% from three this season and averaging over 50% made field goals a game over their last seven games. These are strong shooting numbers and it is very difficult to lose if you shoot like this consistently, which the Rams have done.  Pair that with URI's defense which ranks in the top 100 nationally, and the Rams can beat you on both sides of the ball. However against Richmond, Rhody only shot 34% and also missed 12 free throws. This resulted in an 11 point loss to a sub-par opponent.  If the Bonnies can put together a 40 minute defensive effort, contain Martin and Matthews, they'll have a chance late to win the game. URI scores a vast majority of the points inside, and so the Bonnies will really need to guard their yards and expect the Rams to work inside often via dribble penetration and entry passes to Martin. 

Keeping Iverson off the glass –Iverson is coming off of a 23-rebound performance against Richmond. 11 of those were offensive. Martin is 6th in the league in rebounding and 2nd in offensive boards. In a game that should come down to the final four minutes, limiting second chance points is huge. Bonas will have to body up Iverson coming into the paint in order to rack up one-and-done possessions. 
Three Things That Will Happen:
 Bonnies will hold Rhody to below 33% from three and below their season average in points (75).

 SBU will get hot from three – Look for 40% plus, fueled by Jay and Matt.

 Look for Ayeni to come off the bench and provide another big spark for the Bonnies after Andoh struggles. Ayeni will need to play very composed guarding Martin inside as Hurley will surely go at the freshman looking to get him into foul trouble.
Prediction: SBU 72, Rhode Island 69