Four Mile Brewing Post Game: 71-64 Win over Duquesne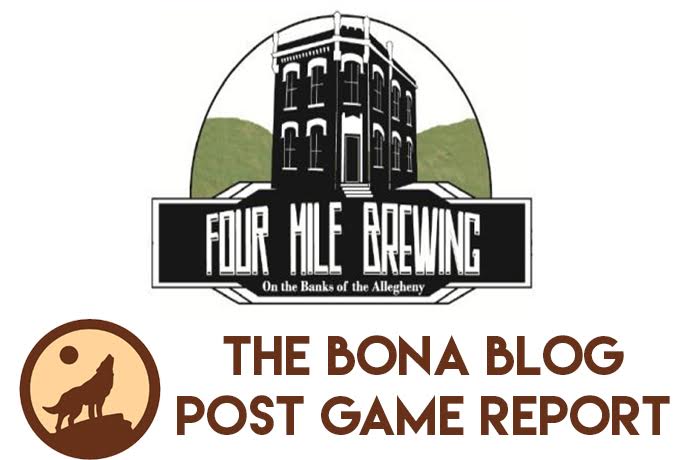 Quickly: 
The Bonnies went into Duquense as a road favorite for a reason: the Duke's aren't very good. Losers of five in a row, Jim Ferry's Dukes are a young team that simply lacks the talent and experience to beat the Bonnies on most nights. 
Lucky for SBU fans, tonight was one of those "most nights" as the Bonnies used a solid defensive second half to pull away from Duquense 71-64 on the road to improve to 6-3 in A10 play. SBU trailed by a point at the break 34-33, after sending the Dukes to the foul line 19 times (SBU was 5-7) and forcing 15 first half turnovers. 
For some reason, this did not worry me as I had full confidence SBU would win this game in some fashion.
And while I predicted the SBU perimeter game would eventually get going and pull them out of the hole they were in, it did not. The Bonnies finished the game shooting just 1-13 from distance and yet found a way to win a game where honestly it never felt as if they'd lose. SBU didn't get exceptional games out of Adams, Mobley or Gregg and yet they won basically going away.
That's some of the good news.
The bad news is that the Bonnies were still played some sloppy basketball. The type of basketball they cannot play if they want to win Saturday vs. VCU. The Bonnies finished with 16 turnovers, made just the one three point shot, shot 44% from the field but did enough specifically defensively to win this road game against a poor team.
5 Takeaways
1. Amadi Ikpeze Lives! If you gave me odds that the story-line of this game would be that Amadi Ikpeze coming off the bench to be THE spark in this win I would have said 75/1 odds at best. Well, the big man did just that. Ikpeze was the presence inside the Bonnies needed after Schmidt pulled the plug on Andoh early. Ikpeze finished with eight points and three boards on 3-4 shooting and held his own defensively. He also played well defensively using his big body to set screens (at least one moving) and boxed out some bigger Dukes. Schmidt had him on the floor with under four to go showing he does trust young guys when they're playing well. I'm wondering if we will see a lot less of Andoh going forward and more of Ikpeze and Ayeni…(Also-Griffin played well again tonight esp. atop the 1-3-1 where he thrives).
2. SBU can win (on the road) when Jay Adams doesn't play well- Jay may have set a personal record with six steals tonight but let's be fair; he wasn't very good. He finished just 4-17 from the field with one assist and five turnovers. He was 1-8 from three and 7-10 from the line. A year ago Adams was dishing out 14 assists in this building but tonight he needed Ikpeze, Mobley and others to help get his team a win. It's not the kind of effort you want to see from you stud junior point guard but you hope he throws it away and comes out hot vs. VCU- we all know he has that ability. Adams his 10-32 from the field in the Bonnies last two games including 5-16 from deep. 
3. SBU's defense deserves credit- After giving up 71 against URI Schmidt's bunch held the Dukes (71.4 ppg) to 64 points, 34% shooting, 29% shooting from three, forced 20 turnovers, had nine steals and held them to 30 points in the second half. Any way you slice this, it was a very nice defensive effort. If you toss out the URI game, SBU has held their last few foes to 64-63-52-53 points. That's much better than what we saw in the fall. Schmidt always has his guys improve as the year goes on and tonight, and this month, have been no different. If this trend continues the Bonnies won't always need monster scoring efforts from Mobley/Adams and Gregg to beat good teams.Can they make it happen?
4. Is Andoh now in the doghouse? While Andoh started the game he was pulled after a few minutes, scored no points and was essentially benched the entire game. Maybe he's under the weather, but if he's not, then we may be seeing a shift in rotations from Schmidt. Mark was eager to throw Ayeni, Griffin and Ikpeze in down low for Andoh and the team responded well. David's struggles have been well documented on this site and on Twitter, and maybe Schmidt is ready to try another hand. We've been calling for more time for Griffin for weeks now, but after tonight you have to look at Ikpeze as well a bit. Either way, this bears watching this weekend for sure.
5. A win is a win- Anyone who watched this game knows the Bonnies did not play well tonight, specifically offensively. They made just a single three pointer, shot 44%, committed 23 fouls and failed to pull away when they were up 11 in the second half. Still, they won the game with "relative" ease if you will. I thought they got great efforts from Griffin and Ikpeze off the bench, and thought Idris Taqqee played very well (12 and eight). Duquense isn't very good, but SBU beat them on the road playing "C" basketball and you'll need a few of those wins each year. Now, they need to focus on getting a massive home win against VCU over the weekend. 
Moment of the Game- I usually go to plays at the end of the contest that clinch a Bonnies' win but tonight I'll go with Taqqee's come from behind pin-block. Taqqee kept SBU's heads above water in the first half with 10 points and deserves mention here for that awesome rejection.
Player of the Game- Amadi Ikpeze. I know Mobley had 22 points and Adams and Taqqee scored in double figures as well but Ikpeze's play off the bench changed this game. I know it, Schmidt knows it and you know it. Let's hope he gets some more run and continues to develop over the course of the season. 
The Stats
Next Up: The Bonnies host the big and bad VCU Rams this Saturday in a nationally televised game on NBC Sports. VCU is coming off a win against Richmond and is 2nd in the conference at 7-2; they are ranked 47th by KenPom and have won three in a row. We will have a great, in-depth preview with VCU Blogger Matt Shelton-Eide tomorrow night to check out…don't miss it.