Four Mile Brewing Pre Game: vs. VCU (17-5, 7-2)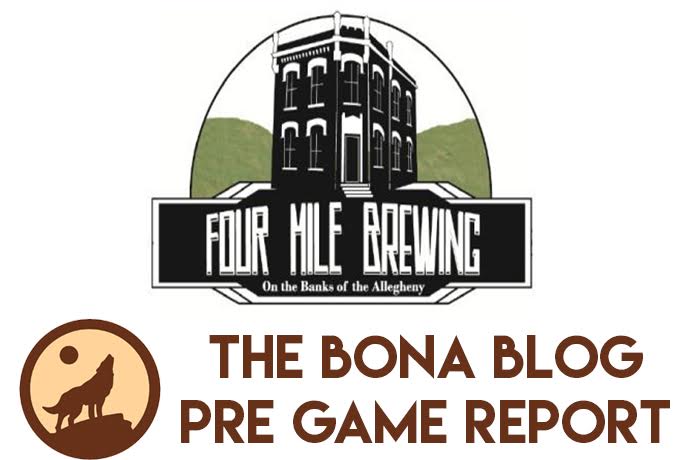 Quickly: After earning a road win in Pittsburgh the Bonnies return home to face the VCU Rams who currently sit in 2nd place in the conference. VCU is an incredibly balanced team and have now won three straight after back to back losses on the road. The Rams front line is a potential nightmare for the Bonnies big men, two of which fouled out against a poor Duquesne front court just last night. The Rams represent the 2nd best team the Bonnies have played the season, only behind Dayton in KenPom's ratings.
The Bonnies are playing relatively well themselves, having won four of their last five games but, have already lost three home games this year. The game should be close to a sell out and will be aired on national television. This one represents as good a chance as any for Mark Schmidt's crew to earn their first top 100 win of the season. Last year SBU lost an eight point game in Richmond in our meeting. 
In order to best "teach you up" on VCU, we chatted with Mr. Mat Shelton-Eide, the Godfather of all things VCU Hoops on the internet and Twitter. Mat runs @A10talk (.com) which is fantastic, as well as @VCURamNation so he knows Will Wade's team better than just about anyone. Here's the chat…Give him and his sites a follow and a read if you have not already. 
1. The Rams are 16-5 heading into Wednesday night's game with Richmond and have won 10 of 12. To this point, how do VCU fans feel about their team's performance?
A: I think for the most part Ram fans are fairly pleased but also realize we could be in a better position had we not let a few slide — Fordham in particular. Expectations at VCU are pretty high these days after six straight NCAA appearances, four consecutive A-10 title games and a Final 4. Ram fans think of VCU as a team that should be competing for a national ranking every season, so you can pretty much measure fan satisfaction on how far we are from collecting votes. Right now we're catching a few, so I'd say the black and gold are optimistic right now but as we saw with the two-game skid against Davidson and Fordham, that can change in a heartbeat.
2. From a statistics standpoint, the Rams are quite similar to a year ago in terms of offensive and defensive efficiency. One huge difference through is the average length of opponents possessions went from 127th last year to 301st this year. What's has VCU done to make it difficult to get shots up this time around?
A: Truth be told, that's probably a better question for Coach Wade than myself but I'll throw out a couple of observations that may contribute to that number: 1) we're playing more zone. In year's past we'd press into a man defense. Now we often press to a zone, so guys are running to spots instead of tracking down a player. I think that cuts down on some quick beaten press baskets. We also just play more zone in general which tends to slow down possessions. I think just a slightly different defensive approach combined with a more defensive-minded change in personnel (Johnny Williams/Doug Brooks types instead of Melvin Johnson) and you get what you see in those numbers.
3. Scrolling up and down the A10 conference stats page and KenPom and the Rams don't seem to have any glaring weaknesses. But you watch them every day…how can they be beat/When are they are their most vulnerable?
A: VCU's biggest bugaboo this season has been turnovers. VCU attacks the basket with everyone, including a few guards who sometimes get into traffic with no real plan. That has resulted in our worst turnover offense since 2008. The Rams turned the ball over 22 times in a loss to Fordham and 25 times in an exhibition loss to DII Queens University (side note: Queens is ranked 7th in DII at 19-1 and I think would be a top-half A-10 team, FWIW). VCU can also go cold on offense if they can't make things happen in the paint. Like I said, the Rams attack the paint, taking an insane 46% of their shots this season AT THE RIM. But if teams shut that down — easier said than done — VCU can sometimes struggle as they will typically try and force that instead of spreading teams out with the three.
4. Who has had the better year: Justin Tillman or JeQuan Lewis and why?
A: I'd probably lean Tillman just because of his consistency and inability to hurt the Rams, but it's close between the two. What Tillman does is just so automatic. He rebounds at an elite level (top-6 in A-10 play in offensive and defensive rebound percentage) and finishes. He rarely turns the ball over and just seems to be there for a bucket when you need one. Lewis has been really good for the most part this season but has taken a bit of a step back in A-10 play with his threes not falling quite like they did in the non-conference. His turnovers have hurt VCU at times and you'd really like to see your star senior point guard with a TO rate under 20% (like Eric Maynor and Joey Rodriguez before him), especially if their assist rate is under 30%.
5. What's VCU's biggest strength and weakness as a team?
A: VCU's biggest strength is in how they attack the basket, how they use their bigs and how they look for easy buckets and finish them. Their weakness is an inability to consistently hold on to the ball for those brutal high-turnover nights, as well as an inconsistent three-point shooting back court.
6. Whose the X-factor player for Will Wade's team? How does this player change the game when he's engaged?
A: JeQuan Lewis. It's very hard to shut down all of VCU's bigs. When Mo Alie-Cox isn't filling the stat sheet somehow Tillman and Hamdy typically are. When Lewis is on however, VCU can be scary good. He gives VCU that "havoc" effect when he starts hitting threes and dropping right into that press on D. Typically VCU has struggled when JeQuan has struggled, so getting him going is big.
7. The Rams are a clearly a different animal at home. But, they've lost their last two road games (Fordham, Davidson). How worried is the average VCU fan about this trip to Olean?
A: The average VCU fan? Probably not that worried. The educated VCU fan? Very worried. VCU hasn't been in the A-10 that long, but I think most Ram fans by this point know what the Reilly Center is about and just how passionate those fans are. I also think with pretty much the entire top half of the conference separated by about a game, these battles against the top teams are of added importance. We get St. Bonaventure once, so those head-to-head tie-breakers sure do come in handy. Currently we own just one of those, a win over La Salle, so picking up another in Olean would be huge…should we need it.
8. VCU's front line is going to be a huge issue for the Bonnies. If you were Mark Schmidt how would you try to slow down Mo, Hamdy and Tillman?
A: The most effective strategy I have seen on that is to basically put everyone in the box (what Fordham did), essentially play a pack line D, dare the Rams to win a game from distance. I know Mo Alie-Cox's numbers haven't impressed as of late but he's proven himself over the years. If you give him ANY room, he will punish you and I think he's got some big games ahead of him. So far most teams haven't played that style of D. I think trying to match Alie-Cox and Tillman in the paint man for man is a fool's errand. You need a team effort against those guys.
9. Have you ever been to Olean? If not we need to get you up there for a game. I know you'd love the weekend experience.
A: I have not but I've heard our super-fan, Pav, rave about the place on Twitter. Ha! In all seriousness, one of my favorite things about covering basketball is getting to go places you'd likely never schedule a vacation to, so I look forward to hopefully getting there soon enough. I also know that Richmond is a much cooler city than a lot of people around the country probably realize, so I love giving other places the same opportunity to impress me as I wish folks would give Richmond, VA.
10. What's your final takeaway on the game?
A: I'm a kenpom junkie so I see it's a predicted tight one, which always scares the hell out of me. Anytime you've got a home court like the Reilly Center and a back court like Adams and Mobley, you probably deserve to be the favorite — I also think Gregg's shot-blocking ability is big against a team like VCU. One thing that does give me some confidence however is how the Bonnies have faired against top-100 competition: 0-4 including two home losses (plus a bunch of other close home wins). As a Ram fan I stay pessimistic in games like this, but if I were just some dude in Vegas looking at the numbers, I'd probably take the Rams.
Bonus: Top four seeds in Pittsburgh are?
1. Dayton (lock)
2-4. No clue
Roster/Stats:
Blog's Three Things to Watch:
VCU's Front Court: The Rams front line of Alie-Cox (6th in FG%), Tillman (4th in FG%) and Hamdy is quite a force. VCU scores more points on 2 point shots than all but 22 teams in America- so they attack the rim for 40 minutes and do not settle for long three pointers. If the Bonnies are going to hold down not only the Rams bigs, but also keep their guards in front of them, they're going to have to use a variety of bodies and this means going to Amadi Ikpeze and LaDarien Griffin. I don't see how Andoh and Gregg stay on the floor without getting in foul trouble here, so I believe Schmidt will need to call on the reserves to really give him some minutes. Ikpeze certainly had his issues defensively against Duquesne, but he's the best match-up for Alie-Cox we have. Let's see if Schmidt trusts him in this huge contest. Defensively, Tillman is 4th in rebounding and Alie-Cox is 2nd in blocks. Tillman's defensive rebounding percentage is among the highest in the country and VCU really clogs the lane with those two and Hamdy making finishing at the rim difficult. 
Handling the Rams' Pressure: As long as they've been in the conference the Rams turn you over and love to convert in transition and avoid a half court game. This year isn't much different. VCU has a top 20 turnover rate and a top 15 steal rate, so they get after it and will pressure the hell out of guards. Jay Adams had five turnovers against the Duke's and simply cannot have the same game this weekend. If the Bonnies are going to win this thing they've got to finish with a respectable turnover number and limit VCU's transition offense. Playing good transition defense will be another key. SBU had 16 turnovers Wednesday. 

Needing the "Big 3 to Step Up": 

There's a few games each year when you really need your leaders, your big time players to step-up and come to play: this is one of those games. No disrespect to Amadi Ikpeze, David Andoh and LaDarien Griffin but this is likely not a game they take over. Mark Schmidt is going to need big production out of Mobley, Adams and Gregg if the Bonnies want to win this game against a really good VCU club. The Bonnies can't have another 1-13 effort from deep Saturday if they want to win-they need their guards to carry the scoring load and their bigs to battle and hold their own on the blocks. Finishing at the rim will prove challenging, so hitting from the outside is basically a must.
Twitter Prediction: The Reilly Center is near capacity and rocking for this game, but the Bonnies can't get their first top 100 win as the Rams' front line proves too much for the Bonnies and turnovers hurt Schmidt's club late. SBU 71, VCU 77.