Four Mile Brewing Post Game: St. Bonaventure 70, Saint Louis 55
By: Jonathan May @jmay425
Quickly: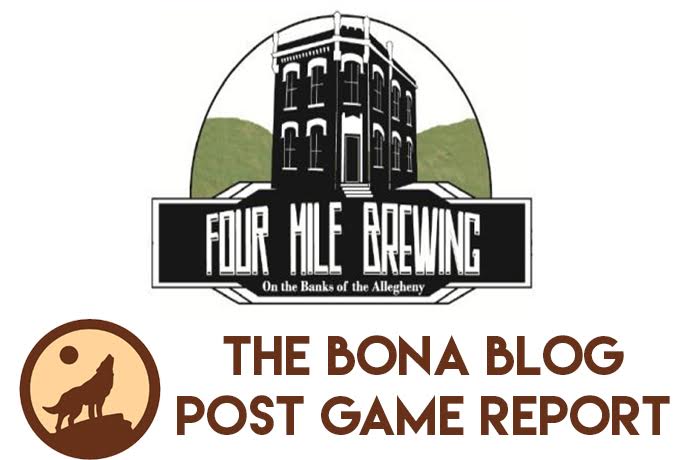 The St. Bonaventure Bonnies did what a team coming off one of the most gut-wrenching losses in program history was supposed to do, and that was defeating an inferior opponent on their home court as a tonic to help move on. The Bonnies raced past the Billikens halfway through the second half to try to keep pace in the race for a double bye in the A10 tournament by a score of 70-55. 
The final tally was not as telling on how much of a mental test this became for the Bonnies who stumbled in the first half and failed to distance themselves early. After a 13-2 run to start the game, the Bonnies allowed Saint Louis to assert their presence inside to find their rhythm on offense. When the Bona defense adjusted to the post, Aaron Hines hit a flurry of 3 point baskets to help spark the Billikens to a 32-26 halftime lead. 
After the break, more of the same was on display for the Bonnies as the defense was slow to react and was letting Saint Louis find open space around the hoop to score easily against the porous Bona defense. The Billikens extended their lead to 7 after a Davell Roby layup to go up 43-36 and had some on twitter wondering if this was another example of not being emotionally strong to overcome past transgressions.
Then it all changed with 14:01 to play. Jaylen Adams, clearly fed up with the lack of production on offense simply took over and got some crucial help from his fellow backcourt member in Matt Mobley in scoring the next 17 points combined as the Bonnies raced ahead of the Billikens and iced the game away. The Bonnies used their basic formula or timely turnovers on defense and clutch shooting from their back court to help get back into the discussion of a double bye possibility come tournament time. We said Adams was due for a bounce back game and he had one. We said Ikpeze would get clock and produce and he did. We called for a 15 point Bona win and we almost nailed that one right on the nose as well. Love it when those predictions happen.
For the GoBonnies.com recap, click here.
4 Takeaways:
Slow starts are starting to dog this offensive game plan. If not for Saint Louis just going ice cold in the second half, the Bonnies seem to always need to come back and fight and claw late to keep the season chugging toward a deep post-season run. I'm looking for a better start on the road in our nation's capital Saturday for sure. SBU has played so well in spurts but really has not had many complete 40 minute games this season when you think about. 

Lost in the shuffle was the play, albeit small, of a Nelson Kaputo. Jay Adams got a quick rest when the offense was clicking midway through the first half and Kaputo hit a corner three. It rattled home and it got this scribe wondering and some fans on twitter as well, if there are more minutes out there for him….I know we've wondered this before. To be successful and to win a possible four games in four days, the Brown and White will need to save legs and Kaputo getting some minutes now can maybe set him up for a positive situation come time to play in Pittsburgh. 

The RC was somewhat subdued tonight and that was probably to be expected. After an emotional weekend with Alumni back on campus, a sold out crowd with a top tier team in the league in town, a mid week game against a struggling team was most likely not very high on everybody's to do list. Also, knowing the situation that occurred, everybody was minding their business and I think it's great that AD Tim Kenney went on television during halftime and also posted an open letter commending the students and pleading that they're as important to winning as buckets falling are. I hope the students are out in full force for the next Saturday home game against Duquesne, February 25th.

The Bonnies did what was necessary in erasing the bitter taste in their collective mouth's and got to 7-4 in conference play. 
Moment of the Game: The 17 point run fueled by Jay Adams and Matt Mobley, took the Bonnies from 7 down to out in front for good. 
Stats:
Stats via GoBonnies.com
Up Next: The Bonnies head to the Nation's Capital to take on George Washington in what is a must win to keep pace in the race for the top 4. 
Photos courtesy of Steve Harrison Photograph. Check out his great work and amazing shots here.