Four Mile Brewing Pre Game: at GW (12-12, 4-7)
By: Mike Morgan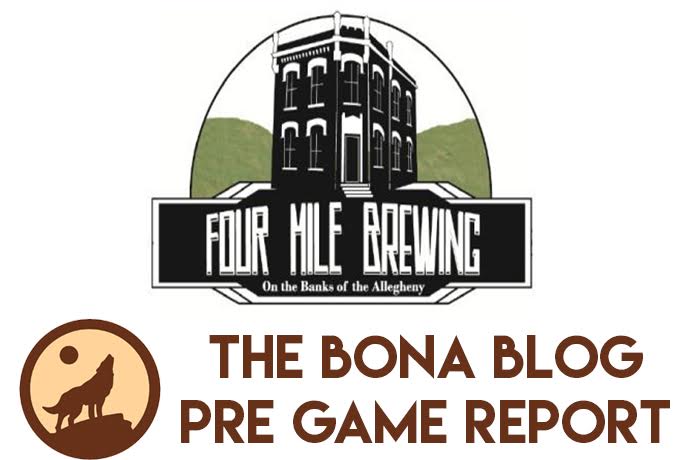 The Skinny on George Washington: The Bonnies travel to DC to take on the George Washington Colonials on Saturday. The game will tip off at 4:30 pm and can be seen nationally on NBC Sports. GW is coached by Maurice Joseph, who is 12-12 in his first season. At 31, Joseph has to be one of the youngest D1 coaches in America; the Canadian played at Michigan State and Vermont. Joseph took over at the beginning of the year for Mike Lonergan, who was let go because of abuse accusations after a solid run at Foggy Bottom. Fresh off an NIT Title, GW lost quite a bit of production from a year ago and they've show it through their first 24 games. They were expected to regress and have. 
GW enters the game at 12-12, 4-7 in the A-10. They dropped a heart-breaker to VCU, 54-53 on Wednesday. VCU benefited from a late foul called on GW with 0.4 of a second left and hit two free throws to seal the deal – very similar as with Bonas-VCU last weekend. VCU's Will Wade drew up a play that drew a charge call 94 feet from the basket, JeQuan Lewis hit more FT's with 0.4 seconds left and GW stole another win…incredible. Some fans have called it luck. I'd call that great coaching. 
SBU looks to win back to back games for the first time since the Saint Louis and St. Joe's wins and shoots for their forth road win. 
GW has been going through a rough stretch as of late but they are still a dangerous team; specifically at home. The Colonials have lost three in a row in league play, then won three in a row, and then lost three. They're coming off games at VCU-Richmond and URI; so they've been beaten up by the schedule a bit. Their best league W is vs. Davidson.
George Washington is incredibly dangerous at home, winning nearly 87% of their home games in the last four seasons. They are 9-3 there this year, and two of those losses have come in conference to both of the Richmond teams (Richmond and VCU). SBU has a long history of struggling in DC, so this game should be a tough one to win regardless of their 4-7 record in A10 play.
The Colonials are lead by graduate student forward Tyler Cavanaugh who is averaging nearly 17 points per game and 7 rebounds. The Syracuse native has nine 20-point games and 8 double doubles. He's one of the better forwards in the conference and will pose a great challenge down low for our young big men. If he were on a better team he would be getting talked about much more than he is. He can wreck a game if you let him.
Another player to watch is Yuta Watanabe. The 6-9 junior forward leads the team in blocks per game and is a scoring threat as well. Watanabe was responsible for the three that gave GW the lead last night against VCU. He's a big man that can really score it in a number of ways and stretches a defense; a really talented player he's nicknamed "The chosen one" back home. Jordan Roland is also a big three-point threat for the Colonials off of the bench. He is second in the A10 in threes made. Seton Hall transfer Jaren Sina is another shooting threat, connecting on 38% of shots from deep.
As you'll see in the stats, GW struggles to defend the three point shot, and struggles to score on two pointers. They don't turn people over and they don't block shots. They look to slow down the pace of the game each possession and do a really good job hitting the glass on both ends. SBU will look to make GW attempt long two pointers and will attack their weak three point defense early and often….as usual. 
SBU defeated George Washington last year at the Reilly Center on Homecoming Weekend 64-57. Jay Adams led the Bonnies in scoring with 19. None of the Colonial leaders are with the team anymore, but Cavanaugh did score 17 on that day. Four Bonnies were in double figures that day and the Bonnies really got a great team effort on Alumni Weekend. 
The last time SBU visited the Smith Center, they fell victim to a hot shooting GW team, connecting on 10 three pointers. GW ran out to a big lead and SBU just couldn't catch up. George Washington shot nearly 58% for the game. Like we said, the Bonnies haven't had a ton of success in the Nation's Capitol so hopefully they can turn that around this weekend.
Stats & Roster: 

Three Things to Watch:
Rebounding– GW makes a habit out of outrebounding their opponents. GW is +5.5 rebounding margin on the year, which puts them in the top 50 nationally. They are strong on the offensive glass and picked up 18 yesterday. That is 6 above their average. They outrebounded VCU but still lost, which is a rare occurrence for them. The Colonials need to be kept off the glass, in particular Cavanaugh. They also outscore their opponents in second chance points. SBU will need to box out and defend the glass in this game, and keep their bigs out of foul trouble. Expect a lot of Ikpeze in this one.
Getting a first half lead– GW does not play well in the second half if they are down at halftime. For whatever reason, they are 2-7 when down after the first 20. If Bonas can come out firing on all cylinders and not slow like they did against St. Louis, they have the statistics on their side. SBU cannot afford to have a really poor first 20 like they did vs. SLU in this venue on the road. 
"Not" keeping it close – GW is incredibly skilled on the season at winning the close games, going 7-2 in games decided by five points or less. They've won two with near buzzer beaters and almost made it three yesterday. While the Colonials needed to replace 60% of their scoring from last years NIT Championship team, they are still experienced enough to find ways to win. With the tough home court advantage and the experience of players like Cavanaugh and Watanabe, the Bonnies would rather not have this one come down to the wire…esp. given our luck this year in close finishes. 
Three Things That Will Happen:
1. Bonnies will come within 5 boards of GW, battling hard on the glass.
2. SBU will continue to defend well-holding GW to under 70 points and under 42% on two point shots.
3. Amadi Ikpeze comes to play again and helps the Bonnies tremendously in the paint. He finishes with 8+ points and 8+ boards.
Twitter-Length Closing Take: SBU wins the battle inside defensively and outside offensively to pull out a very close road win. Ikpeze continues to emerge and Denzel Gregg plays like a senior in mid February. 
Prediction: SBU 68 GW 66