Four Mile Brewing Pre Game: vs. La Salle (13-10, 7-5)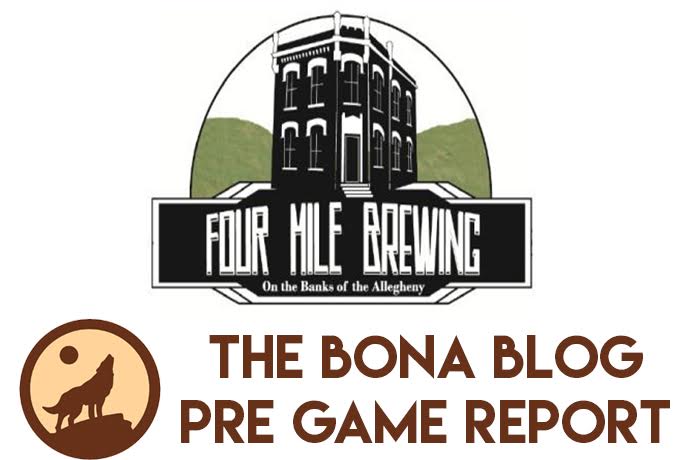 Quickly: Having alternated wins and loses in each of their last six games, the Bonnies look to win their eighth conference game on their home floor Wednesday night against a La Salle team who is also 7-5. Game time is 7PM and you can stream it on Gobonnies.com. 
Trailing by 16 points at George Washington on Saturday the Bonnies made a frantic comeback, getting the lead down to just a single point in the final minutes, but ultimately the comeback fell short and Schmidt's club was handed a six point loss. A Jay Adams' alley-oop pass to LaDarien Griffin could have given SBU the lead, but the pass went out of bounds and more or less ended the game. It was an odd play selection to say the least in crunch time (I doubt Schmidt called it but rather Jay decided to throw the lob).
Speaking of Jay Adams, his shooting struggles continued (2-13), and with Matt Mobley also struggling to shoot it (1-8), the Bonnies did not have enough firepower to win in Foggy bottom.
This game represents an important one given a likely tie-breaker with La Salle at season's end. 
The Skinny on La Salle: "Transfer U" (5 D1 Transfers on this year's club) as they call it, has attempted to reload once again this season in North Philadelphia. Coach John Giannini has added a bevy of imports to re-tool the Explorers roster and it has worked with some degree of success. La Salle has won at Fordham and URI this year as a road team and is 4-5 on the in true road games overall.
Senior wing Jordan Price still grabs the headlines most nights scoring the basketball (16.5) but this team is far less "Price and no one else" than last year. A season ago he was basically James Harden prior to his point guard role; just jacking as many shots as he wanted every single night. With a better cast around him he's become much more thoughtful shall we saw with respect to shooting the rock.
Syracuse transfer B.J. Johnson leads the team in scoring (18.2) and at 6-7 has provided La Salle with both good rebounding (6.3) as well as some deadly outside shooting (41%). He and Price make for a really difficult guard on the wings given their size, length and ability to play inside and out. They are the pair to most worry about Wednesday night. He's the type of transfer all A10 programs love to land. 
Another transfer, Pookie Powell from Memphis, is third on the club in scoring (13.4) as a 6-0 foot guard who is second on the club in assists (3.6).  Powell is averaging nine points more per game than he did two season ago with the Tigers. However, he has missed their last six games with a knee injury but J.P. Butler reported he may play tomorrow night. 
Tony Washington is La Salle's 6-10, 230 lb. center, and he actually started his career at the North Philly school…rare as that is. Washington is the kind of big body every A10 team needs to compete in the paint and the team essentially tells him to get out of the way offensively. a Jordan Tyson if you will. Washington only plays 15 minutes a game, and averages 5 points and 4 boards when he's on the floor. He's a 53% foul shooter and has shot 7-9 from the floor in their last two games. If he's burning us offensively it will be against anything a scouting report says.
Another "older" La Salle player who completes their starting line up is Cleon Roberts. Roberts has been around the block a few times (Yes, he's a transfer too), but the senior is in his third A10 go-round. His minutes have been slashed from 36 to 24 this season with the infusion of transfers, but he's still the Explorers most used SG in their last five games. He's a judicious three point shooter (47%) but has only scored in double figures in two of their last seven games.
As a club, La Salle has excelled offensively with their transfers aiding Jordan Price in scoring the ball. La Salle has a top 40 effective FG% offense, is second in scoring offense behind only SBU (78.1), tops in FT% (77%), 3rd in FG% (.466%), tops in 3PT% (.379%) and sixth in assists. La has five players who shoot it over 35% from deep, making them hard to guard on the wings and forcing defenses to extend their pressure. La Salle scores most of their points from behind the three point line and at the foul line, ranking only 309th nationally in scoring percentage on two point shots. A weakness is offensive rebounding where they only rank 281st nationally. 
Defensively this may actually be Dr. G's worst team yet. La Salle's eFG% defense ranks 325th nationally, and they allow foes to shoot 40% from three, 345th nationally. Only 36 teams give up a larger percentage of points from behind the arc. Their interior defense is far strong their their perimeter D, making this game more of a favorable match-up for SBU on paper. Expect a game in the high 70s or low 80s in Olean. 
Stats & Roster:

Three Things to Watch:
Jay Adams' Shooting Touch– It's no secret that Jay Adams has seen his shooting regress big time this season without the help of Dion Wright and Marcus Posley. Whether they are the exact reason we will never know but the numbers prove his shooting isn't the same. Adams shot 44% from deep a year ago and is shooting 35% now and that number has been getting lower during league play. Since the URI game Jay is 10-41 from three (24%), 12-35 from 2 (34%) and you could link the ankle injury to his shooting woes if you want to find a potential cause. Either way, since URI the team is 2-3 and you don't need to look much further than Adam's shooting struggles to understand why. This team cannot win if his current shooting trends continue. Schmidt needs to find ways to help Adams get hot so this team can fire on all cylinders come March. 
Play the Full 40–It seems as though this year's Bonnies club has had a hard time playing a full 40 minute game. Go up and down the schedule and just think about which games were "complete" efforts start to finish. There's not many. If SBU is going to become the dangerous club many think they are, they need to start putting together full games and it starts Wednesday at home. La Salle can score as well as anyone in the league, and the Bonnies cannot afford another slow start (i.e GW, URI, Saint Louis) and put themselves in a big hole vs. a club like this. There's six games left in the season and it's time SBU matured a bit, and plays like they're fully capable of. This club has plenty of talent, and A10 foes have said they want no part of the Bonnies in Pittsburgh, but so far I would argue our reputation or perceived ceiling has been much higher than our actual play. Time is running out on this team to play up to their potential. 
Who Else Steps Up?– In the GW game it was was David Andoh, back from the dead, who scored 20 points after scoring four points in SBU's last five games total. Andoh shot a ridiculous 10-13 from two, and played in the pick and pop game as well as anyone could. To say it was a stunning turn of events would be putting it lightly. Idris Taqqee also scored 15 points on 6-9 shooting including three deep balls. These two almost gave SBU enough to make up for Adams, Mobley and Greg who shot a combined 4-26 from the field. While Schmidt undoubtedly needs his stars to produce here late in the year, he also needs guys like Andoh, Taqee and Griffin to give him something as well. 
Twitter Closing Take: I always go with Schmidt's teams after a loss, especially when they're coming back home. Having said that, this game scares me because of the way SBU is trending in their play right now. Still, I have faith in the home floor advantage and I think La Salle's defense is bad enough to help a struggling SBU offense find their touch. 
Prediction: SBU 80 La Salle 75