Four Mile Brewing Post Game: St. Bonaventure 83, La Salle 65
By: Jonathan May 
Quickly: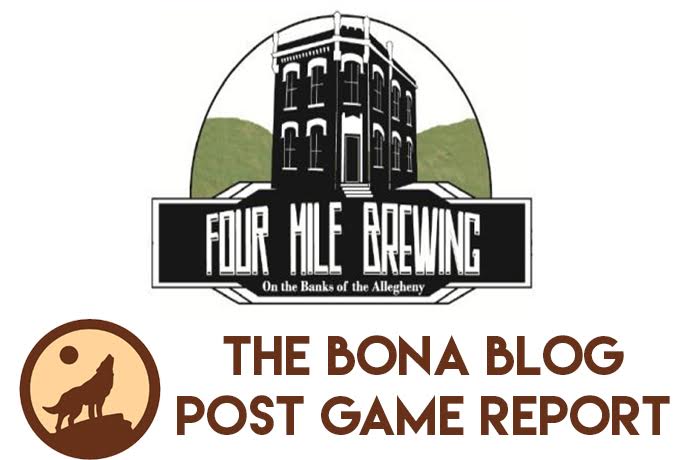 Denzel Gregg was chomping at the bit to get back on the court after fouling out last Saturday in just under 11 total minutes. Tonight, the senior swing man made up for his lost time by leading the Bonnies in all phases and dispatching La Salle by the score of 83-65.
From the first minute of the game, the Bonnies offense was rolling. Jay Adams was weaving through a porous Explorer defense and finding his bigs, none more emphatic than the no look drive and dish to a cutting LaDarien Griffin with the shot clock expiring to essentially assert that the Bonnies were in charge for the night. Adams final line was 16 points to go with 12 assists against just a single turnover. 
Gregg, finished the night with 28 points on 13-18 shooting, but it wasn't simply the stat sheet being filled to the gills, it was the fact that the Bonnies are extremely dangerous when they have the 2017 version of the Big 3 going.Gregg was hitting mid-range and extended jumpers, finishing at the rim and showing why he was last year's 6th Man of the Year. Simply put when SBU has Gregg locked in and rolling and can get Adams and Mobley hot they're one of the three best teams in this league. 
La Salle by the way entered Wednesday's game tied with the Brown and White for 5th place in the A10 and had one of the best scoring offenses in the league. This was an important game in terms of conference standings. 
Earlier in the season the Bonnies found themselves in a similar situation at Saint Louis sporting a commanding halftime lead only to let it slip down to the low teens before pulling away late. On this night, the Bonnies would have none of that. Schmidt spoke in the post game about this and told his team to remember back to that game and learn from those mistakes.
The second half was essentially just a continuation of hot shooting, great reaction on defense and a concentrated effort to run offenses sets throughout the second half. SBU continued to paste the Explorers in what was their most complete 40 minutes of basketball of the season according to us, and Mark Schmidt in the post game. 
Jay Adams, who had been stuck in a big-time shooting funk, posted a game rating of 158 on KenPom. He was poised and under control all night and run the offense beautifully. He showed he can have a monster game without taking 15-20 shots as he attempted just nine tonight in a full 40 minutes of work.  
Matt Mobley kept a hot hand throughout the second half and finished with 18 points on the night and provided that second main scoring threat that makes coaches in the A10 cringe knowing they have to game plan again not just for Adams and Mobley, but for another version of the Big 3.
SBU shot a fantastic 54% from the floor and assisted on 19 of 33 made field goals. Their defense held La Salle to 8-28 shooting from three and 13 points under their season average. 
For the GoBonnies.com recap, click here.
Note: Anytime you see these offensive ratings for a team you had a great night….
5 Takeaways:
This scribe called for the coaching staff to develop rhythm to get the offense moving early in the game. So many games have had a lack of polish on the offensive end and tonight was a complete departure. At the 10:34 mark of the 1st half, the Bonnies had 24 points scored and looked poised and composed. Compare that to the GW game, it took over 17 minutes to get to 24 and over 18 minutes against Saint Louis to hit the mark. Credit to the players for executing and the staff for making adjustments. SBU looked as good as they have offensively in a long time tonight. SBU had not scored 83 points since their A10 opener against UMass on Dec. 30th. 

This scribe also made mention that the Bonnies will only go as far as Denzel Gregg can take them. For the Bonnies to make a run, Denzel Gregg needs to avoid fouling, stay in control and to use his intangibles to make a difference (limiting the turnovers wouldn't hurt other). One only needed to watch two minutes of the first half Wednesday night to see that Denzel had something to prove after his sub-standard game from the past weekend. His final line of the night was, 28 points on 13-18 from the floor and 8 rebounds. 

2013's La Salle Explorers advanced to the Sweet 16 in the NCAA Tournament. One can only think that any team that gets in from the A10 is certainly capable of making such a run. It's not worth repeating or dwelling, but with a tournament that is so wide open and with so many teams close in competition, one can't help but think that the Bonnies were certainly capable of making that run last year….or maybe even this year…

The Bonnies finally won a game that had tie-breaking implications when it comes tourney time in Pittsburgh. The Bonnies remaining games are @Dayton, vs. Duquesne, @St. Joe's, @Davidson, vs. UMass. At worst the Bonnies finish the season 3-2 and wind up 10-7 (We project). Contrast the remaining games the Explorers have, (facing four bottom five teams) having a tie break is crucial in avoiding Dayton for as long as possible.

With all the talk of the offense, some credit needs to go to the Bonnie defense. La Salle came into the game with the second best offense in the A10 scoring 78.1 PPG. The Bonnies simply took La Salle out of their game plan, forced the Explorers into questionable long 3 point attempts and also had 10 steals on the night. The Bonnies came in averaging a shade over 7 Steals Per Game. All around great effort on both sides of the ball. Ian said in his Three Things to Watch that this team needed a "40 minute effort" and they finally got it tonight. 
Moment of the Game: If any moment summed up what Bonnies have fans have been longing for all year, it was with 1:58 remaining in the first half. Late in the shot clock, with the Bonnies in complete control, rather than running a set where a team loses focus and hoists an out of control shot, the Bonnies with the Jay Adams at the helm, worked the shot clock down and found a cutting LaDarien Griffin for an emphatic dunk. It made the lead swell to 22 and essentially signaled that the Bonnies were out of their funk.   
Quotes from Head Coach Mark Schmidt (Per GoBonnies.com):
-"I thought this was the most complete game we've played all year at both ends of the court. I thought we defended really well. (La Salle) missed some shots, but I thought we had a lot to do with them missing some shots. I thought we were in good rhythm offensively and we finished the game … I was proud of the way that they played at both ends."
-On Denzel Gregg's game: "When Denzel plays like he did tonight, we can beat anybody. He was aggressive, wasn't hesitant. You always want to have three guys who are playing well. When we get three guys playing way they played tonight, it's harder for guys to lock on to Jay and Matt."
-On confidence heading into the final five games: "I think our guys are confident. One game is not going to make you more confident or less confident. I think they believe that they are good players and we have a good team … we know it's going to be difficult at Dayton. That's a hard place to play, but we're going to go in there and give it our best shot."
Stats:
Stats via espn.com
Up Next: At Dayton, Saturday, 2 p.m. Enough said. Huge game for the Bonnies as they look to fight their way into the top four to earn a bye in Pittsburgh. 
Photos courtesy of Steve Harrison Photograph. Check out his great work and amazing shots here.