Four Mile Brewing Pre Game: At Dayton (20-5, 11-2)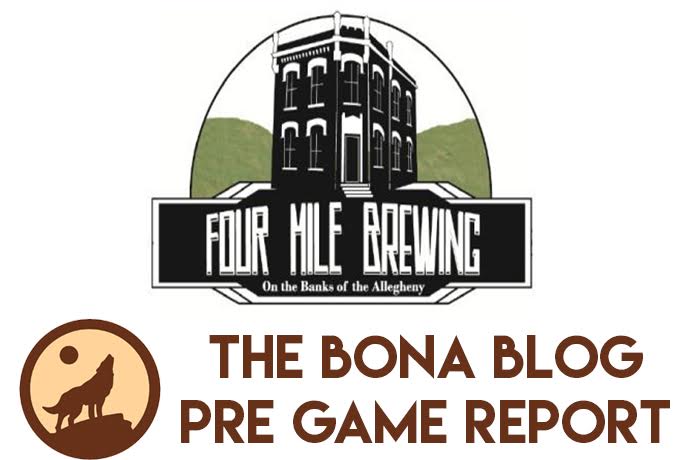 Quickly: Coming off their most complete 40 minutes of basketball in a long time, if not the entire season, the Bonnies head to UD Arena, a land of nightmares for the club save last year's stunning win thanks to some Jay Adams heroics.
SBU is still very much in a fight for a top four spot in the league with just five games to play. Unlike last year when SBU went to Dayton needing a signature win for an NCAA resume, this year's version of the team needs a win to climb into that "bye" position. SBU closes the season with St. Joe's, Duquesne, Davidson and UMass after tomorrow's tilt. URI meanwhile, faces Mason, La Salle, VCU, St. Joe's and Davidson. 
Dayton has lost just once in their last nine games and has just one loss at home this year, to St. Mary's, back on Nov. 19th. The Flyers hammered the Bonnies in the RC earlier this year on Jan. 3rd, scoring 90 points in a 16 point blow-out of the Brown and White. UD played that game without Charles Cooke, their best all-around player. 
The Skinny on Dayton: In order to provide our fans with the most in-depth content possible, we've enlisted the help of the infamous Dayton basketball website, the Blackburn Review here. The Review isn't for everyone, but it's definitely for someone out there. Here's their unabashed take on our questions to them…read at your own risk. 
Also, If you want an INCREDIBLY in-depth look at the Dayton defense, click here to watch a great breakdown. 
Q and A with Blackburn Review: (Viewer Discretion is Advised) 
1. How nice is it being a Dayton fan as the flyers sit at 20-5 and are about to cruise to their 4th consecutive tournament appearance, something that's never happened? They're just a winning machine now.
Believe me, there were times when I never thought UD would make consecutive appearances, let alone four in a row. The Blackburn Review consortium has always believed that conference dominance and successive tournament appearances should be a given. Dayton is/was a sleeping mid-major giant that needed to establish an unswerving winning culture. They have done that. The Flyer basketball program is through the looking glass and hopefully there is no going back.
2. Does the average Dayton fan truly appreciate Archie Miller?
For sure, people are terrified of losing him. It's quite sad actually. Oliver Purnell took the program out of the gutter, Brian Gregory basically kept the ship afloat (barely afloat) and Archie has Dayton consistently on the national radar. It's been a long, arduous road full of fake abductions, sexual assault allegations, player deaths and illiterate players. But now we are here.
The thing is, Archie has the program where it should be in my unassailable opinion. The facilities, fan base, tradition and finances — no A10 program can match UD in these areas. This isn't taking anything away from Arch, but I feel like the program is finally reaching its potential. The most frustrating aspect of the Brian Gregory era was the fact that we all felt the program was stalling, not taking the expected next step on the road to mid-major domination. Archie has everyone believing.
3. I often say that Scoochie Smith has the biggest stones in the league. What makes him so clutch?
I think he is one of those guys that can compartmentalize effectively. At the end of the day, it's just basketball, something he has done his whole life. How did Peter North, Lex Steele and Randy West get so good at achieving erections quickly and repeatedly? From repetition and practice. Scooch grew up in the days where elite high-schoolers played over one hundred games a year, against the best competition possible. Everything is old hat to him by this point. Plus, and this is key, Archie has the utmost faith in him to make the big play with the game on the line. To quote Archie Miller, "He didn't get the biggest, smoothest, blackest balls in the league overnight."
4. For the third straight year UD should have a top 35 defense nationally. How does Archie do this every year? Is UD's trick with defense more recruiting of players who fit the system or the system itself?
Probably a mix of both. Archie has a defensive philosophy that recruits must absolutely buy into to be successful at UD. You can't play D, you won't last look at Dayton. There's no secret to what UD is going to do defensively. There's no gimmicks, no traps, no zones, just man-to-man defense that packs it in and lets the opposition jack away from the perimeter. The Flyers make you work for good looks, Dayton's opponents currently average 18.3 seconds per possession – 340th in the nation. So, I'd say both of your inclinations are correct, Archie has a system and looks for dudes that fit it.
5. Dayton has just one home loss this year, and regularly stomps people out on their floor. Give our fans who've never been there a look inside a game day at Dayton (pre, game and post).
It's like the movie Caligula. You might see an old man take a swing at a Mexican panhandler, a middle-aged woman give birth in the parking lot or a youngster hurl a series of horrible epithets at a police officer. It's a fun time for everyone, but the key is you must wear red (preferably a red sweater vest if you are over the age of 40) and bring the LOWD.
6. I have said for years that the league is Dayton's each year until someone shows me evidence that they are ready to take that title of being the league's flagship team. Do you feel the same was as a UD fan?
I'm not quite as bullish on UD's standing as you are. Too many years where the Flyers were predicted to carry the league and faltered have soured my expectations. Let's put it all in perspective, last season was Dayton's first conference regular season title, one which they had to share with St. Bonaventure and VCU. The only A10 tournament title UD won took place on their home floor over a decade ago (2003). I agree with you that Dayton should be a threat to win the league each and every season; the results haven't been there just yet. My hope is that Dayton can get the double this year, win the regular season title and take home the belt in Pittsburgh.
7. This senior class (Scoochie, K. Davis, K. Pollard, C. Cooke) is so good. Are they Dayton's best/winning-est class ever, IYO?
They are certainly the best senior class I've seen at Dayton. Unless the Flyers suffer a complete collapse, which given the current state of the A10 doesn't seem possible, this will be the first class in Dayton history to play in the NCAA tournament four straight years. Scooch, Davis and Pollard have been a major part of the past four years and Cooke's arrival from James Madison three years ago provided Archie with yet another transfer that could fill it up offensively (Ohio State transfer Jordan Sibert played that role superbly before Cooke's arrival). Next year's squad is going to look completely different, UD will certainly take a step back, so I think everyone is trying to enjoy the last month or so before that reality sets in.
8. Last year UD lost by 19 to Cuse in the NCAA opening round (Stunned me). This senior class went to the Elite 8 in 2014. What is their NCAA ceiling (An impossible question but I'm asking anyway).
This is literally an ongoing debate I have with people on a daily basis. If you look at Dayton's resume, there isn't a single win that is going to jump off the page and grab you by the shaft. On paper UD's best win was last week at Rhode Island, a game in which X Williams hit two miraculous threes late to pull the game out of the jaws of defeat. Watching Fordham go in and beat Rhody by ten earlier this week was a bit of a downer, a perspective shifting result. So, I have no idea what to make of this squad. They faltered in every big game this year and I'm confident they haven't defeated a team that will be in the NCAA tournament.
Given all of this evidence, it's really difficult to gauge Dayton's strength. They are a paper tiger in search of prey, racking up wins over teams of no consequence. They will end up with an impressive record, but no impressive victories. That being said, if they can get good matchups like they did in 2014, I can see this team winning a game or two in the Dance. So, let's say their ceiling is the Sweet 16.
9. Other than VCU, what A10 team "scares" you the most in Pittsburgh?
I'd say Rhode Island. They should've beat Dayton twice this year and certainly pose matchup problems on both sides of the floor for the Flyers. The Kingston Rams have experience, play excellent interior D and have the kind of depth that's rare in the A10. Then you have to consider the "it's hard to beat the same team three times in one season" phenomenon.
10. In what year, if any does Archie leave Dayton? And if he leaves, where is he going (Again, for kicks).
If I was a betting man, and I am, I need help, I would guess he takes over at Ohio State before the 2018-19 season. I bet his takes a look this off-season at NC State, may kick the tires at Illinois if it opens up and Indiana if they show interest, but ultimately my gut tells me Archie is waiting to see what unfolds in Columbus. He makes good money at UD, is basically bulletproof and is only 39 years old. He has time and financial stability on his side, which I'm told is a great thing to have. In sum, I'd be extremely nervous if the Buckeyes part ways with Thad Matta after this season.
Stats & Roster:
Three Things to Watch:
SBU's Ability to Defend Dayton– While Dayton's defense is ranked top 25 in the nation, their offense is nearly as potent, ranking 58th in efficiency. Bonas allowed Dayton to hang 90 on them earlier this year and UD did so without Charles Cooke. In that game, UD shot 60% from three nailing 14 deep balls to bury the Bonnies. Dayton is incredibly balanced, shooting it equally well on three and two point shots, and as you can see above they get contributions up and down their line-up. There's no one or two guys that must be stopped to beat the Flyers because it seems as soon as you bottle up a Cooke or Pollard that Scoochie or Kyle Davis burns you. One of the many reasons UD is so tough to defend. In their game vs. URI it was Xeyrius Williams nailing two huge three pointers to steal a road win. Mark Schmidt's team will need to defend everyone on the floor with equal vigilance as Archie's club has many weapons to call on.  
Playing the "40" on the Road– Bonas finally put together a 40 minute game against La Salle on Wednesday and it earned them a convincing home win against a team slotted in the middle of the pack. SBU displayed their potential offensively when Adams, Mobley and Denzel Gregg are all firing together. Seeing that was great, and the team needed to have a game like that one. But doing it again, on the road at Dayton is another feat all-together. Dayton finds ways to win games at home each year and given their senior laden club, this year won't be any easier. Dayton's combination of coaching, depth, skill, togetherness and home floor advantage make winning at UD Arena a nearly impossible task. SBU must play a full 40 tomorrow to beat a Flyer's team that in my view, is clearly the best club in the A10. Dayton has been a house of horrors for SBU for a long time and they've owned the Bonnies save last year's stunning win there. Which leads us to our next item…
Can Swaggy Jay do it Again?– Last February 20th the Bonnies stunned Dayton with a 79-72 win thanks to Jay Adams 31 points and five three pointers. The game was a signature win for SBU and the imagine of Adams flexing at UD even became a T-shirt. While Adams has been struggling to find his shot lately, he took a big step in the right direction against La Salle and maybe he takes another step tomorrow. If the Bonnies are going to win this game, Adams needs to play "A" ball. Against VCU at home Matt Mobley nearly carried SBU to a win, but they'll need more than just Mobley to down Dayton on their home floor. They'll need many others to step up, but I cannot see SBU winning this game if Adams does not "show out" as they say. 
Twitter Closing Take: There's no team in the league I appreciate more than Dayton. Always so well coached, and no matter the adversity they always overcome it. They're the definition of stability under Archie Miller. I think Bonas battles in the Sweater Center, but I just can't pick them to stun the Flyers two years in a row. 
Prediction: Dayton 73, Bonas 67