Four Mile Brewing Post Game: Bonnies 83, Saint Joseph's 77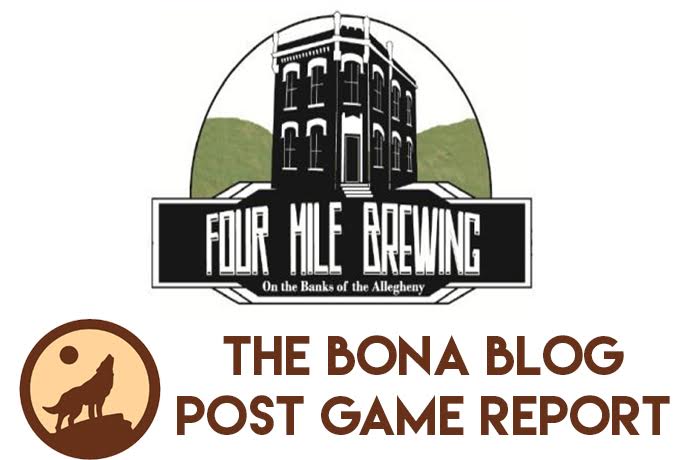 Quickly: While the rest of his Bonaventure teammates may have struggled to get off the bus and into the flow of the game in Philadelphia, Matt Mobley was firing on all cylinders from the tip.
Mobley scored 20 first half points, finished with a game high 31, and led the Bonnies to a road win at Hawk Hill by a final score of 83-77. The win keeps the Bonnies at fifth place in the league at 9-6 and it was their seventh straight win over Saint Joseph's. SBU needs some help from Rhode Island and/or Richmond but a double-bye in Pittsburgh is still on the table.
For the GoBonnies.com recap, click here. Here is the short story from GoBonnies.com….

——————————————————————
"Matt Mobley scored 31 points and pulled down 10 rebounds to lead St. Bonaventure to an 83-77 win over Saint Joseph's on Wednesday night at Hagan Arena.
The win completed a sweep of the season series but, more importantly, kept the Bonnies (17-10/9-6) in fifth place in the Atlantic 10 with three games remaining in the regular season.
Mobley's backcourt mate, Jaylen Adams, scored 17 points and handed out nine assists.
The Bonnies led 40-36 at halftime before the Hawks took a one point lead early in the second half. St. Bonaventure, however, took control with a 9-5 run that ended with the visitors ahead 72-62 with 4:32 left.
Mobley's third 30-point game of the season was highlighted by 20 points in the first half. Denzel Gregg scored 12 points and David Andoh added 11 for St. Bonaventure."
————————————————————–
5 Takeaways:
Mobley Does it Again: After the game I tweeted out that Matt Mobley has not been as good as advertised this season; he's actually been better than advertised. Mobley kept the Bonnies in this game the entire first half, nailing four three pointers and scoring 20 points in the opening frame…while the rest of his team missed attempt after attempt. While Mobley did not take or make a shot in the second half (awaiting stats), he continued to score from the line (13-14) and grabbed 10 rebounds as well in addition to collecting five steals. He was THE reason SBU got this tougher-than-expected road win. Mobley has been everything you could have asked for and more as a scorer to replace Marcus Posley. 

Gregg Played a very "Gregg-ish" Game: Denzel Gregg was whistled for two fouls in the games' first four minutes and took a seat on the bench for the rest of the half. The team struggled without him. In the second half, Gregg came alive, scoring inside on some nice post feeds from Adams and put in some of the games' biggest buckets down the stretch. He'd finish with 12 points and three rebounds. Even as his career winds down Gregg continues to be a Jekyll and Hyde player who even within a single game can be fantastic or simply head-scratching. It's been said a thousand times over at this point but if Gregg plays well this team is on another level; a real title contender. When he's on the bench with foul issues or turning the ball over in the post and forcing bad shots the Bonnies are more like a fifth place team. Can Schmidt have him going the right way these last few weeks?

Andoh Provides a Spark? I have the question mark here because I'm honestly not really sure if Andoh really helped this team a lot tonight or not. The senior came off the pine to score 11 points but he was 4-11 from the field and if you count his player control fouls, he had five turnovers. Schmidt has given Andoh a longer rope than any bench player I can ever remember, hoping that he gets hot and knocks down his 17 footers. He's nearly automatic to shoot it if even remotely open; for better or worse. Tonight he certainly was a nice scorer off the bench, but I continue to question the rope Schmidt has given to him in comparison to other players, both past and present. 

The Officiating was Poor, Both Ways: Saint Joseph's coach Phil Martelli (Who we are big fans of by the way after working with his grandson and daughter-in-law last year) was ejected from the game with 9:02 left for arguing a call made against Brendan Casper who was called for a charge on Denzel Gregg. It looked like a clear blocking call on DG. That was just one of many, many poor calls made tonight but this crew. I won't recount or recapture several of the bad ones I jotted down, but the A10 officiating seems to be worse this year than I can remember. 49 fouls were called in this one, with nearly a dead split 25-24. Let's hope these crews get better in the final few weeks here because if we get a game called like the Davidson tilt was a year ago in Brooklyn….

7th Heaven. Yes, that was also the name of a really bad TV show back in my youth, but the Bonnies have now win seven in a row against the Hawks. When I was in school (2004-2008) the Hawks beat our freaking brains in. It made me sick watching them pound us night after night. Back then, I could not imagine beating them twice in a row let alone seven times. Now, Schmidt seems to dominate the Hawks, beating them in Philly, Olean, Brooklyn, Atlantic City, it doesn't matter. There are many older alums who I know appreciate this a lot more than I do but man if feels nice to dominate St. Joe's for a few years. 
Stats: 
Up Next: The Bonnies return home to face rival Duquesne at 4:00PM. This game is the homecoming weekend one for the Bonnies and a large crowd is expected. Duquesne is currently 3-12 in the league and in last place. If you have not done so get your tickets now for what is the Bonnies second to last home game of the season. SBU should be a heavy favorite in this one and needs the win badly to keep pace and have any shot at that last double-bye.
Photos courtesy of Steve Harrison Photograph. Check out his great work and amazing shots here.