Four Mile Brewing Pre Game: At Davidson (14-13, 7-9)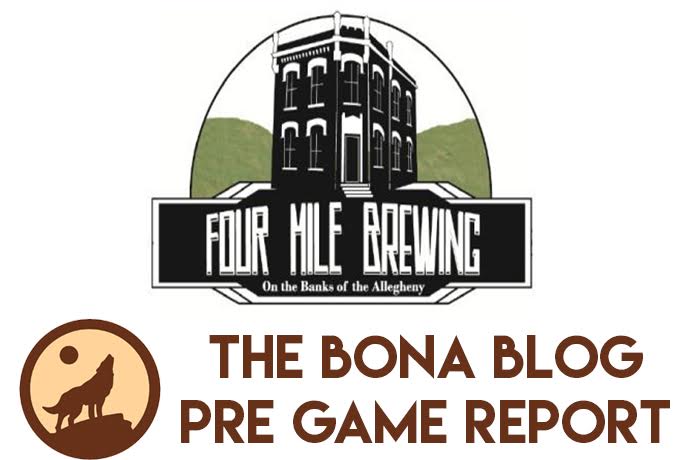 Quickly: Coming off an un-impressive home win against last place Duquesne on Saturday, the Bonnies look to make it three wins in a row down at Davidson on Tuesday night at Belk Arena. SBU is almost certainly the five seed in Pittsburgh at this point, with the double-bye likely a game or two of their reach. Still, the Bonnies want to end the season winning five in a row as the hot team in the conference tournament that no one wants to face. Also, if the Bonnies can win these next two they'll have their second straight 20 win season; never done before in school history (regular season). With Davidson as a top 100 club (ranked 90th on KenPom), this would be the Bonnies first top 100 win of the season should they get it; man that is incredible…to be saying in this league when SBU is on the verge of winning 20 games. Shows how poor the league is this year and how the Bonnies have beaten up on fair-bad teams and truly not beat anyone that is really a quality team. I won't get into where the Bonnies would be on the bubble if they had just a few more key wins….ugh.
The Skinny on Davidson: Projected to be one of the league's top five teams this season, Davidson has been quite the disappointment sitting at 14-13 overall and just 7-9 in league play. The Wildcats don't score it nearly as well as they did a year ago, but they do defend the basket much better. 
Jack Gibbs is "the known", and he's probably the best pure scorer in the league, no disrespect to Swaggy Jay. Gibbs uses his Marcus Posley-type frame to get to the rim, create space and simply barrel past smaller defenders. He's one of the more prolific scorers in America and we all know how important it is to slow him down, make him take tough shots and simply limit his scoring output. He's a deadly three point shooter (39%) but is far less effective inside (44%). SBU will want long close outs on him and force him to take some long mid-range jumpers. He can go off and the Bonnies can still win but if that's the case they'll likely have to stop this next guy…
Peyton Aldridge, a 6-8 junior forward, is the Wildcats pick and pop four man who can really stretch a defense. He's a sniper, 43% from distance, and is a tough match-up for fours and fives each night out. Aldridge can put the ball on the floor, pass out of double teams and really just make life difficult for you. He's an excellent defensive rebounder and plays nearly the entire game. The duo of Gibbs and Aldridge give the Wildcats one of the best scoring combinations in the nation, right there with Adams and Mobley. Alridge has shown what development looks like in this league. He's transitioned himself from a nice little freshman shooter who couldn't play inside into one of the best scorers, if not one of the most well-rounded players in the league as a junior. 
From a team standpoint, the 'Cats aren't quite the same shooters they were a year ago, losing some quality guards off last year's team that bounced the Bonnies from Brooklyn in overtime. Still, Davidson ranks 26th nationally in 3PT% of scoring, so they have not let their shooting regression change their offense whatsoever; their still a similar club from a year ago. They will take deep looks when they are open, but also won't rush into shots either, playing with a tempo that puts them right in the middle of the pack nationally. Offensive rebounding was maybe, the biggest reason Davidson beat SBU a year ago in Brooklyn as they turned countless misses into kick-outs and three pointers…breaking the Bonnies back. This year, the 'Cats are a very poor team on the offensive glass, but the Bonnies have to keep that trend going. Coach Bob McKillop says his team works specifically on turning offensive boards into three pointers, hoping to break their foes backs that way. Davidson ranks 319th nationally in 2PT scoring, so they'll hope to beat you from the three point line and foul line more nights than not.
Defensively the 'Cats play a pretty straight forward and "boring" if you will brand of half court man to man….but it's still effective enough. They rank 295th in block percentage, 299th in steal percentage and 301st nationally in three point defense (37.5%). SBU will certainly hope to exploit their poor perimeter defense and need their guards to be ready to shoot in this game. Davidson does do a great job defending the interior though, sporting the 41st ranked 2PT defense in the nation (45.2%). Davidson will want Bonaventure to try to score inside, hoping I'm sure, for lots of jumpers from Denzel Gregg, Idris Taqee, Josh Ayeni and David Andoh. They'll look to get the ball out of Adams and Mobley's hands as often as possible and make those other players beat them from between eight and 15 feet with jumpers. Bonaventure has dealt with this pressure just fine in some good and really poorly in others. Ultimately, it comes down to shot-making. Adams almost always delivers the rock in a great space for his fellow Bonnies, it's just a matter of them knocking down those looks when they have them. 
Stats & Roster:
Three Things to Watch:
The Battle of the Three Point Line: Both of these teams love to take three pointers and make them at a decent clip too. Davidson makes them at a higher rate, but this will no doubt be a game where the difference on the three point line could win or lose the game. I expect the foursome of Adams, Mobley, Gibbs and Alridge to take tons of deep shots, the difference will come down to who can make a higher percentage of them. Defending the three point line is going to be the key in this game, likely for both teams. 
Whose Supporting Cast Shows Up? This game sports two of the top five scoring pairings in all of college basketball. There's no doubt that those four guys are going to get theirs and fill up the stat sheet. But so often in games that involve stars it is those "other" players that usually step up and make the difference. In this game, I'd look for none other than Denzel Gregg to have a big game. Gregg, as we all know, is an up and down player who runs as hot and cold as any senior you'll find. But with two games to go in his college career, it's basically now or never for Denzel. If this team is going to make a run in Pittsburgh Gregg has GOT to be that third guy for SBU. Let's hope he's strapped in, mentally and physically this week.  

Free Throws: 

In a game that is projected to be quite close, free throws will likely prove critical. Generally speaking, the Bonnies have a leg up on almost anyone they face in terms of foul shooting. While this is still the case in this game, the difference is not as drastic as it usually is. SBU ranks 19th nationally and Davidson ranks 49th nationally in shooting from the charity stripe. You can bet that both coaches will try and keep the rock in the hands of their money players inside of the last three minutes. We will see which team blinks first at the line. It should be noted that Jay Adams foul shooting percentage has dipped from 87% a year ago to 81% this past year. Still, I trust Swaggy with the game on the line. 
Twitter Closing Take: The Bonnies are still in search of their first top 100 win of the season as we approach March and this is a tough road game for the Bonnies. Davidson is a well coached team but they've lost five times at home this year already and have lost five of their last seven games. SBU is not playing great ball right now by any means but I do think they'll finish this season strong and head into Pittsburgh as a hot club.
Prediction: SBU 75, Davidson 73