Four Mile Brewing Post Game: 68-63 Loss at Davidson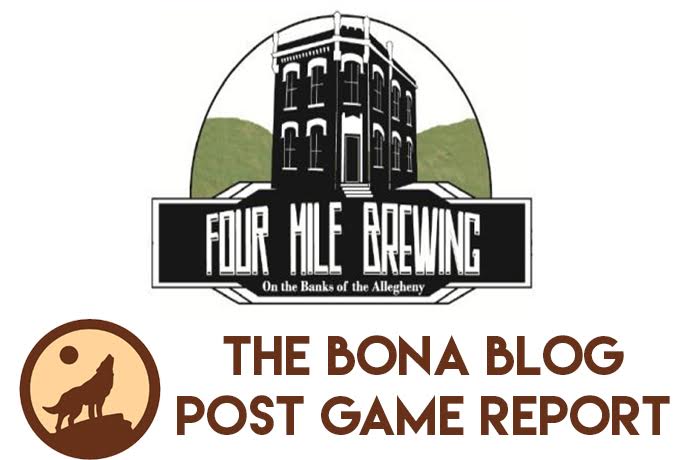 Quickly: After nearly erasing another large first half deficit, the Bonnies came up short in North Carolina on Tuesday night, falling to Davidson by a score of 68-63 at Belk Arena. The loss means SBU's chances of earning a double bye in Pittsburgh are gone, and they can not post back to back 20 win regular seasons. 
Trailing by as many as 14 in the first half, the Bonnies got strong efforts from Josh Ayeni and LaDarien Griffin (who combined for 11 points) and cut the Wildcats lead to just three at the break. All things considered it was a good ending to a poor first half that at one point saw SBU make just 2 of 17 shots. 
From the break, Davidson would open the lead up again to start the second half, and lead by double digits for most of the final frame. By the first media timeout Davidson had opened up a 41-30 lead thanks to more hot shooting from Jack Gibbs who'd finish the game with 29 points.
The Bonnies would not go easily though, staying close enough to chip away and even have chances to tie the game in the closing minutes (similar to the GW loss). Josh Ayeni led the way for much of the second half, scoring inside and out.
SBU had a chance to tie it in the closing moments, but like so many other games this season, could not make the one winning play when they needed it.
Matt Mobley stripped Jack Gibbs down three, with 15 seconds left to play, but while dribbling up court he slipped, and was called for a travel with 12.2 seconds left; effectively ending the game.
On the prior possession, Jay Adams passed up a seemingly make able runner, to pass out to Mobley, who as he attempted a three pointer in front of the SBU bench, had the ball go flying out of bounds. The look on Schmidt's face said it all during that timeout as the coach could not believe his team's luck…not tonight, and maybe not this year in general. 
It was a poor, and strange game for Adams from start to finish who never looked comfortable. 
Those two unfortunate and untimely plays by Mobley sent the Bonnies to a tough road loss down South. 
Davidson led for 98% of the game and were 9-26 on three pointers. SBU held two Davidson starters scoreless and both teams shot 43% from the field. 
For the GoBonnies.com recap, click here.
Quotes from Mark Schmidt (GoBonnies.com)
Coming after post game.
————————————————————–
5 Takeaways:
Bob McKilopp Owns Jay Adams: Last year in Brooklyn, in the biggest game of Jay Adams' life Davidson held him to a 1-10 shooting effort. It was a nightmare game for Adams and Bonnies fans in every respect. Tonight, Adams was just 3-9 from the field for 14 points but also had five fouls and five turnovers against two assists. He air-balled a wide open three pointer, for maybe the first time in his career. He was lost out there in big moments. In a game when Mark Schmidt needs his best players to be at their best, on the road against a good club, Adams was simply not there. We've seen Adams make big shots before (the Saint Louis game a year ago, at Dayton, this year vs. UNCW), but the Wildcats must have the recipe to bottle up the Bonnies star point guard. Davidson is one of the last teams I want two see in two weeks in the Steel City because of their ability to take away the Bonnies game-changing junior. In either event, Adams showing up is step one of Bonas beating anyone….but you knew this already. 

Still Searching for a Quality Win: It is almost impossible to fathom that on March 1st you will wake up and this Bonnies team, armed with Adams and Mobley and Gregg, would not have a single top 100 win. In fact, SBU's best win this season was against #133 ranked George Mason. They have lost to Dayton, VCU, URI, Richmond, Davidson and GW inside the league. A year after proving they could play with and beat, some of the best teams in the land, this year's club has proven they can beat middling teams and honestly cannot beat anyone inside the top 100; especially on the road. What that means for Pittsburgh, we will find out. But by this metric alone, this team has disappointed. Sure, there have been tough/close losses (VCU, UNCW, Florida and Little Rock) but good teams win half of those games. Great ones win maybe 85% of them. This team has one none of them. Sure, luck plays a part in it, but the results have not been there this season against quality foes.

Ayeni Showed Up, Gregg Did Not: I won't waste any more space or time talking about Denzel Gregg, who is inside of his last two games (potentially) as a Bonnie being the X-factor for this team. He was needed tonight, on the road and as a senior and simply was a ghost (3 points, 0-5 shooting, 8 boards, 2 turnovers) and set the tone by traveling on the way to the rim on the first possession. I have almost no faith that Gregg will be a difference maker in the A10 Tournament over multiple games because, why would I? Meanwhile, another hot and cold player, Josh Ayeni, did show up big time. Ayeni kept the Bonnies in the game (12 points, 6-9 shooting) and even committed only one foul! Gregg has been a really good player for SBU, but his inconsistent play is maddening at times…his advantage is he's a true freshman. Let's hope Ayeni can learn from his fellow forward, and become a night-in, night-out big man next year…it won't be easy.

FT's mattered, Big Time: We said in our "3 Things to Watch" that foul shots could decide this game, and they essentially did. SBU shot a very uncharacteristic (14-24, 58%) from the line and left enough points there to give the game away. SBU entered the night as the nation's 20th best foul shooting team, hitting on 76% of their free ones. Mobley was 1-4 and Jay Adams was 1-3 at the line. This strength cannot become a weakness for the Bonnies in Pittsburgh if they want to advance. Davidson shot 11-13, taking advantage of their chances at the line. 

Don't be Surprised: Davidson's duo of Jack Gibbs and Peyton Aldridge combined to score 40 points. Mobley and Adams teamed up to knock in 30. Adams, Mobley and Gregg shot a combined 9-26 (34%) and had 13 turnovers. I don't care who the Bonnies are playing in two weeks, they will not beat anyone if their "Big 3" have a line like that. The Bonnies' supporting cast cannot be counted on for much of anything (part because Schmidt does not use them enough), and so when the trio does not show up, the games become nearly impossible to win. Adams hasn't looked himself in a long time (at least not from game to game) and we know how hot and cold Gregg runs. I'm getting more pessimistic each day that this team has a deep run in them in the A10's. But hey, you never know. 

Bonus: Where was, or is Amadi Ikpeze? It seemed the big man had established himself inside Schmidt's rotation down low and now he's benched for back to back games while Andoh gets big clock. Really odd. It could be a match-up issue for Schmidt but I thought for sure Ikpeze would be a rotation player in every game going forward a few weeks ago and now maybe he's fallen out of favor. 
Stats:
Player of the Game: Jack Gibbs. Yes, he's somewhat of a volume scorer if you will, but Gibbs scored 29 on senior night, including 22 in the first half to get the Wildcats out of the gates. He's one of the best scorers in the nation, shot selection be dammed, and showed off some nice passing skills as well tonight. Davidson is always dangerous with him on the floor and no A10 coach wants to face good ole Bobby McKilopp and Gibbs in March in a winner-take-all contest.
Moment of the Game: Mobley, stealing the rock from Gibbs only to slip before thinking about pulling up for a three with 12.2 seconds left, as the Bonnies were down just three. This play essentially ended the game and sent the Bonnies packing. I swear I saw more Bonnies slip on a floor tonight than I have in years. Something had to be wrong with the floor in the arena. 
Up Next: Mark Schmidt's team wraps up the regular season at home on Saturday afternoon against lowly UMass. This is senior day for David Andoh and Denzel Gregg, as well as Chinoso Obokoh (if he's still around somewhere) as well as Caleb McGuire. UMass is currently 14-15 and 4-12 in the A10. SBU tries again for win number 19. 
Photo courtesy of Steve Harrison Photograph. Check out his great work and amazing shots here.