Four Mile Brewing Post Game Recap: 60-56 Win over UMass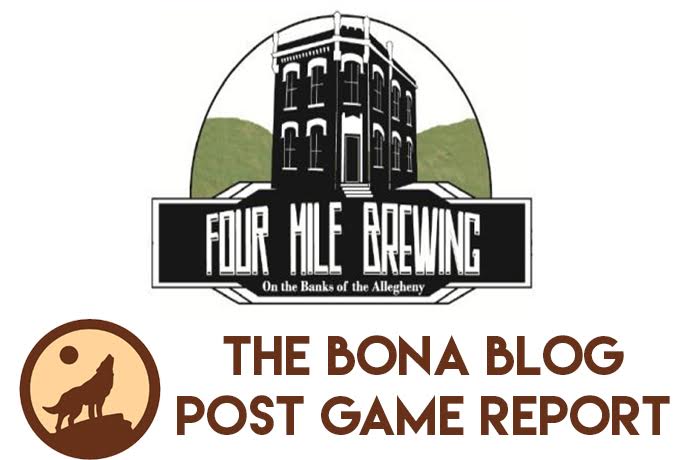 Quickly: Despite another poor shooting effort, the Bonnies won ugly on senior day in the Reilly Center against a poor UMass' team by a score of 60-56. The game was the team's final regular season contest.
SBU was paced offensively by Jay Adams who finished the game with 17 points, nine assists and six rebounds. Senior David Andoh got the start on senior day and was a major factor, scoring 12 points and grabbing seven rebounds. 
UMass trailed by seven points at the half but came out in the second frame on a 11-2 run to take the the lead. It looked as if the Bonnies would not be able to figure out their triangle and two defense but SBU would hang around and chip away the entire half.
The Minutemen would continue to lead the Bonnies through most of the second half until SBU started to put together some stops and got to the foul line possession after possession late in the game; relying on their ability to knock in freebies to steal a win. 
Despite some of their worst shooting of the season (one made three pointer), the Bonnies found a way to earn the win. Schmidt's team used some terrific defense and foul shooting to earn their 19th win of the season and send them into Pittsburgh with some momentum. Adams and Mobley combine to score just 22 points and made just three shots between them.
But at the line, the duo got it done when the chips were in the middle of the table. 
Jay Adams and Matt Mobley went 6-6 from the line inside the final minute, giving the Bonnies just enough breathing room to distance themselves from UMass. SBU shot a poor 34% from the field, and even worse 9% from three (1-11) but found a way to earn the "W" despite the offensive woes. Their ability to grab 12 offensive rebounds, knock in 21-24 foul shots and hold UMass down on the other end (34% shooting, 2-13 from three, 18 turnovers) ultimately led to the ugly victory in Olean.
With the win the Bonnies are now locked into the 5 seed in Pittsburgh and will play Thursday at 2:30. 
For the GoBonnies.com recap, click here.
Quotes from Mark Schmidt (GoBonnies.com)
Coming after post game.
————————————————————–
5 Takeaways:
Free Throws Lead to Another Close Win: Under Mark Schmidt the Bonnies have made a living beating teams in close games at the foul line. Today, despite Adams and Mobley being completely shut down offensively (3-18) they got to the line in the final minutes of the game and made shot after shot after shot at the stripe. Adams was a perfect 12-12 from the line and Mobley was 3-3 with two of those inside the final minute. SBU has a huge advantage in close games because of this skill and they did a great job of getting their shot makers the ball late to ice the game.
Andoh Comes through on Senior Day: Schmidt elected to start David Andoh on senior day and the journeyman forward repaid Schmidt for his trust. Andoh knocked in five shots from the field on his way to 12 points and also grabbed seven boards. He got the Bonnies going early and made some key shots late as well. Andoh has been this year's most ridiculed Bonnie but today he shined. If SBU is going to make a run he will have to make shots as Adams passes out of double teams like he did today.
The "O" was Ugly, But the Defense got it Done: Yes, the offensive effort today was simply putrid. If you had told me before the game SBU would make just one three pointer, Adams and Mobley would combine to make three shots and the Bonnies would shoot 34% I'd have told you they likely lost big. But, because of their ability to lock down on the other end they escaped with an ugly win…and they all count the same in the end. SBU did a tremendous job in the games final possessions of making life difficult for UMass who made just two three pointers all game and forced 18 turnovers. Defense travels and if the Bona offense is going to continue to struggle like it has lately, it better travel to Pittsburgh.
Bermuda Triangle? Davidson and now UMass, have used the triangle and two defense to largely shut down Matt Mobley and Jay Adams. After going 2-7 from three vs. Davidson, SBU went 1-11 from three today and Adams and Mobley were made into non-factors. Mark Schmidt needs to spend the next week figuring out a way to get his stars scoring against this defense because my guess is he will see it on Thursday afternoon. Adams did a great job today passing out of double teams and ended up with nine assists. SBU's supporting cast needs to be ready to shoot vs. this defense. Also, teams have really started to guard those two with players who are extremely long and it has worked. Adams and Mobley are now trying to find shots against players who are in the range of 6-5 to 6-7 and that has made life difficult on them. Now, it's on Schmidt to figure out a game plan to combat that defense.
 Bench Comes up Big: Give the Bonnies bench a lot of credit for the win this afternoon as all the guys who came off the chairs contributed to the win. Griffin scored four points and played his usual solid defense and had four rebounds, Ikpeze played again (it's been a while) and had a nice tip-in bucket and Josh Ayeni scored eight points on 3-3 shooting. All these guys aided the starters who largely struggled today including Denzel Gregg (3-9 shooting), Idris Taqqee (2-6), in addition to Mobley and Adams. 
Stats: 
Player of the Game: You could probably go with David Andoh but this award goes to Jay Adams who faced a very tough defense today, with UMass face guarding him with extreme length all game. Adams found his teammates all game in spots to shoot the ball and iced the game for the Bonnies at the line in the final minutes. His shooting woes continued today but he made enough winning plays to get the team a W and did so against some tough defensive pressure. To end up with 17-9-6 in this game shows you how good Adams really is.
Up Next: The Bonnies will face the winner of the 12/13 game on Thursday at 2:30. Should the Bonnies win they would play at the same time on Friday vs. the four seed…that would either be URI of Richmond. SBU could wind up playing UMass for the third time Thursday depending on how the bracket shakes out. 
Photo courtesy of Steve Harrison Photograph. Check out his great work and amazing shots here.