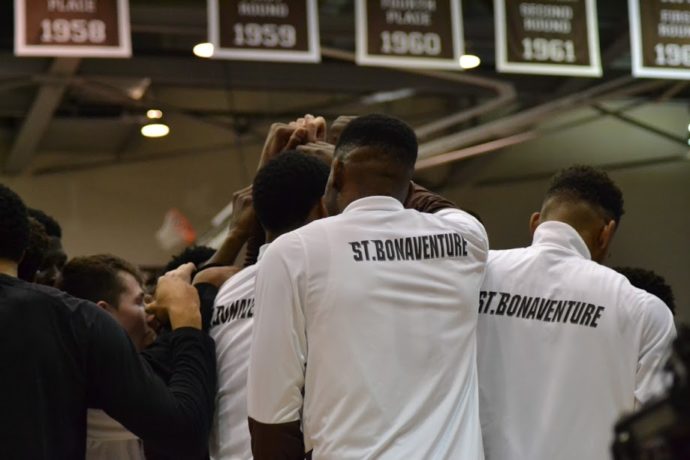 2016-2017 Season Quick Thoughts
The Bonnies season came to a halt this past Friday at PP&G Paints Arena in Pittsburgh when the 4th seed Rhode Island Rams rather easily dispatched SBU in a 74-63 contest.  
If you haven't already read about the game, you can do so by checking out the OTH's work here.
The Bonnies finished the season with 20 wins and 12 losses, finished 5th in the Atlantic 10, and most likely will not participate in any kind of post-season tournament.
All and all, it was a disappointing season for the Bonnies and their fans.
Coming off a near-NCAA at-large bid a year ago, Bonnies fans wanted this team to get redemption for last year's snub. They wanted Jay Adams and Matt Mobley to set the world on fire, and have a chance to go dancing in March. They wanted Denzel Gregg to become a star within the A10, and for SBU to make the Selection Committee pick them this year, come hell or high water.
Most fans believed this team was good enough to earn, or at least compete for a spot on the bubble, or at the very least, make the NIT for a second straight season. I was one of them, picking them to make the NIT back in October. 
But, on Friday the Bonnies once again failed to beat a quality team when they needed to most; and this was a hallmark of this club…like it or not.
SBU played vs. nine top 100 teams and lost to them all. Last year, Schmidt's crew picked up six top 100 wins, three of them away from home.
This does not make Jay Adams and company failures, but it does clearly indicate that there was a divide this season between SBU and top flight programs; a divide that was not so great a year ago.
Sure, they came close on a number of occasions. They nearly beat Florida on the road. They got beat at the virtual buzzer at home vs. UNCW. We don't need to rehash the VCU ending, and they hung with Dayton for 39 minutes on the road a month ago.  
But where last year's team won close game after close game vs. good clubs, this year's version could not. That's what separates fairly average teams from good teams, and good teams from excellent teams.
Their best win this past season came over 113th ranked George Mason.
In conference play the Bonnies never strung together more than three wins, and alternated wins and losses for nine games in a row from late January to February.
They truly never seemed to find a great rhythm in season, and it showed in their final record. The high watermark of the season was likely the morning of the UNCW game as the Bonnies were 6-2 and had reeled off five straight wins. A win that night and the Bonnies were likely right in bubble conversations.
But a mid-range jumper beat the Bonnies that night, and as we said following the game, essentially ended any and all bubble talk. From there, SBU would fail to make up ground as a worthy mid-major and even suffered a loss at home to 191st ranked Canisius.   
Whether you believe this year's team was a average or just good, no one would claim the Bonnies were excellent this year; something we demanded in the fall. Many of us are disappointed by this. 
And that's a good thing.  
It's a good thing that we are at the point as a program, and I use that term intentionally, that 20 wins and a fifth place A10 finish isn't good enough.
In 2010 it would be have beyond good enough. But after 2012 and Andrew Nicholson, and after the snub last year we know what Mark Schmidt and his team are capable of.
They have raised the bar and set the standard. They've won forty games in the last two years and have won the A10 in the regular season.
No one wants a CBI bid, a tournament that is now "below us". No longer does anyone call for us to pay-for-play in post season tournaments. Either our boys will have earned the NIT or NCAA's or they won't. 
We can point fingers as to why the season did not end with an NIT bid, them cutting down the nets in Pittsburgh, or an at-large berth, but today is not the day for that type of analysis. 
Today we celebrate the fact that this team won 20 games for the second straight season, and continued to raise the bar for Bonnies basketball. 
We will breakdown the season more in depth in the weeks to come, but for today, appreciate that everyone who has worn the uniform under Mark Schmidt has helped SBU get to the point we are at today- a point where 20 wins isn't good enough.
It's actually a heck of a place to be if you're willing to recall where we were just years ago.