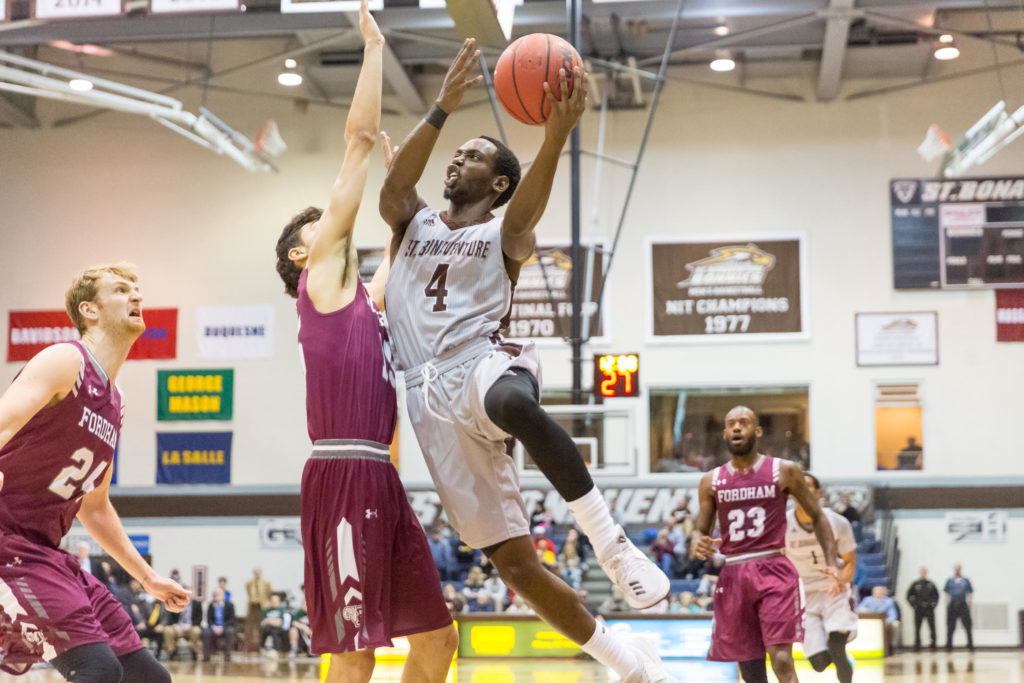 Sunday Synopsis (S17, V9): Bonnies' Eyes Now on Bye
Opening Statement: Needing to right the ship after two road losses at Dayton and St. Joseph's the Bonnies' week consisted of a home game with lowly Fordham on Wednesday and a trip to URI on Saturday morning for the single biggest game of the season (from a resume building perspective anyway).
After essentially sleep walking through the first half Wednesday (Bonas led 34-31 at the half following a Chef lay-in, yes that's right Chef got some time as we predicted early in the game) SBU found themselves over the final twenty minutes of the game, pulling away for an easy 77-61 win.
Honestly speaking there's almost nothing to be taken from this game. Fordham sits at #259 on KenPom. They're a poor basketball team who will likely finish the season with no more than four or five league wins. While it's always great to add a "W" into the books, beating Fordham has become second nature in this league. 
LaDarrien Griffin had the game of his life scoring a career high 21 points and pulling in 14 rebounds to post an offensive rating of 142.
Many Bonnies fans went into the Fordham game thinking that Adams and Mobley, who were so quiet overall in the road losses, needed to find their offensive games ahead of the trip to URI.
Well, Adams picked up two fouls early in this one and sat nearly the entire opening frame and Mobley never got going. Adams finished the evening with 10 points and three assists in 23 minutes hardly breaking a sweat in the second half against a Fordham team that offered little resistence. 
Mobley played 33 minutes, but scored just eight points on 3-7 shooting. His inability to get off shots was an issue again (Remember in the SJU loss he was 1-5 from the field) and Bona fans knew that for the team to pull off a road win at Rhode Island they'd likely need Adams and Mobley at their best.
And so, the Bonnies headed to Kingtonston to take on a URI team that they were supposed to battle, neck and neck, for the A10 title this season. Dan Hurley's club entered the game at 12-3, inside the top 20 in the RPI, ranked inside the top 40 on KenPom with no bad losses and a seven game winning streak. This game represented the Bonnies best chance at an "A+" win this season. A win would do wonders for the Bonnies' resume and vault them back into any at large conversation.
Unfortunately for the Bonnies, after a thrilling first half (42-39 at the break) the Rams do what they do best: Wear you down and beat you up over 40 minutes. Rhode Island scored 45 more points in the second half, shot 51% from 2, 38% from 3, 88% from the line and had five players score in double figures on their way to an easy 87-73 run. 
After that competitive first half, the Rams came out of the locker room and punch the Bonnies in the mouth, quickly extending their lead from three to double digits before the under 16 media break. At that point I knew the game was over and the Bonnies, while showing a bit of fight here and there, never got close to striking distance. They attacked the Bonnies in waves from the tip and never let up. They showed everyone why they are the clear cut choice to in the league in possible runaway fashion. 
Where they Stand:
| | | | | | |
| --- | --- | --- | --- | --- | --- |
| Record | RPI | KenPom | SOS | Vs. Top 100 | Winning Streak |
| 12-5 (2-3) | #44 (48 last week) | #64 (60 last week) | 79 | 3-2 | 0 |
Weekly Observations…
Rhode Island is a Cut Above- Most A10 fans went into the season with the belief that SBU would challenge the Rams for the conference title, and maybe only SBU. At this point in time that notion seems almost foolish. URI is 5-0 while Bona is now 2-3 with a tough road trip to Davidson on tap for next Friday. On Saturday the Rams showed why they were so highly regarded in the offseason and why they're 13-3 with losses to only teams ranked inside the top 50. Dan Hurley's team is experienced (five seniors/ played in the NCAAs a year ago), deep (rotating 10 players), talented (see guys like Matthews, Dowtin, Terrell, etc.) and play as tough as everyone. Further, in years past the Rams needed to beat teams in low scoring, rock fight games, because they simply didn't have enough weapons on offense to win high scoring games. That's no longer the case; a scary proposition. URI averages over 77 points a game and has as talented an offensive team as any in the league. Mark Schmidt's back court is certainly scary, but after that the Bonnies don't have another player on the roster who would see meaningful minutes on Rhode Island. That talent gap is significant. Bonas' loss on Saturday was nothing to be disappointed about really. The Rams are without a doubt the best team in the league; everyone else is playing for second place at this point. 
Dan Hurley Made the Supporting Cast Beat Them- As we discussed in our Q and A with Rhody Rampage and as we talked about with URI insider Chris DiSano on the A10's website, Dan Hurley was going to make the supporting cast beat him. Their plan would be to take Mobley out of the game, stick a longer defender on Adams (Dowtin most of the game) and give the other Bonnies all the jumpers they wanted. Well, Mobley was just 1-6 from three, Adams was 6-14 from the field (3-9 on two point shots) and had just one assist. The stars were held in check. While Courtney Stockard came off the bench to give the team very good minutes (14 points, nine rebounds in 32 minutes) the rest of the team simply didn't provide enough to hang with the Rams, who as noted above, can now really score it. Griffin was 3-7, Taqqee 1-3, Ayeni 1-2, Brockington 0-5, Ikpeze 1-2. Add them up and the supporting cast, aside from Stockard shot 6-19 on two pointers, 0-5 from three…not nearly enough vs. these 2017 Rams. 
Adams and Mobley Weren't Good Enough Saturday- As we wrote about this week there's a ton being asked of these two. At some point, it's almost unfair to ask them to carry this team past a club like Rhode Island. But, the reality is for the Bonnies to get past an elite club like URI they need Adams and Mobley to absolutely shine…or for the supporting cast to have a monster game. Neither guard played poor but they simply weren't able to carry the team on the road. Schmidt knows he needs more than five three point attempts from Adams to win. That one assist from their PG probably isn't going to cut it. That Mobley going 1-6 from deep isn't ideal. In all, they combined to shoot 8-18 from two, 4-11 from three, 10-13 from the line, had one assist and four turnovers. Again, not bad but not enough to get by a team that is probably one of the 30 best in the country. 
Stockard and Griffin Impress- Two Bonnies who had standout games this week were LaDarrien Griffin on Wednesday and Stockard on Saturday. Griffin did a great job of getting behind the Fordham zone defense and making them pay at the rim where he threw down a number of dunks. He did some great work on the glass in pulling down 14 rebounds as well. Grififn has only scored double figures in one of the Bonnies last six games and so it was good to see him break out that mini-scoring slump. He's still shooting 49% on two point shots and finishing at the rim, about as well as you could expect a skinny, 6-6 forward to playing against bigger, stronger forwards each night. Stockard may be the team's 6th man but he plays starters minutes at this point. The versatile wing/forward has played an average of 27 minutes per conference game and has averaged 12.6 points, 7.2 rebounds and over one steal per game. He came to work again on Saturday against the Rams and kept the Bonnies in the game to a large degree. He has been everything you could have asked for coming into the season. I would expect him to continue to play more going forward given his recent string of success. 
Again, Where is the Defense?- We've spent a lot of space here on the blog this year commending the team for their much improved defense this season. However, the Bonnies have regressed into some bad habits since A10 play rolled around. In conference games SBU ranks 11th in points allowed per (78.6), 8th in FG% (45.6%) and third in fouls per game (19.4). The three point defense hasn't been the issue (4th, 32%) but clearly Bona isn't defending it well enough inside, allowing too many paint touches and too many high percentage shots against their undermanned front court. A further dive into stats proves that assertion correct. Bona allowed Dayton to shoot 77% on two pointers, SJU shot 60%, and Fordham and URI both shot 51%. A10 foes aren't settling for three pointers against this weak Bona fron court. SBU needs to make some serious adjustments before Friday against a Davidson team that ranks 16th in the country in 2P% (57%).
Jeff Dowtin is a Stud- On a roster full of talented players, URI Sophomore Jeff Dowtin really stood out on Saturday morning. Dowtin played solid defense on Jay Adams bothering him with his long arms and forced the Bonnies' PG into a number of tough two point shots (Adams now shooting 41% on shots at the rim vs.52% from three). Dowtin finished the game with 18 points on 7-10 shooting and 9 assists against 0 turnovers…playing within himself to the Nth degree. On the season Dowtin is leading the league in A/TO ratio with a jaw-dropping 5:1 ratio…87 assists against 15 turnovers. 
Road to the Bye Isn't Easy- With any hopes of an NCAA at large likely now gone (or on life support) the team has to find a way to start running off wins to earn a top four finish. If you really want to push it, the Bonnies would be best served to finish second or third so they avoid URI in the semi finals in D.C. With a tough game at Davidson on Friday, it is possible that the Bonnies start league play 2-4. Still, SBU has 13 games left and I'll predict it takes 11 wins (Maybe 12) to crack the top four come March 3rd. If that's the case the Bonnies need to win nine of their final 13 games; no easy task for a team that has dropped three of four. After the Davidson game the schedule eases up to some degree with four of the next six at home, so there is reason to think the Bonnies can finish strong. Keeping pace with teams like Duquesne (4-1 start), Davidson, VCU and Dayton is now the key.
Updated Advanced Player Statistics: (This week we check out hoop-math.com) 
What's Ahead: The Bonnies have nearly a full week to prepare for a tough game game at Davidson on Friday night. Davidson is currently 8-7 and 3-1 in league play having won three in a row. They play today against Fordham in the Bronx before heading back to NC to prep for the Bonnies. Davidson is no longer the uber talented guard oriented team they were in recent years, but still take care of the basketball (2nd in natio in TO% offense) and can shoot it from anywhere on the floor and take more threes than probably any team should. 6-8 forward Peyton Alridge is having a poor season shooting it from deep (29% down from 40% last year) but is still their best player overall. Davidson scores a higher pecentage of their points from three than all but 15 teams in America (regularly putting up 30 three pointers a game and took 53, yes 53 of them in their opener vs. Charleston Southern…making 26 of them). See below for a full KenPom break down of their offensive and defensive rankings. 
——————————————
Looking for some new Bonas Hoops gear? Look no further than the Spors Locker, Olean's number 1 sports outlet. They've got new for 2017 Wolf Pack shirts and a new Lady's V-neck as well. Check them out online here or in town before your next trip to the RC!
(Photos used with permission from Steve Harrison. You can visit his website and check out his fantastic work here)