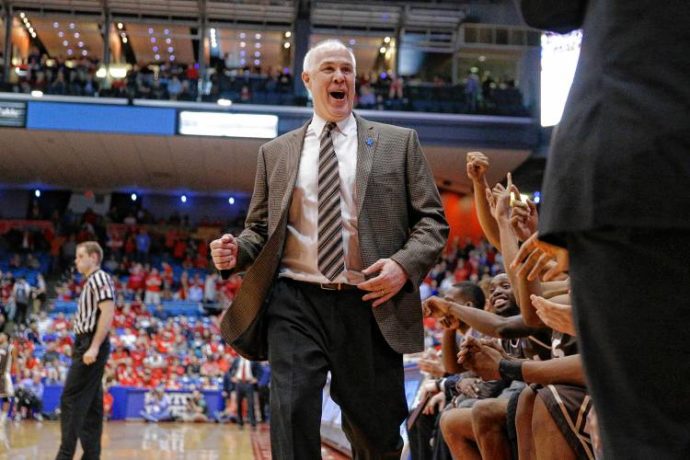 Vaccaro: History Tells Us: We're Not Dead Yet!
By Mike Vaccaro
            Look, I know what you're thinking:
            We blew it … This was our year, and it's already over … All these years as an underdog, and we can't handle the role of favorite … What the heck is the matter with (fill in the name, depending on the game)? …  The year we finally beat Syracuse and Syracuse immediately starts looking like the Washington Generals … And oh, by the way, have you noticed that Maryland can't get out of its own way lately, either? … Schmidt teams sure seem to prefer life as an underdog  … How many days till pitchers and catchers (or Bills OTA's, depending on your personal favorite) … I was going to make a pilgrimage but do I really want to drive all that way in fifteen feet of snow and/or sleet and/or locusts and pestilence and …
            And here's something else:
            I'm not here to insult your intelligence. The Bonnies are in a world of hurt right now, even if they have a 12-5 record that in just about every year going back to 1979 or so would be celebrated to excess, even though, at 2-3 in the Atlantic 10, there's still a lot of time left to honor their preseason expectations. We all endued 2015-16, when the one eternal lesson gleaned from all that hope (and all that suffering) was this: when in doubt, win. The Davidson loss in the A-10 Tournament that year gave anyone on the NCAA selection committee looking for ammunition to keep the Bonnies out all the gunpowder and buckshot they needed. Hell, it probably didn't help any losing to a terrible La Salle team earlier in the year. No margin for error means just that: There is zero margin for error.
            Especially now. Especially after the Dayton no-show and the St. Joe's no-show, especially after playing a terrific first half at Rhode Island last Sunday but then spending the second half looking outclassed in every way by the Rams, a team that really is living up to every preseason billing they earned. That was the game that probably forced a cold reality to descend on most of us. This is an exchange I had with a fellow True Believer later that day:
            Me: "We're NIT good. They're NCAA good."
            Him: "If we're lucky."
            So we've gotten that out of the way. We can agree that the mountain ahead is steep and foreboding, and the only thing that's going to change most of our minds is a winning streak that begins immediately, if not sooner (although we'll have to settle for Friday night at Davidson's Pit of Misery, on ESPN2, as if the season needed a few more added degrees of difficulty). We can wallow in that pessimism if we so choose, and would not be wrong to do it.
            But here's something else to consider:
Think back to 2000, a time when the NCAA Tournament was still some kind of fanciful thing that only other schools and other teams dreamt about. Yet those Bonnies entered that season with expectations not unlike what these Bonnies did. That team started 12-2, and was on the brink of the Top 25 for the first time, seemingly, since Herod was king, and there were so many Bonnies fans who stuffed themselves into Rose Hill Gym to witness that Saturday-afternoon game that would finally vault them into The Poll that it felt like a coronation as much as a basketball team. And then, of course, Fordham won the game, 66-60.
            That was bad.
            This was worse: exactly 15 days later, the Rams (who weren't abysmal but were still only 14-15 at year's end) came to the Reilly Center to absorb the expected scourge of revenge the Bonnies were sure to administer. But the Rams won that game, too, 73-68. That was a second straight loss. That gave the Bonnies a record of 13-6, and I remember that day with crystal clarity because it was obvious that there would be no NCAA Tournament for a team that got swept by Fordham. And I had a similar conversation with my same friend, only it went something like this:
            Me: "We're @&$#@-ed."
            Him: "Stick a fork in us."
            Here's something else to consider:
            By mid-February of 2012, the general mood among even the truest of the True Believers was a solemn and sad one: the Bonnies were going to waste all four years of the gift that had been Andrew Nicholson's career. The Bonnies had suffered a terrible choke in the previous year's A-10 tournament, losing to La Salle at home, and they'd settled for a thoroughly uninspiring bid in one of the tertiary-tier postseason tournaments, the CBI, and the resulting uninspired 69-54 loss at Central Florida all but certified that the Bonnies would never again accept an invitation to play in them, certified the notion that playing in these satellite events isn't worth much of anything – but loomed as the only true postseason game Nicholson would ever play in. Then, on Feb. 15, Temple played its last-ever game (so far, anyway) in the RC, held off a late rally, won 76-70. The Bonnies were 13-10. They'd lost three out of four. One thing was abundantly clear, as I recall telling my friend the next morning.
            Me: "What a shame. What a waste."
            Him: "And they didn't cover, either. Double loss."
            Well, you know where this is going by now, I think, but let's go back even farther, to the night of Dec. 10, 1977. Back when I was a student, I worked on a story about the 10th anniversary of the 1977-78 NCAA team for The Bona Venture and I talked to Bill Kalbaugh (an assistant on that team who by '88 was the head coach at Mercyhurst). This is what Kalbaugh told me [paraphrasing here, because the story never ran]: We're feeling pretty good about ourselves because we won the NIT the year before and we still have Sanders and Hagan and we go into Manley Field House and get our doors blown off [107-81] by a really good Syracuse team with Louie and Bouie and Marty Byrnes. And the whole ride back to school, all Jimmy [Satalin, the head coach] could say, over and over, was 'If we want to play in the NCAA we're going to have to beat that team [in the ECAC playoffs] and right now they're 40 points better than us. How do you make up that much ground?"
            Now, I was only 11 years old at the time, I hadn't yet met my friend and hadn't yet heard of St. Bonaventure. But I know how that call would've gone the next morning,
            Me: "@&$#@@&$#@"
            Him: "@&$#@@&$#@"
            OK, so in 2000 things worked out for the good guys because, for one thing, they happened to catch fire down the stretch, winning seven out of eight including Xavier twice, and a had-to-have-it win over Dayton in the A-10 semifinals in Philadelphia before trying to sabotage themselves the next day against Temple, falling behind 32-4 (!!!) before settling for a 65-44 loss they had to sit on for more than 24 hours until the brackets were announced the next day. And, of course, that was a different A-10; the Bonnies' bid made three for the league in an era when it regularly received three, four and sometimes five bids. Now, depending on how things fall, the A-10 could be a one-bid league, surely no more than a two-teamer. So, yes, that's a major difference.
And yes: in 1978 things worked out because the Bonnies did make up those 26 points (and one more to spare) to shock Syracuse in the ECAC semis before doubling that margin of victory to 63-61 over VCU in the finals to earn an automatic bid, then as now the surest path to the brackets. And in 2012 things worked out because of three glorious days in Atlantic City (immediately following a heart-stopping double-overtime win over St. Joe's in Nicholson's home finale that really served as a launching pad for that). Things could still work out that way for this year's team, of course, which we should still remember is still good enough to play with anyone in the league, especially on a neutral court. Nicholson knew there was no consolation prize awaiting him if the Bonnies lost that championship game to Xavier (or either of the two that preceded it), and the hard-to-predict whims of the NIT might make for similar stakes for Jaylen Adams, Matt Mobley and Idris Taqqee come March in Washington, D.C.
            One thing's for certain:
If you thought you were going to have a smooth ride through this season, or if every game was going to provide the kind of satisfying afterglow that the win over Syracuse did … well, let's be honest. You knew neither of those things was possible. You knew your knuckles would be white most of the way. And there's this: the Bonnies are struggling, they have frittered away most of the good will of the out-of-conference schedule and they will have a tough course ahead of them that's rife with bunkers and sand traps.  Still, as Fred sang so eloquently in "Spamalot":
            Not dead yet.