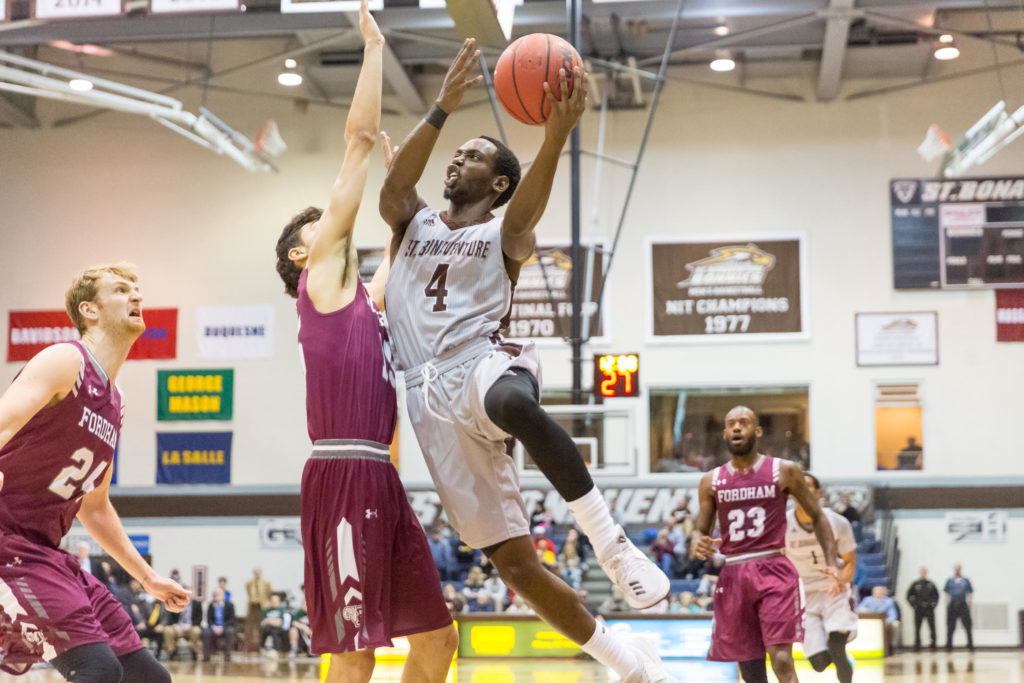 Winners of 11 in a Row, Bonnies Can't Stop Winning Now
On the evening of Friday, January 19th, the Bonaventure men's basketball team boarded a plane from North Carolina fresh off a ten point loss to the Davidson Wildcats at Belk Arena, a game that was broadcast on ESPN2. Davidson poured in 14 three pointers and for most of the night, seemed a cut above Mark Schmidt's Bonnies in what was a huge game for both clubs at that point. 
The Bonnies were losers of four of their first six league games. Their eight game winning streak spanning from a thrashing of Siena on November 29th to a complete offensive domination of UMass (December 30th) to opening conference play were washed away.
The Syracuse and Maryland wins seemed, almost, like they didn't even matter anymore. They appeared to be likely high points on what was a disappointing season. 
Externally, many fans gave up on the team's chances of making the NCAA Tournament that night. Some even said the team would be lucky at that point to make the NIT…seriously.
Generally trying to be a voice of reason (on the website if not on Twitter, because man is it hard to live Tweet a game and be super rationale), even I had serious doubts about the teams ability to dig themselves out of a steep hole in a very much down A10 conference that offered little going forward in terms of resume building wins.
While we, and many fans took to Twitter that evening of January 19th to wonder how the hell this team could be 2-4 and still make the NCAA's, the team likely slept well on their plane ride back to Western NY with an attitude that would have likely told us all to simply, "Chill."
I didn't slam the doors completely shut, but I'd be lying if I said that I was optimistic about the club's chances to earn and at large berth that evening.
In the spirit of always holding ourselves accountable, after the St. Joe's game I wrote…
"The Bonnies have backed themselves into an incredibly difficult space just a week into conference play and now have to take it one game at a time to battle back. With their hopes of an at-large berth likely slim to none at this point, they need to focus on earning a top four seed so they have a bye in DC. Without that bye, cutting down the nets in the nation's capitol will go from a very difficult task to a nearly impossible one.
Most likely, this season's outcome will likely depend on one weekend in Washington. It's not how anyone wanted this season to end, but it is now the most likely scenario given recent developments."
And after the loss to Davidson we wrote that…
"Last night's loss was not in the least surprising as the Bonnies were five and a half point dogs; Davidson is a good team that is getting better each week (Seemingly anyway). They're tough to defend and they have a tremendous coach.
So, there's no reason that last night's "L" should make you feel any worse about this team; they didn't lose to George Mason at home.
Having said that: Now it's time to start winning some damn games. SBU will likely be favored in their next seven games. Four of those are at home. Three of their last five games at at home. There's ground to be made up, but there is a path for this team to climb the standings and fast, they just cannot wait another game to start moving. As the team's motto this season states: Let's Get To It."
The Bonnies did just that; they got to winning.
Big time winning.
Pissed off, determined- to-prove-the-World-wrong-winning. 
Armed with a favorable schedule in front of them, the team took care of business in a major way…a way that the program has never seen before, in fact, winning 11 straight games.
As we all now know the club's resolve and heart has been tested time and time again since that loss to Davidson. Faced with "game seven" every game as Mark Schmidt said, the team won and won and won and won and won some more when all the chips were pushed to the middle of the table.
From Jay Adams back to back 40 point games over Duquense and St. Louis, to winning at La Salle (a house of horrors) to knocking off #16 Rhode Island and then getting a win at VCU for the first time ever before downing Davidson in the now famous triple overtime, 117-113 victory that will go down as one of the single best games ever played by a Bonnies team (which I missed as my daughter was born hours before tip and I am crediting her for being a good luck charm…I'll tell her all about that night, and the Bona win soon enough).
To be sure, there was NO room for error during this current streak.
A loss to any of these teams could have knocked the Bonnies onto the wrong side of the bubble (assuming we're on the right side today) and so the stakes were never higher.
On several occasions during this 11 game winning streak, it looked like the Bonnies may not come through. You could argue that six games during this stretch could have went either way, including the last four in a row. The URI, VCU and Davidson games likely both knocked off years on many a Bona fans' life and caused more than a few cocktails to be consumed in bars from Olean to wherever you may be right now. 
As the pressure mounted, Mark Schmidt's boys kept making big plays and finding a way to win. 
Now, they're on the verge of the school's first NCAA bid since 2012 and their first at-large bid since 2000 when they went 21-10.
Their resume is very solid (23-6, #21 in the RPI, #55 NC SOS, 7-4 vs. Quad 1-2 teams, and several solid if not good away from home wins) but as Mark Schmidt said following the Davidson win in the locker room, "Three more and we need to go to Saint Louis for that last one." 
Like all Bonnies fans, Schmidt has not forgotten about 2016 when Bona was famously "snubbed" from the tournament. He's not taking any chances in calling for his team to win another game at Saint Louis and then go to Washington D.C. and win all three games, cutting down the nets and leaving nothing to chance with the powers that be.
And who can blame him?
While the Bonnies resume may seem all-too-good to leave out of the field, the reality is that according to bracketmatrix.com (a website that combines the projections of endless on line forecasts) SBU is only currently an 11 seed, and still the 5th to last team in the field, avoiding a play in game at Dayton by the smallest of margins.
Several brackets have Bona as a 12 seed, one of the last teams in the field despite all this winning.
A Bonaventure loss at Saint Louis (#144 in the RPI and #139 on KenPom) would without a doubt, be used as a case against them come selection Sunday. Let's not forget: In 2016 SBU won 10 of their last 11 games to end the regular season and boasted a sub 30 RPI after winning a share of the A10 regular season title.
The lone loss? A road game at #267 La Salle on February 17th. Fans didn't know it at the time, but as it turns out, the Bonnies more than likely needed to win their Friday night game vs. Davidson in Brooklyn to get into the field.
Heading to Brooklyn as darn near favorites to win it all that year (As they will be next week), Bona fell in overtime to a Davidson team that refused to die all night in a 90-86 rip-your-heart-out type of loss.
The Dion Wright foul of now-star, then-sophomore Peyton Alridge shooting a three pointer in the corner and Marcus Posley's game winning lay-up attempt that just rimmed out are still burned into my mind asa I'm sure they are yours. 
By no means am I saying that a loss on Saturday in Saint Louis would "force" SBU to win two or three games in D.C. to get into the field.
What "has to happen" for these Bonnies to find their way into the field depends on so many different things that to some degree it's almost not worth keeping track of such things; you'd quickly drive yourself mad. 
What is clear is this: Don't leave it to chance. Keep winning…and winning…and winning…and winning.
This team has come so far, now they have to keep punching and finish the job.
The wounds of 2016 are still far too fresh and painful to forget about how two years ago well over 90% of brackets had SBU in. Joe Lunardi of ESPN said Bona's omission was maybe the worst snub in the history of the tournament. Fans largely weren't worried about "in" or "out" they were worried about seeding and what city to book a flight to. 
Could that happen again? Absolutely.
Why not? In this day and age where Power 5 teams seem to get the benefit of the doubt over mid majors every single time (Remember how Monmouth was also horribly snubbed in 2016 after beating at Notre Dame, UCLA, Georgetown vs. USC and won 28 games)?
Oklahoma, who has lost seven of their last eight games and is in 10th place in the 12 team Big 12 (Yes, 10th out of 12th in the own conference) is still projected as a 10th seed…Read that again and let that sink in if you're so trusting of SBU's place among the field.
Alabama (#59 RPI, 11-12 vs. Quad 1 and 2 teams, losers of four straight and presently 9th in the SEC) is also ahead of the Bonnies in most brackets; if you need a second example of such P5 bubble teams currently ahead of the Brown and White with suspect resumes.
Is the committee biased? Are they corrupt? After 2016 I wrote here, quite harshly, that they probably are. I like to believe the best in people, and assume that the playing field is level, but man is that tough after two years ago.
I have a memory, and the facts that support our snub in 2016 tell me to take nothing for granted and to assume nothing.
All that's left is for Jay Adams, Matt Mobley, Idris Taqqee, LaDarien Griffin, Courtney Stockard, Amadi Ikpeze, Izaiah Brockington, Nelson Kaputo and Tshiefu Ngalakulondi is to keep playing their tails off and continuing to find ways to win between now and selection Sunday. 
They've come too far to fall short now. Too many clutch moments. Too many big three pointers. Too many important defensive stops. Too many tide-changing charges taken. Too many moments that Bona fans will forever remember in this incredible, record setting season filled up emotional highs and lows.  
They haven't lost a game in 42 days.
They literally could have given up losing for Lent.
Now, I just want them to find a way to not lose for another nine.