Gregg on target for a breakout sophomore season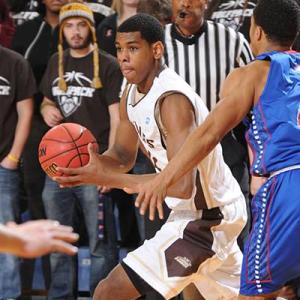 Mark Schmidt has made a living on signing under-recruited prospects and developing them into pieces of a winning puzzle.
Perhaps no player epitomizes this better than Dion Wright, who came to St. Bonaventure with little hype but may leave as an all-Atlantic 10 selection if he continues to improve.
Wright played in just 13 games as a freshman, averaging 2.8 points and 1.9 rebounds per game. Last season those numbers jumped to 8.7 points and 4.8 boards per in 33 games.
Wright was the first Bonnie off the bench last year. He will be relied on even more this year.
So, too, will Denzel Gregg, who has the ability to follow in Wright's steps.
In many ways, Wright and Gregg are mirror images of each other. Wright is listed at 6-foot-7, 220 pounds, Gregg at 6-7, 215. Both players are long and athletic but lacked tangible basketballs skills (exceptional dribbling, passing, shooting skills) to be recruited by the big schools.
Like Wright, Gregg made little impact as a freshman. The Syracuse native played in 26 games and averaged 2.0 points and 1.9 rebounds.
Like Wright, Gregg showed flashes that he could develop into a strong Atlantic 10 player.
While Wright has a unique nose for the ball and a soft touch around the basket, Gregg displayed his potential as a dynamic defender in his first year with the Bonnies. While playing just 209 minutes, he blocked 16 shots – good for second on the team. If Gregg can keep that pace while playing more minutes, he will be one of the A-10's top shot blockers.
Imagine a front line of Youssou Ndoye, Dion Wright and an improved Denzel Gregg. That trio will make it tough for opponents to score inside and obtain second-chance opportunities.
Gregg is my preseason pick to be the Bonnies' most improved player this season. Who is yours?