Ndoye is 7 feet, therefore an NBA prospect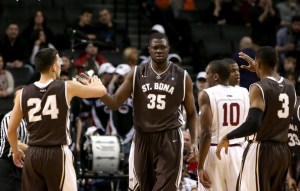 So Youssou Ndoye is receiving interest from NBA teams. You shouldn't be surprised, even if his coach couldn't have envisioned something so preposterous when the big man first stepped onto the Reilly Center hardwood in 2011.
"If someone told me four years ago that I would be getting calls from general managers and front office people in the NBA, I would have told them they were crazy," Mark Schmidt said Atlantic 10 media day. "But that's what's happening."
It's happening because Ndoye — first and foremost — is listed at 7-feet and because he has developed into a solid, if not spectacular player at St. Bonaventure.
One NBA scouting director once said that "I'll check up on anyone over 7 feet that's breathing."
Pablo Torre, formerly of Sports Illustrated, estimated in 2011 that an American between 6-foot-6 and 6-8 has a 0.07 percent chance of being an NBA player. The percentage jumps to 17 percent if seven feet and taller.
In other words, Ndoye has a decent chance of sticking in the NBA for at least a year or two. Of course, he can increase those chances with a solid senior season.
Then again, a subpar season for the big man may not hurt his stock much. Take the example of 7-foot-1 Matt Wenstrom, who only averaged 1.6 points per game while playing at the University of North Carolina in the '90s but somehow managed to play two seasons in the NBA.
What do you think of Ndoye's prospects in the pros?
[polldaddy poll=8416690]