Behind Enemy Lines: Siena Saints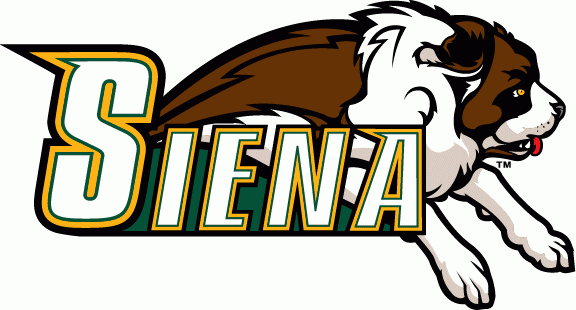 The Opponent: Siena (0-2) of the MAAC. They finished 20-18 last year and won the CBI. They've dropped games to UMass and Vermont thus far.
The Brief Rundown:  Siena is a dangerous team that enters the season with a ton of confidence. The Saints won 20 games last year and the CBI. Their 12 win increase over the year before was the second highest win increase in the nation last season. Head Coach Jimmy Patsos is a proven winner and it's likely only a matter of time before Siena has a return to excellence like that of which they experienced under former head coach Fran McCafferty. Siena brings back all five starters and boasts solid play  both inside and out. Senior guard Rob Poole (14.6 points) pinned down 71 three pointers last season and must be accounted for. Brett Bisping is a solid 6-8 forward wing, and Patsos may have struck recruiting gold in the MAAC last year with sophomores Lavon Long (9.4 points, 4.9 rebounds) and point guard Marquis Wright (8.7 points, 5.2 assists, 199 assists last year). Siena is generally projected as a top 4 team in the MAAC this season. They won last season's Franciscan Cup for the first time in Albany in a game that saw the Bonnies fall 72-70. In that game the Bonnies trailed at the half by ten and could never make up the margin. Long had 15 points to lead the Saints and Bisping scored 13 off the bench in 28 minutes. While this is a dangerous team without question, they are still a team the Bonnies should beat at home. They lost three times last season to Canisius. They dropped games to teams like Monmouth, Marist and Albany last year. Yes, they're a different team 12 months later,  but what are they at the end of the day? They are a top four, solid MAAC team. That's a team you beat at home if you fancy yourself a "decent" A10 club.
Starters Returning from Last Year: 5
Their Best Player, AKA "The Known": Rob Poole. Poole is a quality shooter from behind the arc and has already put 19 points on UMass in their opener. Defending the three point line has not always been the Bonnies strength under Mark Schmidt though they have improved. SBU should look to to put someone with more athleticism and length on Poole's side of the floor whenever possible to make deep shot attempts more difficult. This is a guy who Gregg likely would have been perfect in defending. While Poole is Siena's "best player" this is a balance team with a bunch of guys who can hurt you. It will take a team effort to defend them.
Their Glaring Weakness: Shooting. As you'll see below in the stats department, while Siena has a number of players who can score and they display a balanced offense, their offense just isn't very good. They play slow, go through possessions with a sense of deliberateness, and prefer to go inside to score. If the Bonnies defend them well (and they don't have a fluky night where they all the sudden shoot the heck of the ball) this should be a game they can win with a solid offensive effort.
Their Bad Stat (s): We'll use stats from last year for now and since Siena brings everyone back they apply perfectly. Siena is not a good shooting team.They ranked 319th in the nation in effective FG% last year, connecting on just 44.8% of two pointers and 32.8% of three pointers. They were one of the worst teams in the country shooting the ball inside the arc.  Additionally, they gave a up a ton of offensive rebounds (34.9% of possessions). Siena gave up 52, 52, yes 52 free throws against UMass…Damm, that has to be a case of some bad officiating and some silly fouls. The Bonnies need to take note….go to the rim, draw contact, maybe this team is a little slap happy right now. 52 free throws is always the sign of some horrible defense, which last year wasn't an issue for Siena….see below…
Their Good Stat (s): Siena is a decent defensive team, well at least they were last season. The Saints had a top 80 defense according to KenPom and that was fueled by these stats: holding teams to 33% from three (99th nationally), 43.5% from two (55th nationally) and blocking shots on 12.6% of possessions (52nd nationally). The stats would tell you it's tough to score inside on Siena but the Bonnies should be able to given the talents of Ndoye and Wright who would be first team all league players in the MAAC. I'd be surprised to see Wright/Ndoye and Dees having their shots sent back in their faces.
How Siena Can Win: If they defend the Bonnies like they did UMass (for 20 minutes) last weekend they could win. If the Bonnies shoot it and generally play like they did vs. Dartmouth the opening 20 minutes…Siena can win. On Friday Siena was up 41-36 at the half….Then UMass dropped a cool 59 on them shooting the hell out of the ball in the second half. Still, Siena managed to out-rebound the Minutemen which is nothing to ignore (18 offensive boards also a by product of poor shooting). This is a more experienced and tested club than the Bonnies on a whole, so the longer this game hangs in the balance the more the needle will sway towards Siena's favor. While SBU is clearly going to have the better athletes, Siena has that ability to say "we've been here before" as a collective team. That's important.
How the Bonnies Can Win: If they play for 40 minutes like they did in the second half against Dartmouth they will win this game. Having Ndoye back inside is an enormous lift for the Bonnies who will run a skilled 7-footer at a MAAC club who's not used to seeing a center of his ilk. I know it could be said every game, but the Brown and White should go inside early and often and look to exploit their size advantage. This is a game where Ndoye could dominate in the paint as Siena goes 6-6 and 6-8 inside. I'd like to see a better shoot selecting from Posley and Cumberbatch in this game and for the team to take their three pointers within the flow of the offense. Limiting turnovers as they did in the second half on Saturday will obviously also help the Bonnies' chances. A few timely three pointers from the Adams Brothers and Marcus Posley coupled with our forwards and good foul shooting should be enough to win this game.
Three Keys to Victory: 
1. Hold Siena to under 42% shooting
2. Score 36 or more points in the paint.
3. Win the battle of the boards/limit Siena to under 13 offensive boards.
The Almighty KenPom Predicts: 76-69 Bonnies win with a 25% chance for a loss.
Siena Fan Blog: http://4guysinblazers.com/