Game Day: Siena (0-2)
Probable Starting Lineup:
PG-Jaylen Adams, Fr.
G- Andell Cumberbatch, Sr.
G- Marcus Posley, Jr.
F- Dion Wright, Jr.
C- Youssou Ndoye, Sr.

Injuries/Suspensions: Jordan Gathers (hip)- Doubtful. Denzel Gregg (Game 2 of 6 game suspension)

Essentials: 7 PM, @ Reilly Center, Video via www.Gobonnies.com stream.
Series History: Bonnies lead the series 28-8 and have one 4 of the last 5 meetings. Siena won last year's game.
Vegas Says: Bonnies -6.5…I've seen as low as Bonnies -4.5 as well.
Stat Fact: Siena has committed a mind-blowing 63 fouls in two games, allowing their opponents to take 90 free throws. Talk about giving games away!  Also, Siena's .200 winning percentage against SBU is their lowest mark against any team they've played at least ten times. If the Bonnies get to the line 45 times I think they'll be okay tomorrow night….
 Siena's Game Notes: http://gobonnies.sbu.edu/sports/m-baskbl/2014-15/files/Siena_Notes_11_19.pdf
The Rundown: 
"Because it's the Cup"
Throughout the history of sport, there have been certain rivalries that transcended the game, match-ups that define generations, withstand the test of time and will live on for eternity.  Red Sox – Yankees, Duke – North Carolina, Auburn – Alabama, Palmer – Nicklaus, Maple Leafs – Canadians, Ali – Frazier.  Four years ago, a new pair was added to this list, as an age old rivalry dating back to 1939 was brought to the forefront of the sports world – St. Bonaventure vs. Siena… "The Franciscan Cup."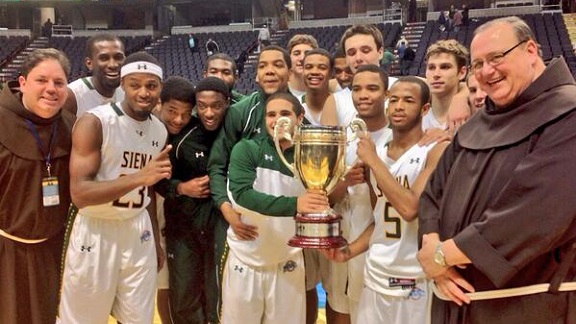 Although Wednesday night's game will mark only the 5
th
time the Bonnies and Saints have squared off with the "Cup" up for grabs, make no mistake, the rivalry between these small Catholic Universities has been oozing with passion as far back the Great Depression.
The foothills of Allegany and the outskirts of Albany respectively, are where these two teams call home.  There are no football programs, no glitz and glamorous downtown hotspots.  Rather, the students of each school show their spirit for the teams on the court from November - March.
Both teams are undoubtedly the highlight of their athletic programs and both have had their share of success.  For Bonaventure, the Golden era of course (60s and 70s) and more recently, a conference championship and NCAA Tournament birth in 2012.  For Siena, Coach Fran McCaffery guided the Saints to wonderful success, highlighted by a four year stretch from 2007-2010 where the Saints won 97 games and captured three straight conference titles ('08-'10).  While Siena has been experiencing a lull in their program over the past few seasons, new head coach Jimmy Patsos has revitalized the Saints leading them to a 20 win season and a CBI title a year ago. Despite his team entering Olean tired, bruised and battered from an 0-2 start and a trek into Western New York, you can bet the Saints will come ready to play in this one. On the home front, Mark Schmidt and his club will try to take back the cup for the first time, having relinquished the hardware for the first time last year after winning the first three installments of the Cup.  The Bonnies have the advantage on paper in terms of talent, rest and preparation….but will they show up for 40 minutes to take back the cup?
Pick to Click: Got to go with the big fella' down low UUUUU. Ndoye who will be making his season debut after his bullshit one game NCAA suspension for…playing basketball in the summer! Who knew that was illegal. Youssou could, and should have his way inside against Siena's 6-6, 6-8'ish front court as long as he stays out of foul trouble. This is the type of team the senior should eat alive if he gets his position and quality touches near the tin. Go out there, get 20 and 12, block 4 shots and then go hit the OP, show of your dance moves that we have grown to love so much and let every "suck-up" underclassmen trying to spark a friendship buy you rum and cokes; you would have earned it big man.
Bona Nation Fan Pulse Says: Bona Nation seems to be riding high after our 20 point win over the Big Green and there appears to be some legitimate excitement over guys like the Adams brothers, Posley and other newcomers. I think most fans are more optimistic today than they were on Saturday morning. I'm one of them. That said, a lot can change in the course of one week or even one game. Let's hope the Bonnies take care of business against a team that is not as physically or strategically as prepared for this game as we are. The Bonnies are rested and Siena should be well scouted since we've had since Sunday to prep for them.
Game Notes Link: http://gobonnies.sbu.edu/sports/m-baskbl/2014-15/releases/20141118ynynwn