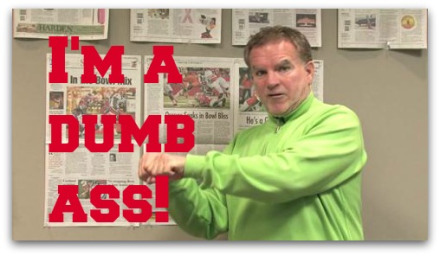 Syracuse Post Standard columnist/blowhard Bud Poliquin wrote/hacked up a piece (of garbage) on what he believes are the top five most 'attractive basketball programs in New York after Syrapuke.
Laughably, Poliquin's list does not include St. Bonaventure. Instead, he lists St. John's, Buffalo, Manhattan, Siena and Cornell as his top five.
If you're so bored that you feel like reading this pitiful example of journalism, click here … or don't.
Anyway, I shared my thoughts with Bud via a quick email that went like this:
C'mon Bud, even you know that this article was a waste of space.

St. Bonaventure is 14-5 against your top 5 NY schools (after Syracuse)  since 1999-2000. In that time, St. Bonaventure has been to two NCAA tournaments, two NITs, won the Atlantic 10 tournament, had a first-round NBA draft pick and beat the Johnnies on their home floor.

Better luck with your next column/blog/piece (of garbage),

Vinny
So who is the bigger dumbass: Bud Poliquin or Jerry Sullivan, who wrote/scribbled like a petulant child a couple years ago that "it will be an upset if the Bonnies finish .500 in the (Atlantic 10) again."?
Vote and comment below.
And if you would like to be a big pain in the ass and fill up Poliquin's email inbox with anonymous threats, feel free to give him a shout: [email protected]. You can also hit him up on twitter @BudPoliquin.