PostGame: Bonnies 108 - Mountaineers 48
The Result:  The Bonnies were able to take care of business Saturday afternoon in their main pre-season test at the Reilly Center against the Mansfield Mountaineers with a final of 108-48.  From the opening tip, the overall length of the Bonnie defense was able to frustrate Mansfield into poor shot selection and numerous turnovers.  The most important result of the game, however is that there were no injuries to the Bonaventure squad.  Something that can probably be said any time that happens this year, as we are all aware how short the bench already is.  Nine different players were able to see the floor in the exhibition, and seven were able to score in double figures.  There were (mostly) encouraging debuts for Derrick Woods and Nelson Kaputo, and roleplayer minutes for LaDarien Griffin. 
The Links:
The Difference (Team):  Bonas' ability to force turnovers was the main difference in this game.  There were very few possessions where it seemed that Mansfield was just going to get an easy look at the basket.  Multiple Bonnie defenders were flying to go after a block and constantly getting in the passing lanes.  It may be more difficult against stiffer competition, but it was encouraging to see the defense put up such a stingy effort. 
The Difference (Player):  Some may want to go with Denzel Gregg in this spot, putting up a 23 spot on Mansfield.  However, the performance from Jay Adams is exactly what Bonas should be looking for night in and night out.  He clearly did not have his shot, going 2-9 from deep, but was able to put up a stat-line of 19 points, 7 rebounds, 6 assists, 3 steals, and the most important number of all for Adams a goose egg for turnovers.  As we could tell from last season, he is likely either going to have his shot or not on any given night.  The most important thing for Adams is to be able to run the offense without turning the ball over.  Let's sign up for these stat-stuffing type numbers any night this season.
The Stats: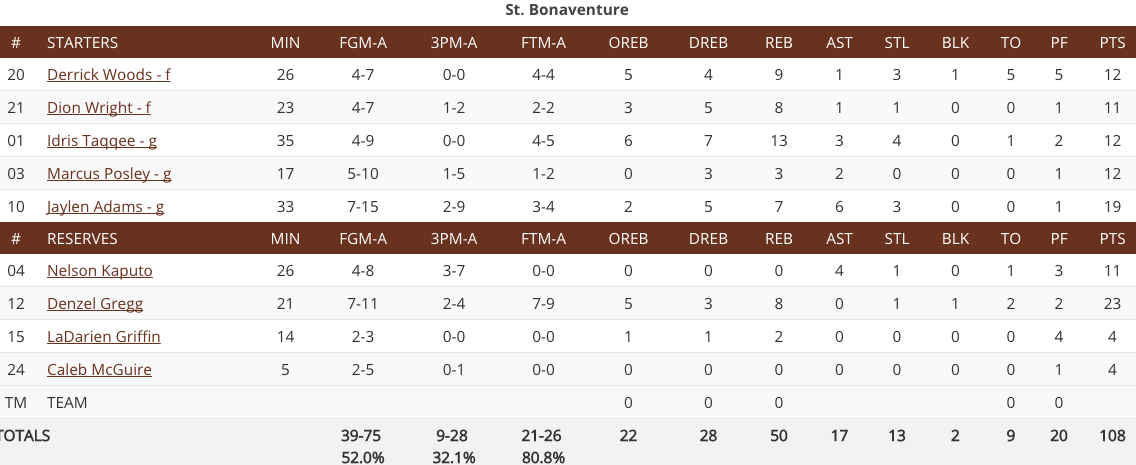 The Video: