Post Game: Bonnies 64, South Carolina St. 45
By: Cody Didas, BonaBlog Contributor
The Result: Probably the second ugliest game of the season (Buffalo game still takes the cake) still resulted in a blowout win for the Bonnies on Saturday afternoon, as they downed the South Carolina State Bulldogs 64-45 to improve to 7-2.
Despite scoring just 23 point in the second half, SBU used their 20 point cushion to cruise to a win vs. the Bulldogs. In a game that was in control essentially from the tip, it seems as if there is still a lot to improve on.  We all had to question how this Bulldogs team pushed Kansas St on the road, and the Bonnies could have easily beat them by about 30.  The broadcast mentioned that the Bonnies missed five lay-ups around halfway through the second half, with the naked eye that seemed as if it should have been reported as twice as much. SBU played soundly on the defensive end of the floor, no doubt about that. They guarded the perimeter well (3-20 from 3) and collected 49 rebounds. It's not that SBU played awfully on both side of the ball, but after being on pace to score nearly 100 through ten minutes the team certainly regressed offensively, missing lay-ups and plenty of open looks. Marcus Posley made just nine of his 24 shots continuing to watch his shooting percentage dip. Denzel Gregg missed three easy lay-ins on his way to a 1-8 shooting night. Taqqee was 1-6, backing concerns that he couldn't develop a consistent jumper. Even Nelson Kaputo (who played well) was 3-12. All in all it was a poor shooting afternoon but the Bonnies defense allowed them to escape with a W despite those woes. When you shoot 34% for the game and win by nearly 20 it speaks to how well you defended and in this case, how bad the opponent is. 
Some fans were worried about this game coming off the break and with the students gone.  Recent memories suggest that they had reason to feel that way.  The news soon before the game of Jaylen Adams being suspended for team violations did not help at all.  There were long stretches where the lid was on the basket for the Bulldogs, but the same could almost be said for the Bonnies.  In the end, a win is a win and the Bonnies improved to 7-2. That's all that matters. Now they can turn their attention to Siena who will provide a much bigger test.
The Difference (Team): I think what largely built the 20-point cushion for the Bonnies was the rebounding, specifically on offensive side of the ledger.  Winning that battle 49-43, and offensively 17-12 is always going to help; especially when shots aren't falling. Semi-intuitive, but if you can wrangle an offensive board there is going to be a high-percentage look following that. Schmidt has said time and time again that over half of offensive boards lead to points and that was on display today. 
Posley needs to continue to drive to the lane and settle less for three point shots. He did that twice in the first half, think he began to settle much more in the second half (along with the whole team missing lay-ups). He said as much in the postgame. We've said it before but the Bonnies will largely go as he does. They got away with him missing 15 shots this afternoon. I highly doubt that will be the case on Tuesday. 
Obviously, the team defense was a very positive sign for Schmidt coming out of this game well.  South Carolina State isn't a good team, but they still average in mid-70's so they can score it to some degree.  There were extremely few true easy looks from the Bulldogs and the guards seemed to constantly have their hands in the passing lanes (Posley w/ 4 steals and Kaputo w/ 3). "Offense is fickle, defense has to show up", Schmidt said. Certainly that was the case today. SBU held SCSU to 28% shooting, 15% from three, forced 16 turnovers and collected eight steals. 
The Difference (Player):  In an ugly game there are different ways that I could go with this selection.  When it's ugly I think all that you can ask for is consistency, who is Mr. Consistent for this team, you guessed it Mr. Dion Wright.  We habitually highlight how underrated Wright has been throughout those that watch Bonas and the A-10 in general.  Dion comes out with a prototypical double-double (5th and A-10 leading of the year) with 14 and 10.  He completes it on 7-13 shooting, efficient in a game where Bonas shoots 34.8% from the floor.  Oh, and he defended without fouling with a goose egg in that area.
It was an encouraging effort as well from Nelson Kaputo, with his first start and 40 minutes of action.  The shot was not completely there for Kaputo on the afternoon, but a 12/7/7 slash-line is very impressive for a true freshman.  He stepped into the starting point guard position very well, and only turned the ball over twice and chipped in three steals.
The Stats: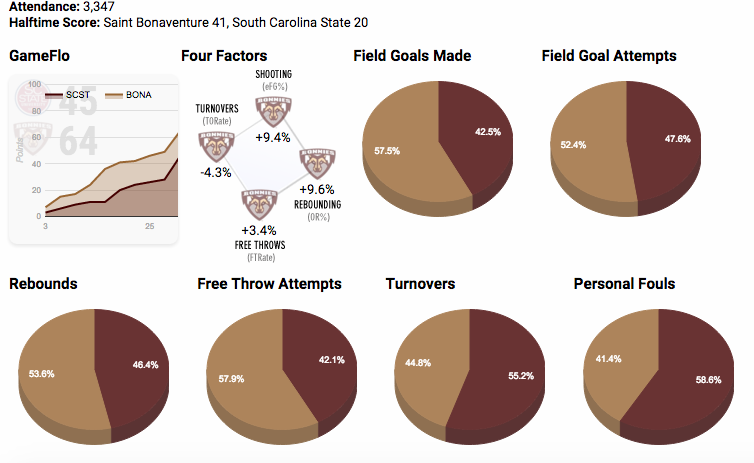 What's Next: The Bonnies will have one final test before getting a few days off for Christmas break.  They will head east to take on the Siena Saints (7-4) on Tuesday evening for the Franciscan Cup.  For some common opponents, the Saints defeated at home the Loyola (MD) Greyhounds on 11/28 90-82 in OT and defeated Hofstra at home 12/9 81-68.  The Bonnies have been stunned the last two seasons dropping games to the Saints, including a heartbreaker on a floater two seasons ago. We will see how the Bonnies respond Tuesday night.