Recon: George Mason, Wednesday, 7PM
Date & Time: 1/6/16 7:00 p.m.
Records: George Mason 6-8, St. Bonaventure 9-3
Venue: EagleBank Arena, Formerly the Patriot Center, Fairfax, VA
The Opponent: The Bonnies make their way down south to Virginia on the first leg of their road trip that will conclude this weekend at UMass. After several extremely disappointing seasons under the direction of head coach Paul Hewitt, Mason let the long-time head coach go last spring and hired Dave Paulsen who arrived from Bucknell.
Paulsen guided the Bison to several quality seasons including win totals of 19-28-25 and 25. The Bison were always a quality offensive club, and were often dangerous in terms of shooting the basketball from deep. Five times Bucknell ranked in the top 75 nationally in three point shooting. They won games via their offense more nights than not.
So, arriving at Mason has been a quiet the change for Paulsen.
The Patriots are a team that at times is almost devoid of offense. They rank 271st nationally in offensive efficiency, 307th in effective field goal percentage, 313th in three point shooting and a pathetic 318th from the line (62%). No matter how you slice is, Mason has major issues scoring the ball.
While the team did earn a pair of signature non-conference wins early in the season (Mississippi, Oklahoma State), they've come back down to Earth since then having lost six of their last ten. After pounding poor clubs in Longwood (Note on Longwood is that former Anthony Solomon asst. Jason Gee is the head coach there and former Ops Director Jake Luhn is also on Staff. Unfortunately, Longwood is 4-12 and Gee is now 23-59 there…not good, both are good guys though whom I worked with at Bonas, wish them the best in turning that program around) and Wagner, Mason got their teeth kicked in by VCU on Saturday, losing 71-47. Mason has failed to score over 75 points in any game this season…that's the magic number.
While their record isn't great, Mason does have talent on the roster. Shevon Thompson (6-11, Sr.) is a rebounding machine and could give Dion and company fits inside. Guard Marquise Moore is capable scorer and they have a trio of freshman who will become good A10 contributors in Jaire Grayer, Otis Livingston and DeAndre Abram. Give Paulsen time, he'll get Mason back on track.
But, for the here and now, this is a game SBU should be favored to win, despite being on the road. The Bonnies are the better team, but they need to show up and take care of business away from home. We all know this isn't an easy task.
Last Time: January 14th 2015, SBU and Mason played in Rochester with the students still on break. The Bonnies easily defeated the Patriots by a score of 75-55 in their biggest blowout of the A10 schedule. Posley had 22 points, Ndoye had a monster game with 28 points and 13 rebounds and Andell Cumberbatch chipped in a dozen. SBU had 17 offensive rebounds and held Mason to 2-18 shooting from deep in the rout.
The Skinny on George Mason: A poor offensive club who needs to win by playing good defense and keeping a game in the 50s or 60s. Mason ranks 104th in defense, but as noted before, just 271st in offense. They sport a fine 65th ranked effective field goal percentage defense, so they can get stops and force missed shots. Stopping teams inside is where they excel, using Thompson as a true rim protector Mason ranks 59th in 2Pt defense, holding foes to just 44% shooting in that space.
Mason does not turn anyone over…at all…they rank 351st in turnover defense, so they really rely on you missing shots more than anything else. They're also a very good club on the glass, ranking 9th nationally in offensive rebounding percentage defense (meaning they post many one and done possessions). If SBU can simply make enough outside shots to get this game into the high 60s or low 70s, it's a game they should win. Thompson will be a force inside meaning that the guards will be key in scoring. Still, it would be wise for Posley and company to stay aggressive and attack the basket early. One, it will get them going a bit offensively. Two, it could force Thompson to the bench with foul trouble; thus opening up the paint more for Wright, Woods and Tyson.
The Stats: (game by game overview)
The Roster/Team Leaders: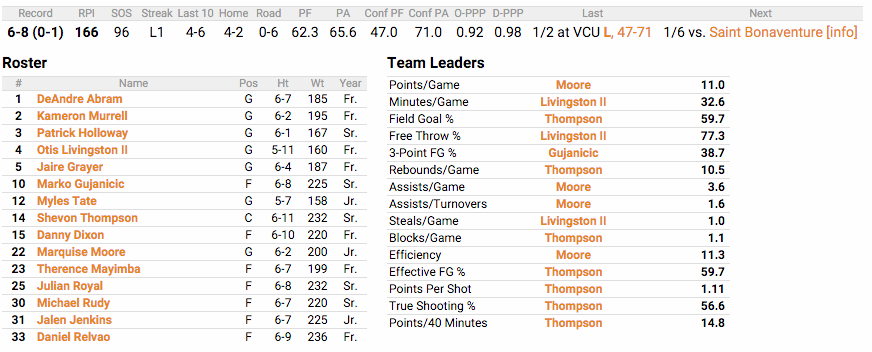 Screen grabs courtesy of Bbstate.com
The Path to Victory: Score the the ball. Mason ranks dead last in the league in scoring (62 ppg) so getting into the low 70s should be enough to beat this team, even on the road. Obviously this is also assuming that the Bonnies' defense shows up to some degree, but they've been able to play well enough on that side of the ball thus far (Holding foes to 70 ppg while scoring 76 ppg). I don't worry about the Bonnies being able to hold Mason to a score in the 60s, but GMU's sound interior defense could present issues. SBU needs to realize early that this does not mean the path to victory is simply to attempt 28 three pointers and avoid the lane. It means they need to attack the rim when possible, and allow Jay to take his deep shots. Once Posley and company get a few lay-ups and runners in them, then they can expand their range. This was the key that allowed the Bonnies to beat Davidson on Saturday. I believe Tyson will be called on often to defend Thompson; that will be a big test for the youngster. Keeping Dion on the floor for 30+ minutes is obviously a key, ditto for Posley.
The Known (their best players): Thompson is not only Mason's best and most productive player (59% shooting) but he's also the type of foe that could do significant damage against SBU's thin and inexperienced front-line. Thompson averages 8.7 points but also 10.5 rebounds (tops in the A10 by two per game). So while Thompson is only fifth in scoring for the Patriots, his near seven foot height and length give him a significant advantage against Wright and Woods. Thompson torched Ndoye last season in great match-up of huge centers, so SBU will need to slow him with quicker, smaller bigs now. Getting Thompson into foul trouble early would be a great start as his rebounding ability also helps GMU create one-and-done possessions; which they need to win low scoring games. It should be noted Thompson did not play vs. Longwood due to a foot injury, then played just 18 and 26 minutes against Wagner and VCU and combined to score six points in those games, but he grabbed 20 rebounds. Mercy.
The Gut Feeling: Mason isn't a very good team right now and they're not playing great ball. Yes, they've won two of three but they nearly lost to Longwood who is pitiful and they were non-competitive vs. VCU. While they have a decent-enough defense to beat some teams, their offensive woes put tremendous pressure on their defense. SBU is coming off a 97 point game and I get the feeling Posley is going to go on one of his two week scoring stretches here. Also, while Mason is 4-2 at home, three of those games came against poor teams (Penn, Longwood, Wagner). I think SBU scores enough to win this one and improve to 2-0 in league play.
The Prediction: St. Bonaventure 72, George Mason 67