Bonnies Outlast Dukes, Remain in NCAA Bubble Talks
By: Cody Didas, BonaBlog Contributor
How We Got There: The Bonnies passed the test brought on by Jim Ferry and his Duquesne Dukes on Wednesday evening.  SBU used a spirited second half-come back win their 19th game of the season in the 80-76 final. SBU stays in the top four of the league and is a game and half (if you want to include tie-breaker) from the league's top spot. The 11th win in league play is a program record. 
This was a game the Bonnies  pretty much HAD to have to remain on the Bubble.  They were tested in the second half, falling behind by as many as eight, but were able to rely on their Big 3, once again, to ice the game. Whenever the Dukes seemed to be ready to land a knockout punch the Bonnies hit back, clawed and clawed until they took the lead in the games' final minutes. When it was winning time, Adams and Posley took over. 
I think that is the difference with this team vs. other editions. In the past they could have been referred to as a "second half team" but this year they are a "closer" type team. They have been there before and they will be there again. Tonight, there was no Andell Cumberbatch play, in-bounding to the hands of a UMass Minutemen to blow a game in the RC. No silly fouls. No bone-headed shots. This team has two guards, and a senior forward, that when the game is on the line, realize that moment. They understand winning time and have closed more often than not this season. That combination has been huge and is something that almost any team in America wishes they had. 
Schmidt talked about that precedent in his presser, he feels much more comfortable that these guys have been there before and generally handle it…he enjoys it as much as we do. 
After being tied at the half, the Bonnies quickly fell behind and began to scare BonaNation as they were seeing their bubble hopes crumble before their very eyes at home against a rival who seems to be a thorn in our side. Micah Mason got hot for a few minutes burying three deep balls in a span of minutes (please leave now Micah…), but the Bonnies would come back on the heels of their feisty sophomore point guard.
Jay Adams drilled two humongous 3's to tie up the game against the Dukes' zone, after going 0-5 from deep in the first half; ice in his veins. Posley made what seemed to be the dagger 3 a few minutes later…Only to watch Eric James drilling an easy 3 to tie it back up on the other end in the blink of an eye. The rest of the way Bonas would only score from the line, going 8-10, about their season average.  
I have said it before and I will say it again, FT shooting should is the calling card of this team. It can win you a lot of games in November, but it can win you a HELL of a lot of games in February/March when contests are nip and tuck each night.  
Ferry was a little less than pleased with how the game was officiated, pointing out the 30 foul shots that Bonas took.  I'd point to whatever the heck that jump ball was with 11 ticks left, fastest whistle I've ever seen. We'll call it even.
Listen, if I had to guess right now, the remaining 3 games will come down to a final minute type of contests. It is essentially how this team plays, whether you want to make the argument that it is a "play to the competition" type of mentality it seems to be true.  
But honestly, I'm comfortable with it.  
It may bite them in the ass now and then (ex: The La Salle game), but for the most part it seems to be working.  Schmidt constantly says to be able to win, you have to know how to win.  This team is starting to get used to winning and wining close, and it is really fun let's just put it that way.  Right now, they are 6-1 in games decided by 5 or fewer, with the lonely blemish being the mishandled ending to Hofstra. With Jay, Marcus and Dion, and the team's ability to value the ball and make free throws, any time the Bonnies are ahead inside of the final media timeout you have to like their chances.
The Difference: I would say their ability to contain Micah Mason; a Bona killer. Outside of a few minute flame-throwing performance in the second half, SBU handled one of the greatest shooters the A10 (and nation) has ever seen.  At 2pm today, I think Schmidt and Co. would have signed up for a 4-11 night from him from deep. Credit to a combo of Posley/Gregg/Taqqee on shutting down one of the hottest shooters in the league. He was averaging a hair under 25 a game in his last six and was held to 16 tonight (a huge win for the Bonnies). One possession near the end of the game, he missed a wide open corner 3 in what proved to be the Dukes last and best chance to take the lead or tie it up. Mason has torched the Bonnies many times in his career but tonight he was held in check. We wish him well and will pack his bags for him. 
Some Bubble Talk: If I had to guess, the win basically keeps Bona "status quo" in most Bracketology conversations.  It is more of the type of game that you avoid the bad loss and move on. Saturday will have a similar feel, it will be important to keep an eye on what others around the bubble are doing as well. Surrounding us from Joe Lunardi's Bracketology- Bama/LSU lost last night, with recent wins from Vandy/Tulsa/GW.  The only game remaining to for us to improve our stock is against St. Joe's next week.  And for those that care/are not aware yet VCU fell tonight leaving us a game out of first.  The tie-breaking scenario would give immense headaches if that some how ends in a four way tie.  It goes head-to-head and then league's best win.
Ian's Take: What a gutty win for the Bonnies tonight with so much on the line, and you knew it would be a battle against this Dukes team. On a night when Jay Adams and Marcus Posley didn't have their shooting touch, the Bonnies hung tough 35 minutes or so until their lead guards were ready to take them home. That's a great recipe for a win at home and Schmidt's guys used it tonight.
Give a lot of credit to guys like Derrick Woods, Jordan Tyson and Denzel Gregg for giving the team something tonight when they needed a lift. Woods started the game great but foul trouble once again limited his work. Tyson played maybe his best game as Bonnie and Gregg's 10-5 were huge off the pine. This supporting cast played a huge role tonight in keeping the score close until the final five minutes when the big three finished them off like Mariano Rivera coming in to record the final three outs of a thrilling slug-fest. 
After getting destroyed on the glass in the first half the team cut into that margin in the final 20 minutes and gave themselves a shot to win; still 22 offensive boards allowed is awful. Dion played his normal heady and steady game and knocked down enough FT's to seal the deal.
We valued the ball in the second half in a major way and played excellent defense on Mason and Colter who generally burn us; they were 6-19 from deep.
The biggest plays of the game to me were the back to back Jay Adams' three pointers and Posley's pull-up deep ball. When the team needed buckets most they let their guards do the work and they delivered again. Jay was so cold all game, missing wide open deep looks but in a span of 60 seconds changed the entire game. That's what cold blooded scorers do. 
I have no idea why the one jump ball was called on Jay in the corner with 11 ticks left and thankfully, because the arrow was with us, the call didn't burn us.
Listen, Duquesne always plays us tough and tonight was no different. On a night where our big guards were 5-17 from deep and 9-27 from the field, we got it done in a must win setting. There are no bad wins in the A10. We survive to fight another day on the bubble, now we must down UMass and keep chopping wood. 
The Stats: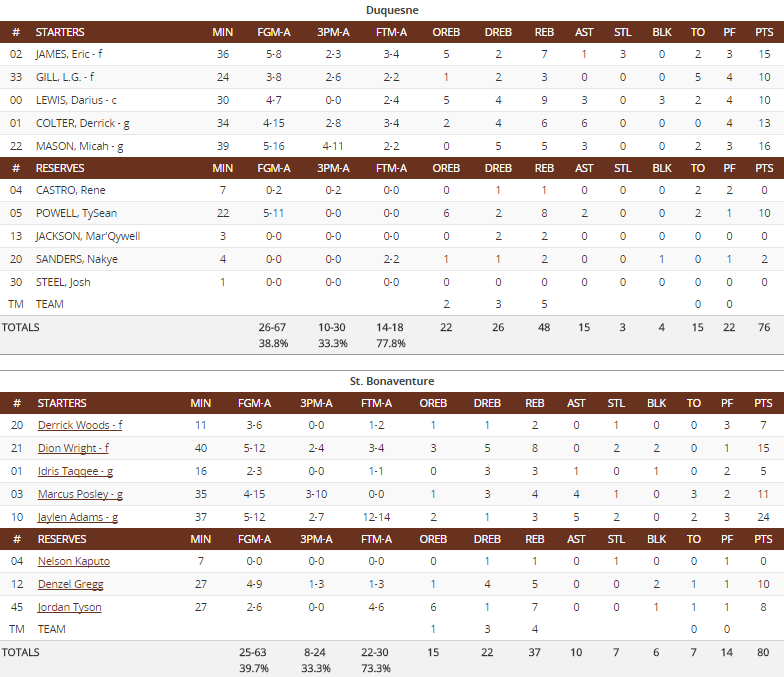 What's Next: The Bonnies will have their Senior Day on Saturday afternoon as they take on the Massachusetts Minutemen (12-15, 5-10) in their second meeting of the season.  In the first victory, the Bonnies downed UMass on their home court 88-77, which really began sparking the hype train that this season has become.  The Minutemen started out league play 1-7, yet have since been 4-3, with at impressive wins over URI and VCU.  They were however, smoked on their home floor this evening by St. Joe's.
The Presser: (poor audio, sorry)