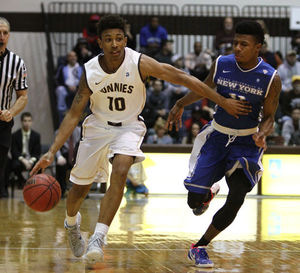 Relax … Swaggy is with his dawgs
By Vinny Pezzimenti
Jaylen Adams is with his dogs … er, dawgs. Which is to say he's coming back to finish his college playing career with his teammates at St. Bonaventure.
Relaxxxxxxx lol… I'm with my dawgs 🐺

— Jaylen Adams (@10jadams) April 5, 2016
//platform.twitter.com/widgets.js
We think.
I never got wrapped up into whether Adams was staying or going, like many other Bonnies' fans. Trying to translate a 20-year old's cryptic tweets is a fruitless endeavor. At their very core they can be interpreted any number of ways.
When Adams tweeted this 10 days or so ago, Ian called me ask what I thought.
I've made mistakes before, but this ain't one of them ✌🏾️

— Jaylen Adams (@10jadams) March 31, 2016
//platform.twitter.com/widgets.js
"I don't know," I answered. "I don't know what's going on in his life."
The rumors of Adams bolting for Texas or Cincinnati or some other big school started circulating in February. The murmurs hit a crescendo in the aftermath of the Bonnies' NCAA tournament snub.
Panic set in. Adams had us hanging on every one of his words. I believe he was toying with us. He and his teammates had you in terror when he (or they) posted this on Twitter this past week (the tweet has since been deleted):
I was never worried about Adams leaving. One player does not make a program. I write that not to diminish Adams' talents in anyway. He is very good, but the Bonnies would have been OK without him. They were OK before he arrived on campus.
Writing this, I'm reminded of a meeting between A.J. Hawkins and Mark Schmidt before player opted to transfer. Having Hawkins, a rising star in the Atlantic 10, would have accelerated Schmidt's rebuild at SBU. But it wasn't going to make or break it.
That's exactly what Schmidt told Hawkins: "We'd like to have you, but we're going to win whether you're here or not."
I imagine such a meeting with Adams would have played out the same way.
Maybe it did. Maybe no meeting was needed.
Were the rumors ever true? Was Texas really in contact with Adams? If so, such would be a blatant violation of NCAA rules. We'll probably never know.
Maybe this was some elaborate hoax constructed in a campus dorm room in the dead of winter – set to reach its climax the week of April Fools. If so, it sure worked on us.
Either way, it's a good lesson for the way-too-anxious fan in the age of social media or any human being that takes sports too seriously. After all, this was a young man deciding where to play basketball. Nothing more.
Adams made the right decision (if indeed he made one) to remain at St. Bonaventure. The Bonnies, on paper, are in position to make another run at the NCAA tournament with Adams as the centerpiece. He'll be an A-10 Player of the Year candidate.
A transfer would have required him to sit out a season. It would have required him to develop rapport with new teammates and coaches. It would have required him to earn playing time. Moving on would have been risky for a player that has risen fast where he is now.
With his #dawgs.
Chill out man my bruva aint going no where lol

— DG™ (@DenzelG21) April 5, 2016
//platform.twitter.com/widgets.js
Jay stayin here w all his dogs 🐶🐶 #BonaGangOrDIE 🐺

— Matt Mobley (@508_mobe) April 5, 2016
//platform.twitter.com/widgets.js