Coburn Signs NLI/Exclusive Q and A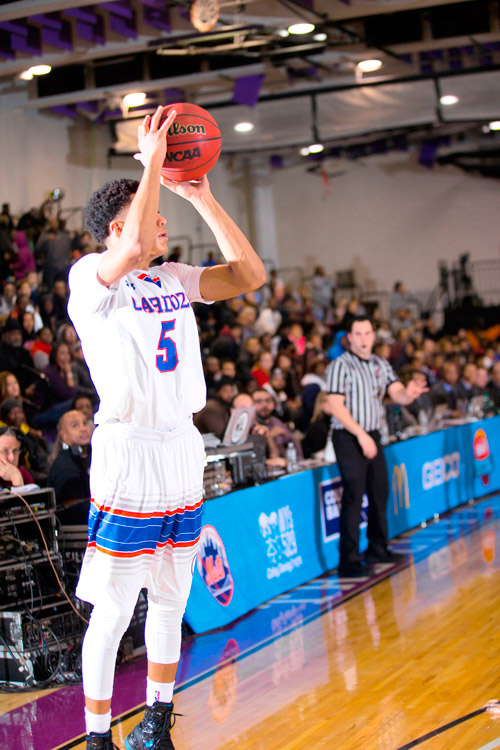 Earlier today GoBonnies and the Men's Basketball Program announced that Tareq Coburn had officially signed the dotted line and is now a full-fledged Bonnie. To read the schools' official release including some words on his game from coach Mark Schmidt click this link here. We had the chance to talk over the phone with the newest Bonnie a few weeks ago and had saved the Q and A for today. Here's our conversation with the Bonnies' guard who apparently really enjoys soccer, hates baseball, wants to go to the 1920s and didn't mind the Hickey food one bit.
———————————————
You come from one of the biggest High Schools in the country (Over 4K students). What made you select such a small college? I didn't care about class sizes, but I did want more attention in the classroom. That made a difference to me coming from a bigger school. 
Ron Naclerio is your HS coach, he's a pretty famous in coaching circles. What's your relationship like with him? How has he helped improve your game? He's a great coach, helped me understand plays, his intensity helps make you ready all the time. With the screaming and yelling. (I inserted joke here about how he's now a bit more ready for Schmidt).
What did he have to say about SBU during your process? Did he think it was a good fit? Yeah he said it was a great fit for me, he thought I'd fit in well and could develop well under coach Schmidt.  
What inspired you most to move from the city to the country so to speak? Part of me wanted to go to a new area, I used to go to the Poconos a lot. I Love to go snowboarding so that helped a bit. 
We heard you were at the Bonnies vs. Fordham game, were you impressed by all the SBU fans at Rose Hill Gym? The fans were nuts, crazy I didn't know about their passion until the night. It was really impressive. 
What other schools offered you before committing to SBU? FDU, St. Francis, Drexel, Monmouth, Fairfield, St. Peters. Siena recruited me hard, Iona as well…St. Joe's recruited me hard but didn't offer, Fordham offered and Robert Morris got involved late. 
Had you ever heard of St. Bonaventure before they started recruiting you? Yeah, one of my friends got an offer from them before so I knew of the school. 
What coach recruited you the most? Coach Curran. 
What did your mom enjoy most about the visit? Did she push you to sign with SBU? She said it's your call, she liked the academics, the small classes a lot she enjoyed the campus a lot and the town itself how it's small and you can walk to everything. She liked the area a lot.
Ultimately, what made you choose SBU over all the other schools? They've been on me for a long time, the league itself is great, and seeing how other guards have had great success was really important. Obviously Posley and Jay have had a great success. 
Who is your basketball role model? Steph Curry. (I would guess this is now the case with 90% of kids)
What NBA player would you compare yourself to/or you try to emulate? Curry.
What are your short and long term basketball goals at St. Bonaventure? Personally to come in and improve as much as I can working with the coaches, hit my ceiling and become a pro eventually and win lots of games and def. make the NCAA tournament.
In what aspects of the game must you improve to be successful at the college level? Being more consistent, my athleticism, I want to become more of a point guard eventually. (This was news to me, don't see that happening but, who knows). 
What's your biggest basketball strength/weakness right now? Shooting as a strength and I could work more on finishing at the rim.
What was the most memorable part of your official trip to SBU? Being in the hotel I got cards saying come to SBU from fans that was shocking. I really appreciated that effort and it made me feel really wanted.
Ok, Quick Hitters:
Favorite home cooked meal? Jerk Chicken
Favorite fast food? Jamaican Flavors
Favorite TV show? The Flash
Celebrity crush? Niki Minaj
Hidden Talent? Play the piano, the drums and guitar and trumpet.
Favorite pre-game music? Pipe it up- by Migos
Fav. artist or CD? Fabulous
Your role model? Steph Curry
Favorite sport to watch other than basketball? Soccer- Messi is my favorite player and Barcelona.
Please tell us you're a Mets fan….If so, whose you're favorite player? No, I don't watch baseball.
Favorite team to root for (any sport)? Bulls, love Derrick Rose.
If you could meet any two people alive who would they be? Lebron James and Michael Jordan.
If you could eat dinner with one dead person who would you pick? Tupac.
If you could go back in history and watch one even what would it be? Roaring 20's, I'd like to see how everyone dressed in person and their styles back then. 
#1 pick in the draft who would you take? Buddy Hield.