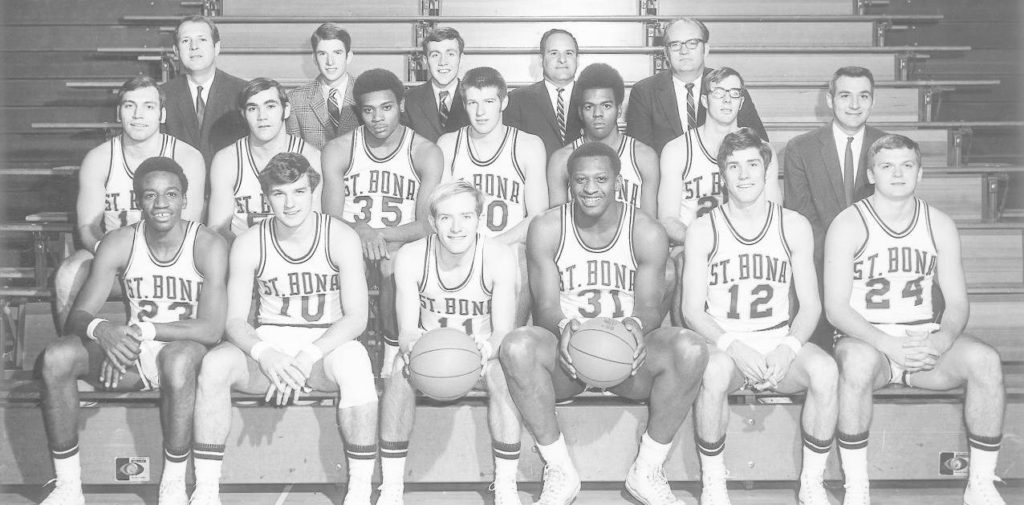 Kalbaugh still pained by end of 1970 season
By Vinny Pezzimenti
As the handful of video clips concluded playing on the large projector screen, Billy Kalbaugh's eyes became misty. His voice quivered.
It hurts. Fourty-six years later, it still hurts.
"Whenever I watch the end of the Final Four and 'One Shining Moment, whenever I see that, I kind of break down, to be honest with you," Kalbaugh said. "The 12 of us that were on the team, to a man, thought we were the best and thought we were going to win the NCAA championship."
Before Kalbaugh was interviewed in front of gathering at the Robert H. Jackson Center in Jamestown earlier this week, vignettes from Unfinished Dreams flashed across the big screen. Scenes of the Bonnies' run to the Final Four. Of Bob Lanier's injured knee. Of the loss to Jacksonville that dashed the team's championship aspirations. Of the good times and bad.
The climax from the documentary film of the 1969-70 season is, of course, Villanova's Chris Ford crashing into Lanier's lower body in the Eastern Regional final.
"The floor where Bob got hurt down in Columbia, South Carolina, they were the first, I think, to put an old tartan surface in," Kalbaugh explained. "You probably don't know what that is today because they got rid of them all. It was a rubberized surface. When Ford ran into Bob, if it was a wood floor, I think his knee would have given a little. With the rubberized surface, his knee just stuck right there."
Watch on #Periscope: Billy Kalbaugh Interview- Robert H. Jackson Center https://t.co/P5xkw11MLc

— Seth Johnson (@Seth_SBU_MP) June 9, 2016
//platform.twitter.com/widgets.js
The Bonnies went on to win the game, 97-74, avenging their only loss of the season to that point. They had beaten Davidson by 13 and North Carolina State by 12 to get to the Eastern final. Kalbaugh said they were playing well enough to win it all, to knock off vaunted UCLA.
"Bless his soul, Coach Wooden, in his one book, he said of his 10 or 11 championships, the only one he wasn't sure of was 1970," Kalbaugh said. "That if St. Bonaventure had been at full strength, he was not certain they would have won the game. I can't tell him now – the man's deceased – but I've played the game a thousand times and we've won every time."
What might have been? Kalbaugh remembers a feeling of elation sweeping over himself after the Villanova win. He thought Lanier was going to be OK to play in the national semifinal. Then, trainer Dick Gigliotti broke the news.
"I was devastated," Kalbaugh said.
Many SBU fans and alumni blame Ford for costing their team a shot at the title. Still bitter, one such man in the Jackson Center audience expressed his sour feelings toward Ford.
Kalbaugh responded by relating an exchange he had with Ford after the game.
"He said to me, 'Bill, I just want you to know, I did not do that on purpose.'"
"A lot of people seemed to think he did," Kalbaugh added. "But he did say that to me first thing. I'm going to give him the benefit of the doubt on it."
[youtube https://www.youtube.com/watch?v=nrzaE_yqr4s]
A son of a college coach, Kalbaugh honed his game in the RPI gym. When asked why he didn't play for his father at RPI, Kalbaugh jokes that he "wasn't smart enough to get in" to the school.
Kalbaugh, instead, was set to attend Xavier. The Musketeers sent a coach to watch him play in high school at Catholic Central in Troy, N.Y., and invited Kalbaugh to a game against St. Bonaventure at Buffalo's Memorial Auditorium.
"This was in early December," Kalbaugh said. "I wasn't smart enough to sign anything. And late in February I got a letter from them that they had found someone else."
St. Bonaventure swooped in. Larry Weise called, and Kalbaugh visited and signed on before leaving campus.
Though Kalbaugh had planned to visit three more schools after the Bonnies, he said: "St. Bonaventure was really the only school who gave me a scholarship."
The rest is history.
The Bonnies went 65-12 during Kalbaugh's three varsity seasons. The lead guard didn't score a lot of points (659), but he was a co-captain, floor general, and facilitator of an offense built around Lanier, his best friend.
During a time when racial tension was high around the country, Kalbaugh and Lanier roomed together on campus – to which Kalbaugh said: "Our relationship really wasn't based on that. We just hit it off. It wasn't something where we said a black guy has to room with a white guy."
Kalbaugh said Lanier's dedication to getting in shape and improving his basketball skills was key in Lanier's rise to All-American status and the Bonnies' run to the Final Four. During the summer between freshman and sophomore years, Kalbaugh estimated that Lanier dropped 30 pounds through persistent conditioning.
"There's a field behind Reilly Center that's about a mile around," Kalbaugh said. "Bob used to run around that. He had a big rubber suit on. They'd never let you wear that today … for health reasons."
Kalbaugh, who lives in Greensboro, N.C., retired in December after spending 17 years as director for the Coaches vs. Cancer program. Before that he coached – as an assistant at the University of Connecticut and St. Bonaventure and head coach for Mercyhurst and the Erie Wave professional team.
Kalbaugh assisted Jim Satalin during the Bonnies' 1977 NIT championship season, and before the team left to play its first round game at Rutgers, Kalbaugh said, "We had the worst practice I had ever seen." So bad that Satalin threw the team out of the gym.
"We had two great leaders, Essie Hollis and Jimmy Baron," Kalbaugh said. "They brought the team back and practiced on their own."
For a man of any age – never mind one approaching 70 – Kalbaugh's memory is superb. He can recall the margin by which the Bonnies won each of their games en route to the NIT title. When asked to say a short word about each of his teammates on the Final Four team, Kalbaugh can tell you where they are and what they've done with their lives.
Kalbaugh can even recall the Bonnies' record – 7-21 – going into their final game of the 2006-07 season at Charlotte. Kalbaugh was an officials evaluator for the Atlantic 10 at the time and was at the game. SBU cleaned house and hired Mark Schmidt that spring.
"They were kind of pathetic, to be very honest with you," Kalbaugh said. "It really hurt me watching them struggle like they did. But then Mark got the job. Wow. He's done a terrific job. I hope we can hold onto him. I think our expectations as alumni now are different than they were 10 years ago. With his clubs, we have a chance to go to the tournament every year."
Like all Bona alumni, Kalbaugh believes the Bonnies deserved to be in the NCAA tournament this past season. He's excited about the future of the program. Much of the excitement comes from man who plays the same position he did.
"I love the guard, (Jaylen) Adams. I think he's terrific," Kalbaugh said. "I used to kid Glenn Hagan about who was the best point guard at St. Bonaventure. Glenn and I used to have a running battle. But this kid, he's the real deal."'
At the RHJ Center in Jamestown, where Bona great Bill Kalbaugh, of the '70 Final Four team, is being interviewed. pic.twitter.com/RLnNi69oo7

— J.P. Butler (@JPbutler10) June 9, 2016
//platform.twitter.com/widgets.js
Memories of the Final Four year live on. They always will. Each time Kalbaugh and his teammates return to campus for a reunion – which is often – stories of that magical season become more fantastic than ever.
"This is my 45th year of being out of St. Bonaventure," Kalbaugh said. "I think when I played they said, 'Eh, Kalbaugh, he's alright. He beats presses with his dribble and gets the ball to Lanier.' Then you go from '85 to 2000: 'That Kalbaugh was a pretty good player.' Then 2000 to now: 'Man, could that guy play.' I haven't touched ball, yet I keep on getting better."
Laughs echoed through the old theater. The film projector had long since been turned off, the tears dry, but the dreams remain unfinished.
When asked to reflect on the legacy of his Final Four team, Kalbaugh said: "I just pray that they can do it again. That's my big prayer. I want everybody to say that the '70 team is the second best team at St. Bonaventure. I want those teams coming up to be better than we were."