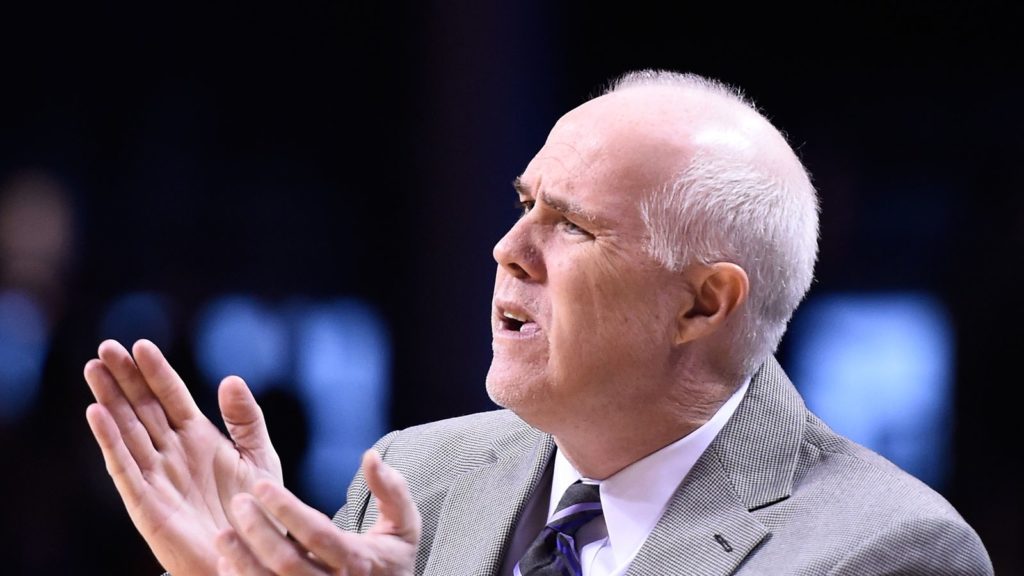 Exclusive Mark Schmidt Q and A: Part 1
During our off-season we had the chance to catch up with coach Mark Schmidt and ask him a bevy of questions ranging from last season's heart-breaking NCAA snub, to this season's outlook to his favorite beer and band. Since it's not often we get the chance to chat with coach for the better part of an hour, and the season is still months away, we thought decided to roll out this interview in three parts.
In today's post, we touch on last season, and some NCAA issues. In part two we talk about this season, and provide a run down on each new player on the Bonnies' roster with the help of coaches' scouting report. In the final post we provide Bonnies fans with rare insight into coach Schmidts' personal life with questions including but not limited to: his favorite meal, his dream golf foursome, his favorite childhood role models and much more. 
————————————
Let's start with last year. When you woke up on Selection Sunday what did you think of your team's chances?
We felt really good. We felt like we had a good chance from what we did as an overall body of work; our RPI, winning the league and winning 14 games. No team previously had the resume that we did and got left out in the history of the tournament. We thought we had a legit chance. But, we also told the kids you really never know, that's why it's so important to try and win it all in Brooklyn, you can't leave it to chance. We saw what happened. 
As a fan, a fan base, it seemed a lot of folks kind of expected the letdown vs. Wagner. What do you think of the guys' mindset going into that game?
We were concerned from the mental standpoint for sure, but we were really banged up physically as well. If we beat Davidson, Marcus and Jay may not have even played vs. VCU, that's how beat up those guys were. It was tough mentally, but physically as well at that point in the season. So, with respect to the Wagner game I think it was a combination of mental and physical factors at play. But, Wagner played well early and put us in a hole, so you have to give them lots of credit for the way they played, they deserved to win.
Now that the season is over, just how badly was Marcus hurt last year? He seemed to be incredibly beat up at the end of the season. 
He was hurt most of the A10 season, he didn't practice a lot of days, we tried to save him for the games as best we could. We would sit during the week and then suit him up for the games. He played on a leg and a half for many games, especially in conference play. So, we tried to save his legs but he was really banged up at the end there's no doubt about it. What he accomplished was so impressive. He's such a hard-nosed player though, incredibly tough kid. 
What did you hear from the A10/Commissioner over this summer as it pertains to what they heard from the NCAA on leaving Bonas out?
The league was terrific, they made a great public statement and our fellow coaches said what a travesty it was. It was great to see that amount of support from your fellow coaches and the conference. But they didn't get any real answers over the summer from anyone as to why we didn't get in unfortunately. 
How do you attempt to schedule knowing that a vast majority of power five schools won't play you, yet the Selection Committee is essentially telling you,  "You have to play these teams to get in"?
You can say all that, but when you have our RPI and win the A10 there's no way you shouldn't get in, period. Say whatever you want about our schedule, we should have been in at the end of the day. Again, no team had the resume we had and got left out prior to our situation. The hard thing is there's no transparency involved in this process. Is it strength of schedule in your non-conference? Is it your RPI? What is it? You don't know what they're looking for because it always changes every year. When you say it will always change, you can adjust that criteria to match whatever teams they want in each year. It makes it really easy to justify selecting one team over the other in any given year. They need to state what they're looking for. Without doing that it makes it impossible to know how to game plan from a scheduling standpoint. There's a lack of transparency for sure. 
Is it discouraging to think that your team won the A10, Went 14-4, had an RPI in the 20's and still didn't make it last year? Does it make you feel that it really has to be "Win the Tournament or bust" every single year for a program like yours?
Yeah, you have to win it to know you're in. But you know how hard that is. It's frustrating to have that year, to do things the school has never done and not get in and look at other teams who got in and wonder, "what if?". Really though you feel horrible for the seniors, it's hard on them because they don't have another chance at it. Marcus and Dion deserved a chance to play on that stage and they couldn't do it and they'll never get another chance. It's more about the seniors compared to the team as a whole to be honest with you. You feel for those guys who won't have another crack at it. The rest of the team can come back this year and try for it again, they can't.
Lots of A10 coaches came to SBU's defense after Selection Sunday. VCU's Will Wade went on a nearly half hour rant explaining SBU's snub and why mid majors face such an uphill battle. Did you hear about that video? If so, thoughts?
No, I never saw coach Wade's video but I knew he came to our aid and was very appreciative of that. He's a really smart coach and knows the game incredibly well from an analytics standpoint. Aside from Will, Archie Miller and Phil Martelli really came to our aid and spoke up on behalf of our program and our kids. That stuff just shows what type of coaches we have inside this conference. They aren't just out for themselves, it's not just about their programs. They care about the other players, coaches and programs in this league and will speak up when they need to. But in the end we didn't get in and it was very disappointing.
———————————————
Check back in a few days for Part 2 of our exclusive interview with coach Schmidt. We will chat about this year's team and ask about replacing Marcus and Dion, the offensive tempo, how long it takes him to get a read on his roster, depth, and detail each new Bonnies' game.