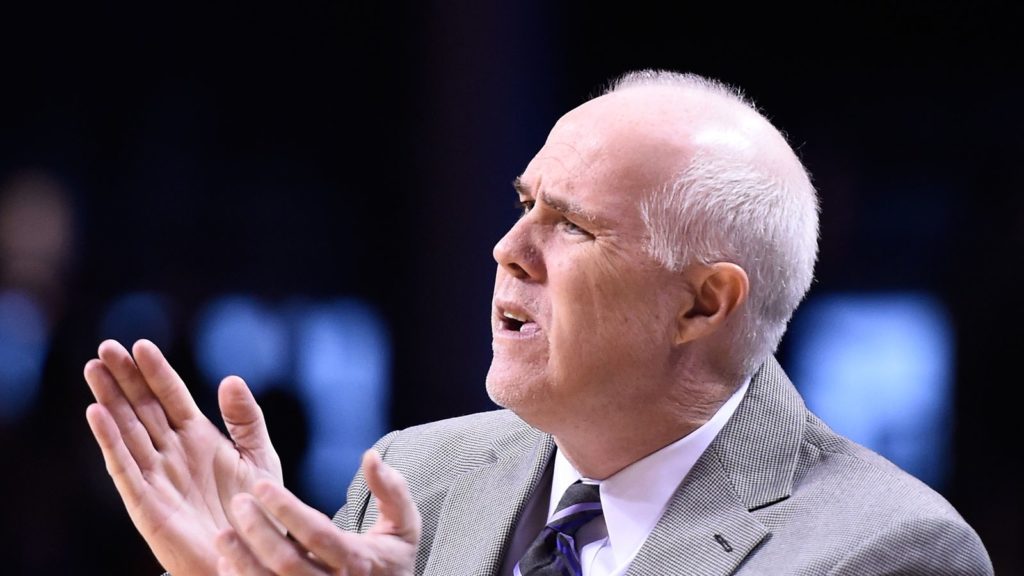 Exclusive Mark Schmidt Q and A: Part 2
During our off-season we had the chance to catch up with coach Mark Schmidt and ask him a bevy of questions ranging from last season's heart-breaking NCAA snub, to this season's outlook to his favorite beer and band. Since it's not often we get the chance to chat with coach for the better part of an hour, and the season is still months away, we thought decided to roll out this interview in three parts.
In today's post we chat about his thoughts coming into this 2016-2017 season. We talk about the state of the roster, coaching with a lack of depth, how long it takes to get a feel for the roster and each new player's game. Check back again for part three of the interview soon.
——————————-
Last year's team finished in the top 30 nationally in offensive efficiency. Obviously predicated in large part because of Marcus and Dion. What will look the same, or different with this year's offense (as of now)?
Those guys could really score it as we know, Marcus in many ways, Dion was a top 15 players in the league (loved this shot at him being omitted on the All-Conference Team), and could also score in so many ways. Dion was so hard to guard inside and out because of his skill-set. To be honest, we have a better chance in replacing Marcus than Dion, because of Dion's defensive skills and his ability to switch screens. He could guard many different spots on the floor and do it well. We will push the pull a lot again this season. No one else will be Dion but there's always another guy waiting to step up. Someone else needs to be ready to be that guy.
Are you worried about the ability to "finish" games without  Marcus and Dion? That seemed to be their biggest strength as a pair.
Without a doubt. You always go to your veteran guys, they've been there before. No situation was too big for Marcus and Dion, nothing rattled them. Now, the next guy needs to be up. Jay, Denzel, others need to be ready this year. But who knows who will step up, only time will tell. Mobley is very talented and has been there before as a Division 1 player…we'll see who steps up. You don't know until you play the games though.
Do you have a good feel for what a team is capable of doing in September and October or do you really need to wait until the season starts to know for sure?
It's too early to see how good you'll be or where you'll struggle. We knew we had good players last summer, but last year we had a lot of things fall into place. We have a good nucleus, we have 3-4 guys back from last year who didn't play so now they need to translate it. They need to go from being a good practice player to a good player when it counts. The freshman are always an unknown for any team. Luck has a lot to do with it for sure as well. It's always one bounce of the ball but that's why last year was so special. We made plays and had so much go right for us. When you consider the close finishes we had and things like that, that's what made last year so special. It's hard to repeat that.
Depth has never been a strength of your teams, or at least you are successful in using a very short bench. Only four teams in the country used their bench less. How do you manage to do this so often and win?
Depth is so overrated. Few teams play over eight guys. You rarely need to go that deep and have so many timeouts to burn. Sometimes it's better to have seven or eight good players than 10 or 11 guys who you don't know what they'll give you. Look at Dayton a few years ago, they had six guys and won big. You try to win with eight and nine guys each year. Especially in league play when the cream rises to the top. It's certainly a philosophy of coaching, and not a reaction to a lack of depth on the roster. It's what I believe in. When you're that young you can play 40 minutes. When you play too many guys you can get out of rhythm and it messes up other players. 
Questions From Fans on Twitter:
Have you considered a foreign trip to get the team ready for a season? If no, why not?
I'm not averse,  but it's a money issue, we always talk about and I think we'll get there.
(My follow up asking: Why not just go to Canada?)
It's about going overseas and bonding and team chemistry. We can go across the border anytime and lots of the kids have already done that. It's life experience you want to provide for the kids. It's about giving them a trip they'll remember forever and going somewhere they've likely never been or may never go on their own. I'm all for it, but from a basketball mindset it's not as important as it is culture experience. Also, it does make for a long year, the kids need a break and so does the staff. I think we will eventually do it though.
Will we see Nelson and Jay playing together a lot this season?
Too early to say. Jay did play some off the ball last year and it's always good to have two guys like who can handle the ball. I'm sure they will at some points but how much who knows.
Most challenging team to prepare for and why?
They're all hard because they're all so different. Richmond because of their match-up zone, VCU's press and ball denial stuff, La Salle switches everything which can be hard. The great thing about the league is the coaches are so good and so you see a lot of tough scouts, everyone is different and tough so to me there's not one team that's any harder than the rest.
Give me a quick Twitter version scouting report of these new faces….
Andoh- Face up four man shoots from premier. Expecting to play right away. Shoots it well from 16-18 feet. He's gotten bigger, got up to 230 pounds this summer. Working to expand his jump shot.
Mobley- Scorer, at times was best player in practice last year on the entire team. Shooter and can go off the bounce, very explosive.
Coburn- Freshman, long, athletic, fits how we want to play, can shoot and score it, playing time will depend how how quickly he picks up the system, as always. 
Obokoh- Long, athletic, didn't do a lot offensively at Syracuse. More of a rebounder, rim protector, runs the floor well. Need his size with Tyson gone. Played against high level kids, loves to play and compete, will play a big role no doubt about it.
Stockard- Long, good ball skills, getting hurt may have been the best thing for him last year. He got much stronger, went overseas this summer and did well. Plays well in open floor, needs to improve his jumper. He's a three man but could play the four if we go 4-in-1-out offense. 
Ayeni- Long, athletic, competitor who put up good numbers in a good league. We have a good player in him, he's that solid four man: aggressive, good knack for the ball. Could see minutes this year for sure. We think he has a really high ceiling.
Ikpeze- Big, long, made big strides this summer and has a good touch. He's coming along. Had a good five week summer program, he's getting there quickly. 
Griffin- Gotten stronger, our best athlete, he has a good outlook he always worked hard. He got a taste of it last season and got his feet wet. This is a big year for him. He's very long, can run and jump with the best of them.
What's the next step for Jay Adams as a junior?
He needs to be more of a leader, more vocal. Sometimes he's a leader by example and leads quietly, now needs to be THE guy now. Getting guys into the gym and leading in all facets of college life. His jumper needs to be more consistent, he's been tremendous, he works hard on his weaknesses which is a strength of his. He's not gonna play like Dayton every single game (the road win) but that's the goal, this has to be HIS team. He was a top 10 player at Adidas Nations we heard.
How does Denzel improve as a senior? Do you learn towards keeping him as a 6th man where he thrived or starting him?
Who knows what his role is, he had a great year, he realized the game isn't just about being athletic. He had a great off season, his skill set got better and he became more confident. He needs to be more consistent in production game in and game out. Without Dion he needs to be a senior guy, he took a big step last year but he wants to be an all-league player this season. His jumper needs to be consistent, as well as his ball handling. He can make that jump, we know he can.
How are you a better coach today than you were when you first took the job at Bonaventure?
Just experience. The more years you have under you the better you are. Any job the longer you do the more you learn, and you learn what to do and what not to do. You realize you don't have all the answers. I'm certainly better today than I was at Robert Morris, no doubt.