Four Mile Brewing Post Game: 81-75 Win Over Hofstra
Quickly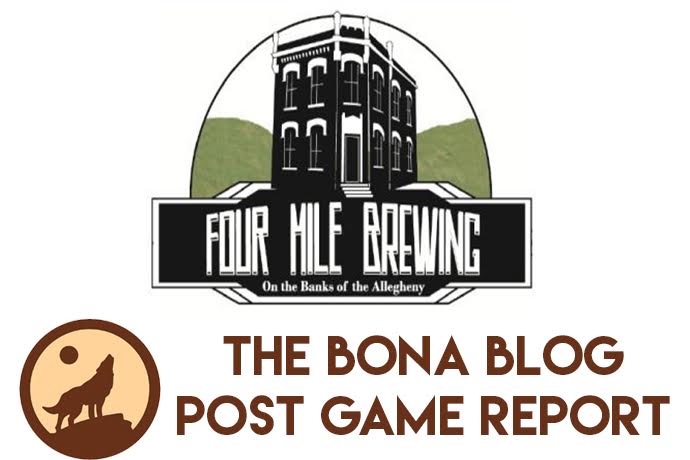 SBU built a double digit halftime lead on Long Island, only to see it completely evaporate in the second half, before rallying to win by a final score of 81-75 on the road.
The Bonnies received a career high 31 points from Jay Adams who once again helped will his team to a victory, despite some sloppy play in the games' second half. Mark Schmidt's club did a fantastic job on the glass tonight and limited the Pride's three point game in a big way; two keys heading into the contest. The Bonnies also received 23 points and 12 huge rebounds from Matt Mobley, who actually led the Bonnies on the glass. SBU would shoot just 31% in the second half but played enough defense (Holding Hofstra to 37%) over the games' final 20 minutes to escape with a quality road win; their first true road win of the season. It wasn't pretty but SBU earned a nice "W" tonight and now can battle with a really good UNCW team on Saturday, going for their sixth win a row. 
For the GoBonnies.com recap, click here.
 5 Takeaways
Three Point Defense-

 Heading into the game this evening SBU knew they'd face a Hofstra team that could really shoot it from the outside. The Pride entered the contest 29th in the nation in three point shooting at 39.8%. Tonight, the struggling Bonaventure perimeter defense stepped up, and held the Pride to 28% shooting on 8-28 from the field. SBU likely made this their number one priority heading into the contest and should be commended for stepping up and putting a lid on the rim from deep. They were nearly burned for this by Buffalo over the weekend, but rebounding well on the road. This was a huge key. Speaking of rebounding the basketball…

The Rebounding War-

Our second key before this game was SBU's ability to rebound against this Hofstra team, specifically their big man Rokas Gustys. Gustys entered the game leading the nation in rebounds per game at over 14 a contest. While he had six boards by the first media break, the Bonnies really did a great job from then out on the big man…at least as far as boards are concerned (he finished with a mortal nine). As a team, SBU led 29-13 in rebounding at the break and finished the game +13 on the glass. SBU had 16 offensive boards and 12 second chance points. For a team that was also struggling to rebound, this game was a huge step in the right direction. 

Turnovers-

After leading by double digits at the break the Bonnies nearly gave the game away to Hofstra…quite literally. SBU would turn the basketball over 16 times and was outscored 6-0 on fast break points. Jay Adams and Matt Mobley combined for nine turnovers which is really a bit too high for a pair of junior lead guards. SBU's 10 second half turnovers nearly cost them the game. Fortunately, they defended well enough in the closing minutes and got another stellar effort from Jay Adams to lead the way out of there on top.

Win and Get on the Plane-

There was a general feeling surrounding this game that the Bonnies just needed to win and "get the hell out of Long Island" and back to Olean. We knew this was a tough match-up for SBU because of the Pride's ability to shoot the ball, their size and their rebounding potential. But, despite almost giving it all away, the Bonnies made plays when it counted and held off a solid team on the road. The second half wasn't pretty, in fact it was downright ugly, but a win is a win. You take the positives from this one and move forward to UNCW on Saturday looking for six wins in a row. 

How Good is Jay Adams?- 

The short answers is insanely good. Adams did it all once again tonight in leading the Bonnies to the road win. Played 37 minutes, scored a career high 31 points, dished out five assists, pulled in eight rebounds, was 8-19 from the floor and a near perfect 11-12 from the line. Adams has went for 27-29-31 points in SBU's last three games and knocked down 12 three pointers during that span. He's also played all but four minutes. Folks, you better appreciate the hell out of watching this kid play because he may turn out to be one of the best guards to ever put on the uniform. 
In Game Thoughts
.Hofstra played 2-3 zone to start and SBU had no issues attacking that zone scoring eight points in the first two and a half minutes. They'd eventually show man and 1-2-2 as well. SBU played man but then showed zone which had an impact on Hofstra, causing them to go cold from three for a period of time when SBU extended their lead to 44-34.

The volume level of the game was about 2 on a scale of 2/10. Almost couldn't hear anything. May have been for the better knowing some of the play by play folks you hear.

It was clear from the first three minutes of the game that Gustys was going to be a huge issue down low. He had 8 points and 2 boards at the first media. He wound up scoring 20 on 9-14 shooting. He was a load to deal with all night.

The Hofstra announcer called Amadi Ikpeze and Mobley, Denzel Gregg on the same possession at one point. Hard to do. 

Ikpeze had a nice turn-around jumper off the glass at 14:15 left in the half over Gustys. A nice move for the freshman. His missed 19 foot jumper somehow didn't land him on the bench. I was stunned Schmidt didn't yank someone off the bench for the freshman. Ikpeze also had his second put-back of the season waved off. This time it was a good call.

Idris Taqqee cannot seem to make a wide open corner three pointer. By my count he's missed one shot like this in four straight games. If he can't make those shots he needs to pass them up or drive baseline. Those should be the easiest three pointers to make. He's shooting just 16% from the three. Taqqee played 36 minutes but only scored 2 points (FTs) and had four boards. He was 0-5 from the field. I know folks say I can be too hard on Idris but he's not having a good start to his junior season. His 40% shooting from the field is very poor. I know he's not out there to score, but converting the easy ones would be a nice start.

Jay Adams has become so adept at shooting threes off screens. His most deadly way of scoring. 

The Hofstra last names on the uniforms are a size 8 font.

Denzel Gregg did a great job attacking the offensive glass in the first half and was rewarded with more than a few easy put-backs because of it. He had six boards at the break, he'd finish with eight boards and 10 points, doing some great blue collar work. Respect.

If David Andoh has space inside of 15 feet, be it baseline or on the elbow, he seems almost automatic. Credit SBU for finding him in those spots and running sets to make it happen. Andoh finished with 11 points, all in the first half, and five rebounds. 

What a first half offensively. At the break SBU had a 48-36 lead. SBU shot 47% from the field and was 5-11 from three. Schmidt had to be thrilled between that and the glasswork…

SBU had a ridiculous 29-13 rebounding advantage and pulled in 12 offensive boards at the break. Hofstra shot 41% from the field and was 5-13 from deep. David Andoh had 11 off the bench in the opening 20 and Ikpeze gave you two points and five boards. Ikpeze especially did nice work on the glass in helping stem that tide from the first four minutes. His second half was less impressive.

SBU was called for three fouls in the first 1:09 of the first half and Hofstra was in the bonus with 13:35 to play. SBU got into the bonus with 4:43 to go.

SBU's transition defense to start the second half was terrible and allowed the Pride to cut the lead to 51-44 with 17 minutes to play following a Gustys dunk. SBU was outscored 12-6 by the first media timeout and their lead of 12 points went down to 4 in that span.

SBU got extremely sloppy with the ball in the second half (10 turnovers) and allowed Hofstra to get back in the game as they turned steals into layups. Hofstra used a 20-8 run to eventually take a lead at 59-58. 

I didn't think the refs were "poor", but Hofstra was certainly aided by a home whistle in the second half. SBU could not seem to get a call via contact going to the rim with their guards and Mobley especially seemed to get the short end of the stick. Fouls finished 20-18.

 Adams picked up his 4th foul with 8:04 left. Gregg got his 4th right before that on the other end via a silly charge call. Gregg was out of control going to the rim. That was "danger time" for SBU fans.

With 8 minutes left Schmidt had Ikpeze and Coburn on the floor down three points due to those foul issues. As I tweed, "time to hold you nose." Schmidt had Adams and Gregg back on the floor, with their four fouls, with 5:15 to play.

Ikpeze battled all night but he was exposed offensively. He's just too raw at this point to be trying post-up moves against bigger, better big man like tonight. He finished the game 1-6 from the field and had six boards, giving SBU 20 minutes of hard work down low in slowing the Pride's rebounding game. 

SBU was held scoreless for six minutes until Mobley's FT's made it 66-65 with seven plus left.

Adams got a generous blocking foul with 2:08 left that could have been a charge on Jay. He made back foul shots to make it 79-75.  This was a huge call that went our way. 

Matt Mobley skied for a huge rebound over Gystus with 1:22 left and was fouled but missed both free throws. 

With 1:07 left David Andoh grabbed an defensive rebound and missed both shots as well leaving the door for Hofstra wide open.

SBU was called for a shot clock violation with 15 seconds left. Hofstra would then miss three pointer and a follow-up and SBU sealed the road win. 
Moment of the Game:  Tough to say in this one but I'm going with that blocking foul that Jay drew with 2:08 left. This was a 50/50 call that could have gone against us but didn't. Instead we kept Jay on the floor, got the points and held on to the win. 
Stats: (Taken via Gobonnies.com tracker)
Up Next: The Bonnies return home to face a quality UNCW team on Saturday, tip is scheduled for 6PM. The Seahawks are currently 7-1 with their lone loss coming against Middle Tennessee on a neutral floor. Those seven wins do include two non qualifiers, however. This will be UNCW's third road game and they have a full seven day lay-off between their last game on the third and our tilt vs. them in the RC. This should be an excellent game of two teams that according to KenPom, are ranked numbers 65 and 66. I'll be making the trip from Texas and can't wait to take in the game in the new look RC. Let's get our sixth win in a row! 
Photos courtesy of Steve Harrison Photograph. Check out his great work and amazing shots here.