Four Mile Brewing Post Game: St. Bonaventure 79, Niagara 69
By Vinny Pezzimenti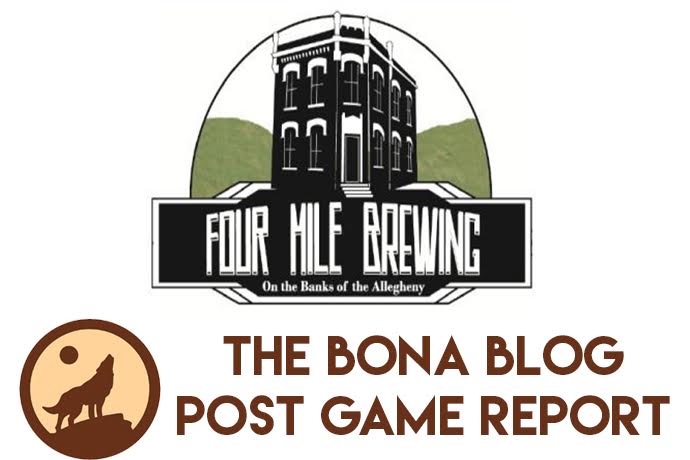 What a depressing week. From the snow and cold to trying to recover from that gut-punch loss to UNC-Wilmington.
Yesterday's uneventful 79-69 victory over putrid Niagara didn't do much to soothe the pain. Wins over Army and Canisius to close the non-conference slate won't help much either. These three games can only hurt St. Bonaventure's resume.
The cold reality is that the Bonnies' at-large NCAA tournament aspirations were essentially dashed with Denzel Ingram's game-winner for Wilmington last Saturday. To have any chance of making the NCAA tourney without winning the Atlantic 10, SBU will have to match last season's regular-season conference co-championship and win a couple games in the A-10 tournament.
That's a tall task, and still might not be enough.
Could the Bonnies win the A-10 again? Sure, but it's not likely.
They're missing 3 key ingredients that they had last year:
Insanely good free-throw shooting

A strong presence under the basket and on the baseline with Dion Wright

A cold-blooded late-game player like Marcus Posley (could be Adams)
Those three components helped the Bonnies pull out a handful of league wins that they otherwise should have lost.
Perhaps the best-case scenario for the Bonnies in the A-10 is 11 or 12 victories. That would put them at 21-9 or 20-10, but with zero signature non-conference wins and a likely NIT bid. The Bonnies needed at least two victories in their three games against Florida, Little Rock and Wilmington.
Unfortunately, it feels like those losses will come back to haunt the Bonnies come Selection Sunday in March.
Quickly

Thanks to 23 points and seven assists from Jay Adams, the Bonnies (7-3) buried Niagara (3-9) in the second half after they let the Purple Eagles hang around much too long. The game was played in Buffalo as part of the Big 4's doubleheader.
For the GoBonnies.com recap, click here.
Moment of the Game
The Bonnies were holding onto a perilous two-point lead seven minutes into the second half when the Jay Adams show began. First, he buried a 3-pointer off an underneath inbounds, then two free throws, then an NBA-range triple, and yet another.
After Adams' 11 straight points, the Bonnies led 58-45 with 11 minutes left, and the game was over.
Adams also sparked a first half run to give the Bonnies a 15-point lead. Soon after, however, he went out with two fouls and Niagara closed to 34-31 at halftime. Adams' first trey of the 11-point run represented his first points since the first half.
5 Takeaways
One-sided "rivalry"
Speaking of depressing, that's what these games against Niagara have become. Yesterday's win makes it six in a row over the Purps.
It would be good for the Bonnies if Niagara was better, but they dropped to an Anthony Solomon-esque 25-82 under fourth-year coach Chris Casey. It seems like forever ago when Joe Michalich and twerp Phil Martelli Jr. marched into the Reilly Center and left with a victory over the Andrew Nicholson-led Bonnies. Those days, the Purps always beat the Bonnies.
Mobley benched, struggles
Matt Mobley didn't start due to a "violation of team rules," i.e. he was late for team breakfast or a team meeting. Although he entered the game following the first media timeout, Mobley was late in finding his game, too. He finished with 13 points — 7 below his average — on 5-16 shooting in 34 minutes.
As we like to say, five minutes early is on time.
Griffin shines in start
LaDarien Griffin has a great motor and everlasing energy. Mark Schmidt must love that. But the sophomore still needs time to develop. He is good for grabbing a few rebounds, poking his arms in passing lanes, and using his athleticism to make plays, but little else. He'ss usually good for spot minutes here and there.
With the Bonnies facing foul trouble and Mobley's punishment, Griffin started, played 28 minutes and grabbed nine rebounds against inferior competition on Saturday. He hustles and uses his length to his advantage on defense, but his offensive game is limited. He also must improve his body control. But the progress  and potential is there.
Griffin won't ever be a star in the Atlantic 10, but he can be a valuable role player for the Bonnies these next couple years.
Plenty of good seats available
The downtown Buffalo KeyBank Center was pretty barren for the first half of the Big 4 doubleheader. There isn't enough passion for college basketball in Western New York to continue these games in a cavernous arena. It's nice to get the four regional programs together in one place on the same day, but these games are better on campus in cozier surroundings.
Throwback or throw away
Both teams wore throwback uniforms with yellow trim (the Bonnies were in their 1977 NIT champ attire). Now we know why both programs retired the school bus color. Let's hope it never returns.
Stats
Up Next
There's no rest for the Bonnies as they have a quick turnaround before facing Army on Monday night in the RC. SBU will play three games in the span of six days and this will be the middle game before they finish up the non-conference schedule against Canisius on Thursday. Army is currently 5-5 and most recently lost to Monmouth by 10 on the road. Prior to that the Black Knight ran off a three game winning streak. 
Photos courtesy of Steve Harrison Photograph. Check out his great work and amazing shots here.