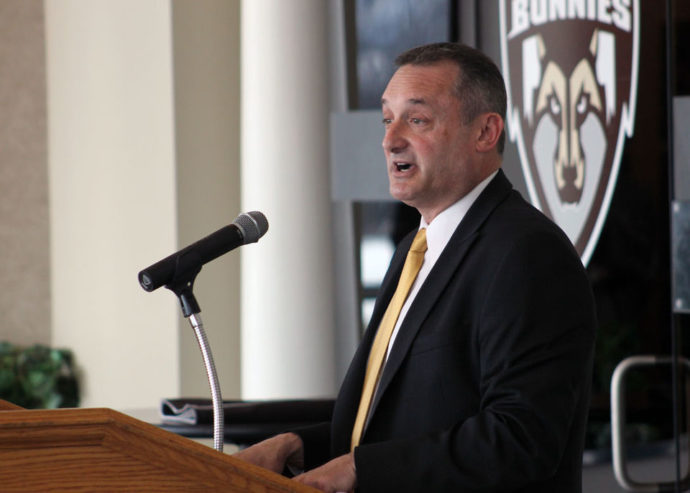 Bona Bits: Tim Kenney Off and Running at SBU
By: Walter Stubbs, Guest Contributor 
Ever since taking over as Athletic Director from Steve Watson in the Spring of 2015, Tim Kenney has been adamant in telling anybody who will listen that "We're not tiny little St. Bonaventure. We can be much more than that."
What Kenney means, is that while St Bonaventure is a small Franciscan university located in rural Western New York, it can in fact be much more than that. And if you think about it for a second, he's right. Despite being one of the five smallest universities in Division 1 athletics, the Bonnies have somehow, some way managed to be competitive in one of the top basketball conferences in the country, the Atlantic Ten.
Most experts are at a loss for words in trying to explain how Bonas has remained competitive, despite not having the resources of many of its fellow A10 members, let alone the Power Five Conferences. The answer lies in a fan base that is rabid, despite a small alumni base, for it's basketball. It's also an alumni base that has a huge heart. But as anyone who follows college athletics knows, it takes more than a rabid and loyal fan base to have a successful basketball program. In this day and age, money talks and talks and talks.
Schools in power conferences like Ohio State, a state school, and Duke, a private school, are making money based on big time television deals involving their conferences along with huge alumni donations. While the A10 has a television deal, it isn't close to the type of money the Big Ten or ACC Conference television deals bring in to their schools. And as far as alumni donations, many of those same schools are making donors donate at certain levels for rights to seat license and season tickets for there football and basketball teams. While Bonas doesn't necessarily have to concern themselves with what the Power Five Conferences have, some of those same policies are being used by other A10 schools. In order to remain competitive and keep up with the Joneses, the Bonnies have to continue to find ways to keep up, both financially and on the court.
And the focus of that is the fan base.
No matter where the team plays, that fan base is on display for all to see. Just weeks ago at Hofstra, the Bonnies had a contingent that outmatched that of the Pride. It's that fan and alumni base that Kenney believes can help Bonas remain competitive. Kenney set out a few goals when he was hired, and one of the first was to upgrade the scoreboard to a video board . The price was substantial, but with the help of a anonymous donor it came to fruition. The new scoreboard was completed before the start of the season and is a sight to behold. It doesn't end there though. Bona needs more donors to help in some future endeavors the athletic department is looking to meet head on in the next year or so. Besides the addition of the new scoreboard, Coach Mark Schmidt's office was redone along with other men's basketball offices in the Reilly Center.
The next restoration project the department has in store is to completely remodel the concourse in the Reilly Center. "It's something that needs to be redone," said Kenney before the Hofstra game. As for getting new seating in to replace the red seats in the upper level of the RC, Kenney says it's on the list but " is not a priority right now compared to other things we need to do."
One of those priorities Kenney refers to should be announced in the next month or so, pertaining to athletics and an increase in enrollment. One thing about Kenney is that he is not afraid of the challenges that Bonaventure presents. He wouldn't have taken the job in the first place if that was the case. He wants to be known as a man of action instead of words.
So far he has shown that.
How many athletic directors do you know who played on a lacrosse team for one of it's sponsors like Kenney has? And has also gotten injured as a result? Can't see Barry Alvarez or other AD's doing that. But it's those extra curricular things that Kenney realizes he and the school have to do. And he doesn't mind. "Bonaventure is a great place. We need to continue making it a great place. Things are starting to come into place the last few months. We have a new President who understands what we need to do and is on board."
Kenney and the athletic department also stepped up their game with the reunion of the 1977 NIT Championship and the retiring of Greg Sanders number. It was the first of a few special things the school is doing in celebrating 50 years of the Reilly Center. All who were there said it was a first class presentation. Schmidt's contract was recently redone, putting his salary more in line with the rest of the A10 head coaches and deservedly so.
The department has also been showing Top Moments in the Reilly Center during the first timeout of every home game. They are also paying homage to some of the other highlights at the RC involving other sports teams like Women's Basketball and swimming. It also was recently announced that all RC Season Ticket Holders will be receiving a desk top replica of the Reilly Center. This will also be available for purchase for those who come up to Bonaventure while supplies last. All in all things are on the up in Allegheny New York. The little old St. Bonaventure label is starting to fade and Kenney wants it to continue but in keeping what Bonaventure stands for and is.
Proof is in the pudding.