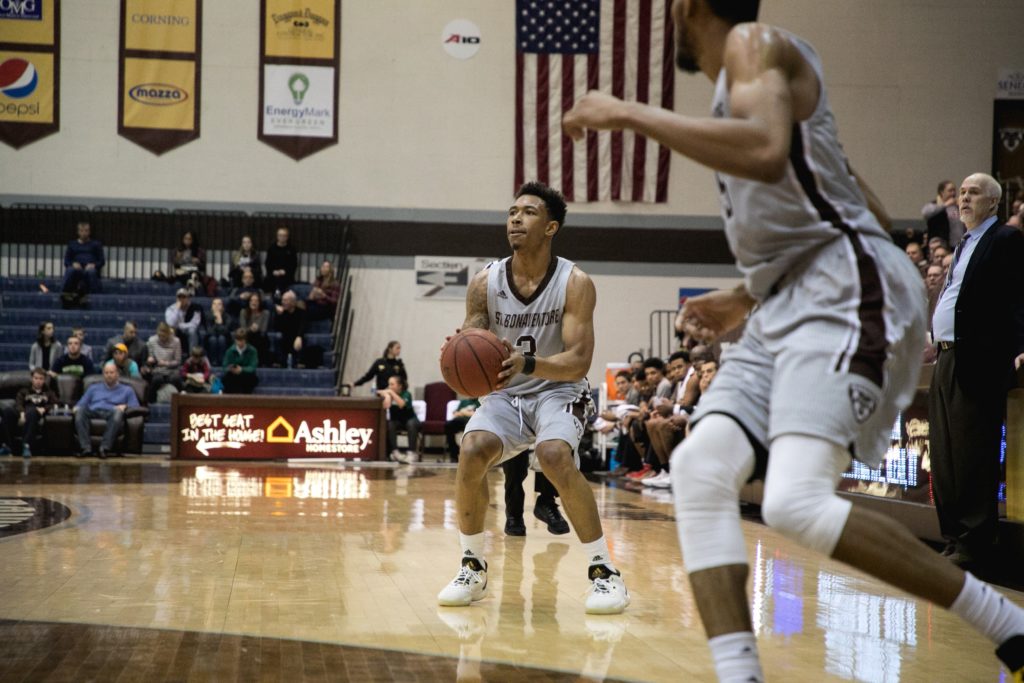 5 Questions Heading Into Conference Play
After one of the most impressive non conference performances in program history, the Bonnies begin Atlantic 10 play on Saturday as they host a new look UMass team in the RC at 2:30.
Standing at 10-2 with wins over three top 100 teams and losses to only Niagara and 10th ranked TCU, the Bonnies have carved out a very impressive resume already. Additionally, Bonas is ranked 32nd in the RPI, has won seven games in a row, are 4-0 in true road games and are 6-1 vs. top 150 teams. 
The metrics are impressive thus far and they've positioned themselves well for a run at an NCAA bid.
Now, they must continue to build on that resume during league play where the waters are generally more choppy and difficult to navigate and the competition on a night to night basis is stronger.
SBU still has seven "A or B" games on the schedule according to KenPom and must avoid bad losses while also picking up quality wins when those opportunities present themselves.  
If the Bonnies are going to continue to push towards an at large bid they are going to have to play excellent basketball and answer some questions that still linger. Here are five questions we are pondering heading into the first weekend of conference action.
(It should also be noted it was 5 degrees this morning in Olean, will be 19 and snowing on Saturday and it will be -7 on Sunday morning….Yes, Winter is officially Here.)
Can the Bonnies Continue their Excellent Defense? The single most surprising aspect of this early season is, without a doubt, the Bonnies much improved defense. Bonas defense is ranked 37th nationally and SBU ranks 34th in effective FG% Defense, 16th in TO Defense, 13th in 3PT% and 16th in Steal %…these are borderline eye-popping numbers for a team that was just outside the top 100 in defense a year ago and was 181st two years ago. Schmidt's teams have never been know for the defense but this year's version may be. 
This club is on track to be Mark Schmidt's best ever defensive club. But can it continue in league play? Bonas will face some tough competition and it starts on Saturday vs. a much improve UMass team. The Syracuse game was the prime example of defense winning a game (Bonas didn't score a field goal from 7:17 left in regular on) and ditto with the Maryland win. If Bonas can keep winning games in the 60's they'll be that much more dangerous. No one could have predicted this level of improvement and their defense has been the reason they've managed to win several tight games when they experienced long scoring droughts.
Will the Forwards Hold Their Own? SBU's front line has been much maligned this season on both ends of the floor. When Josh Ayeni is out there he's a pick and pop machine (50% on 2PT jumpers) but struggles to rebound (8th on the team in defensive rebounding rate) and defend (8.1 fouls per 40). Amadi Ikpeze is a much better finisher at the rim (58% to 41%) but also has major trouble staying out of foul trouble (8.0 fouls per 40). Ndene Gueye and Chef simply do not play, so aside from LaDarien Griffin, the Bonnies are really a two man duo down low. More than anything else SBU just needs their bigs to stay on the floor more and give them more minutes. SBU's foul rate ranks 325th worst in America and the forwards are a big reason for this. Ikpeze and Ayeni must stay on the floor for Bonas to compete with the better teams in the league. Keeping teams off the foul line will also really help this club vault into a different level defensively.
Can they Avoid Bad Losses? SBU has already dropped the opener to Niagara, but recovered well afterwards winning every game they had to up until today. Now, they need to continue to avoid those bad loss "landmines" from Saturday through early March; a very tough task. Did the 2016 road loss to La Salle cost SBU an at large bid? Possibly, there's no way of knowing for sure but it didn't help. Bonas must avoid such losses this season, especially after already losing to Niagara. SBU's potential "resume killing" road losses are at George Mason (228), at Duquesne (209), at Saint Louis (174). Let's hope the Bonnies can hold serve at home (avoiding any bad losses there) and beat each of these foes listed above on the road. 
Will they stay Healthy? An obvious question mark but likely more important than any other. Bonas survived the early season with Jay Adams sidelined, missing the first six games of the season, but they surely don't want to tempt fate again in league play. Mark Schmidt once again only rotates seven players, eight at most, and again have little depth. Bonas has gotten fantastic work from Courtney Stockard and need him to stay on the floor after two foot surgeries. Josh Ayeni may have tweaked his hamstring or groin vs. Syracuse and Nelson Kaputo has dealt with the same nagging injuries. If this team stays healthy for the remainder of the year there's every chance they battle URI for the Title.
Will the Conference Improve as a Whole? Not in Bonas control, but the league's ability to improve from here out will become a huge factor in the team's at large hopes. SBU needs the conference to be as strong as possible and needs top teams to put themselves in position to potentially battle for an at large bid (See VCU, Dayton, Davidson…yes, this is a stretch right now).
The A10 is currently ranked 10th nationally (Usually ranked between seventh and eighth among conferences) so the league is down this year and that holds back Bonaventure in terms of what it means to win the A10. Bonas really needs to beat URI, VCU, Dayton, Davidson and then hope those clubs suffer minimal "bad" losses. 
Jay Adams Photo courtesy of former Bonnie David Andoh. You can visit his website here