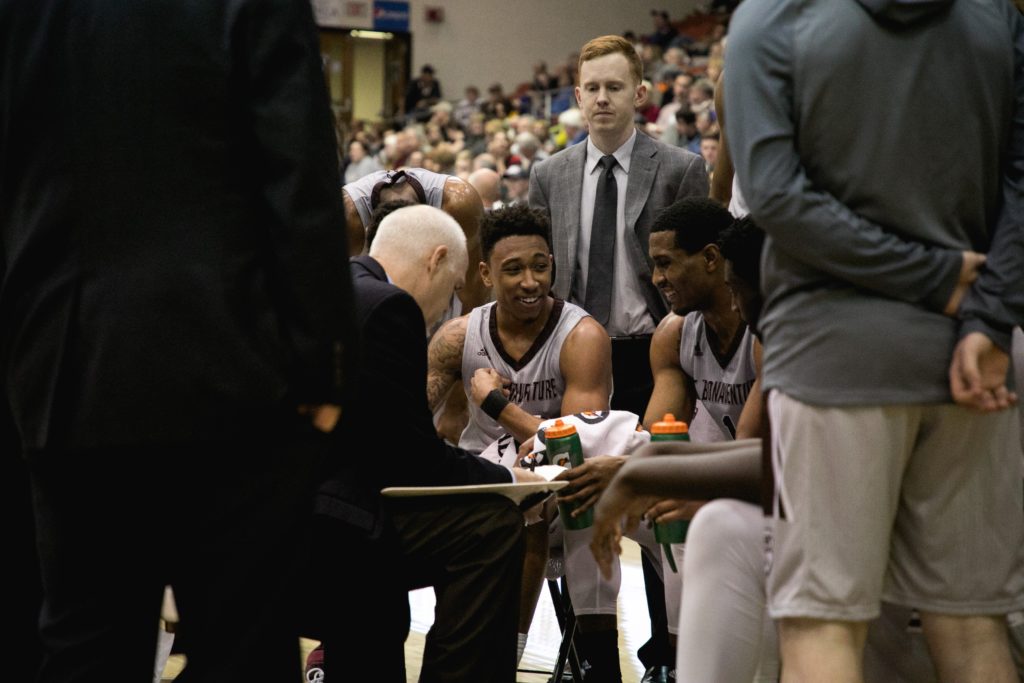 We are witnessing a golden era of SBU basketball
If you've been following the Bonnies the last handful of years, you've witnessed one of the golden eras of St. Bonaventure basketball.
The Bonnies haven't been this good, for this long, since the original Big East was created in 1979. That occurrence, of course, set St. Bonaventure on the path to become a little brother of major college basketball.
As the Big East grew to become one of the premier basketball conferences in the country, the Bonnies endured a 22-year drought between NCAA tournament appearances and the woeful DeCarli-Chapman era.
And, when conference reshuffling began to quicken a decade or go, the Bonnies were mired in such an extreme post-scandal slump under Anthony Solomon that their longtime membership in the Atlantic 10 had come into question.
Even now, after winning the A-10 tournament crown in 2012 and a share of the regular season title in 2015, SBU is considered a second-class citizen in the conference.
It comes down to location, money, and resources. All things considered, the Bonnies are not supposed to compete with the likes of VCU, Dayton, Rhode Island, and UMass.
After the Bonnies dismantled the Minutemen on Saturday in their A-10 opener, a UMass alumnus and a lecturer of public policy at UCLA posed a question more than a few college basketball observers across the country are sure to be pondering once again.
How it is that St. Bonaventure, which is a small iceberg with Franciscan monks on it telling you stuff, has the best basketball recruiting in the A-!0, over NYC, Philly, DC, St. Louis, not to mention #UMass ?

— Bill Parent (@Bill_Parent) December 31, 2017
Going into tonight's game at Dayton, the Bonnies are 11-2, receiving seven votes in the AP Top 25 poll, riding an 8-game winning streak, and on pace for NCAA tourney berth. The last time Bona has won more than eight in a row was in 1969-70, when its 13-game streak was snapped in the Final Four against Jacksonville.
Here's another good question: Is there any coach in the country that does more with less than Mark Schmidt?
Before Schmidt arrived in 2007, the Bonnies were 24-88 in four prior seasons. Schmidt, who had only moderate success at Robert Morris, wasn't even on then-AD Steve Watson's short list to replace Solomon. Will Brown, anyone?
All Schmidt has done is lead the Bonnies to unprecedented heights. Yet, the program only became a true player in the A-10 during conference play in 2011-12, the coach's fifth year.
Until then, Schmidt's teams had never won more than 16 games in a season. I, like many, was flustered in the staff's failing to put enough talented players around generational talent Andrew Nicholson.
The Bonnies failed to retain highly regarded lead guards Eli Carter and Eric Millinghaus. They signed Sam de Haas, Brett Roseboro, and Jake Houseknecht. Ogo Adegboye was required to play 40 minutes of every game Nicholson's junior year.
The class that helped change everything for the Bonnies was signed prior to Nicholson's senior year. It included Charlon Kloof, Eric Mosley, Jordan Gathers, Youssou Ndoye, and Chris Johnson. Each provided necessary depth to push the Bonnies over the top 2012.
Let's bask in and fully appreciate this era of Bonnies basketball.
Since 2011-12, the Bonnies are 132-78 with three 20-win seasons and another coming. They are 59-44 in the A-10 over that time.
So, how do the Bonnies do it?
It's easier to explain than public policy. Schmidt and his staff see talent in prospects that others miss. Then, they slowly but surely develop them. It's like a conveyor belt.
Dion Wright, followed by Denzel Gregg, LaDarien Griffin, and so on.
If you're a Bonnies fan you know about Wright. The Bonnies found him all the way in suburban Los Angeles. No other Division I program wanted him. He rarely played as a freshman. He became a 1,000-point scorer and grabbed close to 700 rebounds.
Wright embodies St. Bonaventure recruiting.
So do others.
The power conferences whiffed on Nicholson. Jay Adams was supposed to be the "other Jalen Adams". LaDarien Griffin scored six points his freshman year. Izaiah Brockington was headed to NJIT.
A big part of the player development process is getting players to buy in and reward them with playing time and increased responsibility. Many contributors for Schmidt played little during their first years on campus. They remained loyal to the coach and the program by sticking it out.
Continuity, a rarity in major college basketball, is another key ingredient in SBU's sustained success. Schmidt has been with the program 11 years. So, too, has top assistant Dave Moore. Fellow assistant Steve Curran has been with the Bonnies for eight years. Even director of operations Matt Pappano has been with Schmidt 10 years.
Schmidt signed a lucrative contract extension through the 2021-22 season after the Bonnies went 22-9 and were snubbed from the NCAA tournament in 2015. With 177 victories at SBU, Schmidt is 25 off all-time leader Larry Weise.
Schmidt's been mentioned for openings at Boston College and Virginia Tech in recent years. Keep an eye out for Rhode Island. Danny Hurley is likely on his way to a bigger job, and you'd have to think the Rams would go after Schmidt, a New England native nearing the twilight years of his coaching career.
Then again, Schmidt has a good thing going at St. Bonaventure. Thanks to diligent recruitment and precision player development, the cupboard hasn't been bare for quite some time.
And, for that, we should be thankful.