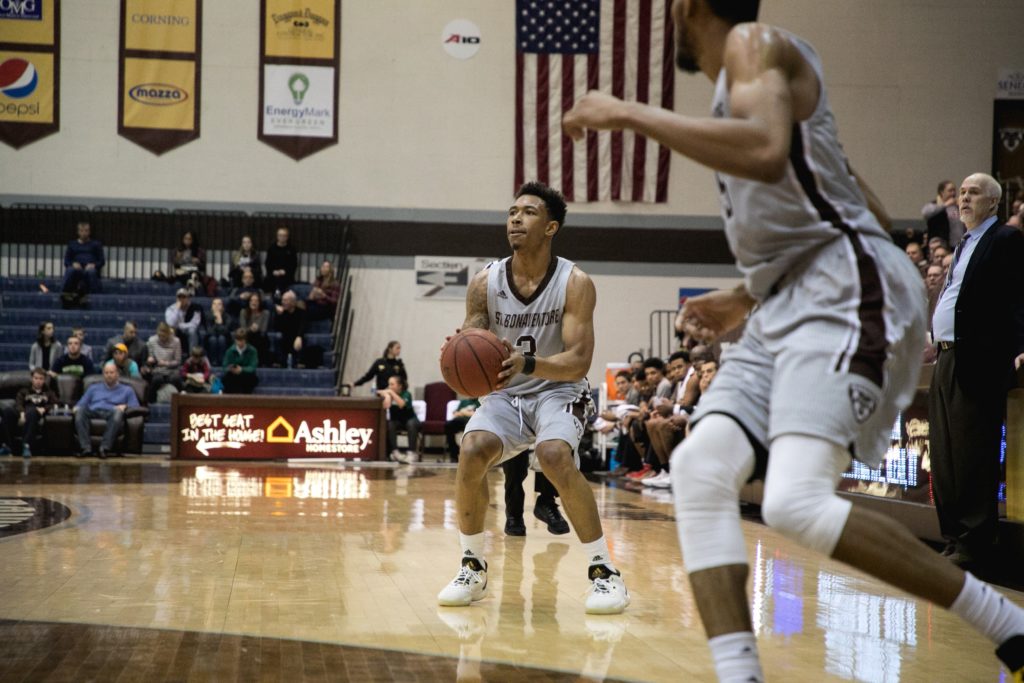 Adams' Recent Efforts Tie Into 1970 Final Four Loss to Jacksonville
By Mike Vaccaro
              Of all the things to admire about the 99 games that Jaylen Adams has played for St. Bonaventure, for all his on-court brilliance and all times he's made you shake your head in wonder with a pass, a drive or a 35-foot 3, this is what always makes me smile (and no, it's not the fact that when he arrived on campus it was very much as the other Jaylen Adams [though the hyped one spelled his name "Jalen"]). It is this: sometimes, the basketball gods really do pay attention. Sometimes they really do believe in karmic payback – even if it takes 44 years for them to deliver.
              Even if it took 44 years to get even with the Jacksonville Dolphins.
              Jacksonville was the team that ended the most glorious joyride in Bona's basketball history. The record shows that on the night of Thursday, March 19, 1970, Jacksonville beat the Bonnies, 91-83, at Cole Field House in the first game of the Final Four. The game was played under an awful shadow, of course, because five days earlier, on the floor of the Carolina Coliseum in Columbia, S.C., Bob Lanier had collided with Chris Ford just as the St. Bonaventure-Villanova East Regional final was entering garbage time. Lanier (you may have heard) went down with a knee injury. He was in a Buffalo hospital, watching the Jacksonville game on TV. The Bonnies weren't expected to have a prayer against the Dolphins and their matching 7-footers, Artis Gilmore and Pembrook Burrows. Matt Gantt, all 6-foot-5 of him, took the center jump against Gilmore to start the game.
              And won the tap.
              And the Bonnies surged to a 13-3 lead.
              "And then," Billy Kalbaugh told me once, "someone decided, 'We can't have this. This won't do.'"
              Up and down that roster, in quiet moments, when you talk to the members of that forever team the strongest lingering emotion is, of course, having to play the biggest game of their lives without their best player. But a close second is what happened after the Bonnies took that early lead. It was bad enough that UCLA, in the midst of winning 10 championships in 12 years, had rendered the sport predictable; at least the idea of the Bruins – in the bridge era between Alcindor and Walton – having to contend with a dominant big man could provide energy to the Final Four. The Bonnies were perfectly capable of filling that role, until Lanier went down.
              "And after that," Kalbaugh said, "it was as if somebody said, 'we can't let these guys spoil the party.'"
              Maybe that sounds a little Oliver Stone for you, but the players on that team believe what they believe, and they lived through it. And there is also this: Gantt, after, playing brilliant early, was whistled for three quick fouls, and wound up fouling out with 10 ½ minutes to go. Bubba Gary, Tom Baldwin and Mike Kull all also fouled out. The Dolphins took 45 free throws to the Bonnies' 22; Bona actually had seven more field goals. And with two minutes to go, trailing by four, Paul Hoffman made a layup and was fouled, with a chance to cut the lead to one … except he was called for a charge. That play is captured on "Unfinished Dreams," the documentary of the '70 team that is secular scripture to all Bonnies fans. Look it up on YouTube and decide for yourself.
              Anyway, the point.
              Five days shy of 44 years after the night when Jacksonville, wittingly or not, stole Bona's dreams in the middle of the night, the Dolphins decided to fire their basketball coach, Cliff Warren. It wasn't a stunning decision. Warren had started his career in Jacksonville by going 1-26 and while he'd turned the program around briefly, he lost 58 games his final three years there. The transaction caused little stir around the country.
              But in one small corner, it changed everything.
              One of Warren's last recruits was a skinny point guard out of Baltimore's Mount St. Joseph's High School named Jaylen Adams. Warren's dismissal allowed Adams to re-open his recruiting.
              And, well. We know what's happened since.
              His place in Bonnies history was already secure before last weekend. He'd become an immediate impact player as a freshman, which on Mark Schmidt's watch almost never happens. It is still fair to wonder what the team could have done at the end of that season if Adams hadn't missed the final nine games; they knocked off St. Joe's in the A-10 quarters as it was, and gave Dayton 40 minutes of hell in the semis while Adams watched with a cast on his hand.
              "Nobody knows how good this kid really is," Schmidt told me at the Barclays Center after the win over the Hawks. "I mean, they have no idea."
              They know now.
They saw him guide 2015-16's magical mystery tour, saw him beat Dayton with a cold-blooded 3 late in the game, Bona's first (and, still, only) road won over a ranked team. They saw him mix with Posley on a staggeringly fun ride through that season, and one of the forgotten regrets of the way it all ended was how both of them broke down at the end after an exhausting run; Adams looked like he could barely stand up straight in the Davidson game in Brooklyn that ultimately turned that season sour. He was routinely brilliant as a junior, too, so much so that it became easy to take his game for granted, we'd seen it for so long, even if we should know better how rare a talent he was.
              And now there is this, this two-game stretch that compares, quite literally, with anything that anyone who's ever worn the uniform has produced. Think of the company he keeps now, after following up that 40-point masterpiece at Duquesne Saturday night with his surreal 44-point outburst Wednesday night against Saint Louis. This is the 98th season that St. Bonaventure has fielded a basketball team. Three players have scored 40 or more points back-to-back. Three:
              Tom Stith announced his arrival as an All-American in December of his junior year, when he dropped 48 points on Manhattan in one consolation round of the Holiday Festival at Madison Square Garden (to that point, a tournament record, besting by one the mark Oscar Robertson had set the night before against the Bonnies), and following it with a 42-point outburst the very next night against St. John's. For Stith, a graduate of St. Francis Prep high, it was a glorious return home.
              Bob Lanier provided some light in the midst of a dreary, probation-stained 1968-69 season when he scored 43 points against Calvin Murphy and Niagara in a 98-90 win at the Reilly Center on Feb. 22, 1969 (and never forget that the Bonnies went 6-for-6 against the Purple Eagles during the three years Lanier and Murphy dominated the Little Three, though that probably still doesn't make anyone feel better about opening night). Two nights later he dropped 51 on Seton Hall, an RC record that still stands.
              And Jaylen Adams. For those keeping score at home, that's the first two names on any version of Bonaventure Rushmore you wish to assemble, and a third which may well make an argument for inclusion before he's done.
Look, if you are inclined to believe optimistically – and with five straight wins, if you aren't thinking that way now, when will you ever? – then this can't be the first time you've let your memory wander back six years in time, to the home stretch of the 2012 season when Andrew Nicholson transformed himself from a great player finishing out a terrific career to a legendary player whose name still sends chills down so many Bonaventure spines just thinking about what he did. That isn't hyperbole, either. Go back and watch the St. Joe's game. Go back and watch the Xavier game. It's all there. Nicholson was outstanding for the first 113 games of his career at Bona; he was nothing short of mythical across his final 10.
Is this the start of a similar run for Adams? Well, if you're reading this story, and you regularly visit this Blog, it is certainly the only way you can root. Perhaps it's not realistic to think Adams can be this good across the final seven games of the regular season and into the A-10s in Washington because he's at a level that's simply not sustainable. But, then, we kept waiting for Nicholson's Technicolor dream sprint to hit a roadblock and it never did.  Nobody really knows what the Bonnies have to do (short of winning the A-10) to get a shot at the NCAAs, and anyone who tells you they do, we know, is lying; that much we did learn from the travesty of two years ago. But one thing is certain: after a senior season that began with an ankle sprain that only now seems fully healed, after a mid-season funk that allowed you for a moment to forget just how good he's been, it will be Jaylen Adams who determines where the Bonnies play in March. And for how long.
And there's one other thing, too. At some point, we will look at Adams' full body of work and see where it falls among some of the other names of terrific guards in the team's history, alongside Kalbaugh and Glenn Hagan, Mark Jones and Tim Winn and J.R. Bremer. Right now, it seems perfectly fair to rank him 1 and 1A alongside Marques Green, still the program's all-time leader in steals, assists and 3-pointers. If the season ended today, Green would probably still have to get the nod, even if his teams didn't win near as much as Adams' have, even if the lingering memory of Green's time at Bona will, fair or not, always be the way things disintegrated at the end of his junior year.
And, great as he was, Green never had two consecutive games to rival the two that Adams has just given us, 84 points in two games the Bonnies absolutely had to have as they negotiate this no-margin-for-error stretch of their season, two games they absolutely would not have won without him slapping an "S" on his chest and delivering a matched set for the ages.
Lanier. Stith. Adams. Two giant men with giant, permanent footprints left on the program's history and one skinny 6-foot guard who, but for the grace of the basketball gods, could have been doing all of this in northern Florida these past four years. Most of us would still like to see what Lanier would have done against Gilmore and Burrows on March 19, 1970, and in the inevitable game with UCLA two nights later. But if we can't have that?
These 99 games of Jaylen Adams' career – and however many there are still to come — aren't a bad payback, either.