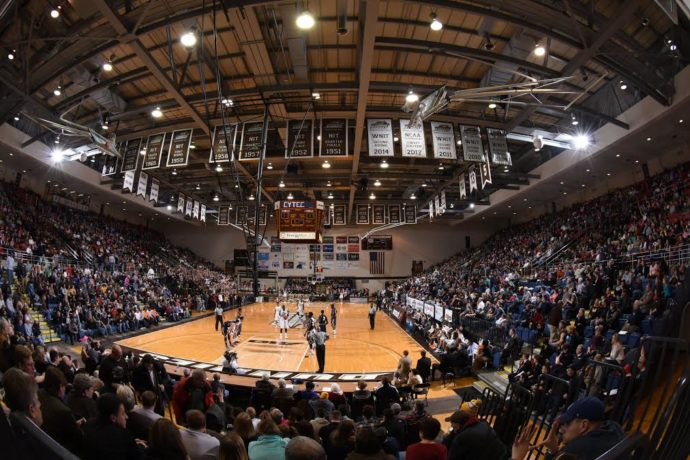 Ranking the Biggest Games in Reilly Center History
By Mike Vaccaro
            And so we are here, and where else would you rather be?
            Seven straight wins. After a few false starts and stops the Bonnies' backcourt of Jaylen Adams and Matt Mobley has become a nightly joy to watch, living up to every expectation that trailed and tailed them into the season. The bandwagon (small 'b') was ricketing and wheezing a few weeks ago, and understandably so, the team leaking oil and 12-6 overall and 2-4 in league play. But after skipping past the Ultimate Trap Game Tuesday night at La Salle, the right side of both those hyphens has been unchanged for 25 days.
And it will be 28 days by Friday.
And on Friday, St. Bonaventure will host Rhode Island in a game that may well be the most-anticipated game in the history of the Reilly Centre. I'm as susceptible as anyone to recency bias, so I'm certainly not going to declare that without deep-diving into history books and memory banks. It's one thing to make a definitive list of the best games in RC history, because we know how they happened, and how they played out. But in order to make it onto this list you need a couple of ingredients first:
A worthy foe, preferably (thought not mandatorily) ranked.

A worthy Bona team

Legitimate stakes that were apparent in real time, not merely retrospect.

An incessant inability to be able to sleep soundly in the 72 hours prior to tip-off.
OK, No. 4 might be a bit harder to substantiate than the others. But there is little doubt this game Friday night qualifies. It was announced as a sell-out some five days early, which even in recent times of prosperity is virtually unheard of (at least for non-Alumni-Weekend games). It will feature Rhode Island's Rams, the class of the A-10 so far, unbeaten and all but unchallenged and already the owner of an earlier win over the Bonnies (a game that tipped at 11 o'clock on a Saturday morning and featured a Ryan Center gathering that was every bit as rabid as the most-rabid Reilly Center horde has ever been). The Bonnies are playing their best basketball of the season, and have seemed to reach a new level after officially reaching the point in the season when they realized they had zero margin for error. As an added bonus, the Rams are coached by Danny Hurley, who is unquestionably one of the great coaching talents in the country but whose – shall we say – "demonstrative" sideline demeanor always makes him a favorite of the particularly throaty segment of the RC's clientele.
And, well, the stakes.
Look, the lesson we all learned two years ago is that when you try to assess the NCAA Tournament and you're not one of the wise men and women In The Room, it's like the screenwriter William Goldman once said about Hollywood: "Nobody knows anything." So who really knows what the Bonnies' formula for securing an at-large berth really is. But it is all but a certainty that equation has to include a victory over Rhody, whether it's Friday night or in D.C. next month (and, if that happened, it would either mean they've won the A-10 tournament or cleared the biggest impediment out of their way of doing so).
So yes: recency bias aside, I'm inclined to declare this the Most Anticipated Game in Reilly Center History (and I'd say it's probably the most anticipated home game at any venue since the Saturday evening of Feb. 25, 1961, when a cigar-smoke-enveloped mob [plus one Sports Illustrated reporter] stuffed the old Olean Armory in anticipation of a 100th-straight home victory over Niagara … and, well, there's no need to talk any further about that).
First, though, a look at the short list of contenders, in chronological order: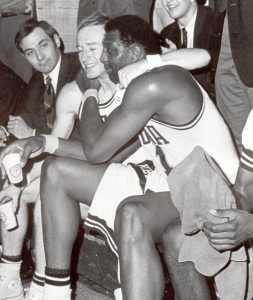 Dec. 20, 1969: St. Bonaventure 77, Duquesne 58 – Also known as the Fire Code Game. In fact, whenever anyone speaks longingly of the good old days when the RC was perennially SRO, this, invariably, is the game they reference. Years ago, I tried to get Larry Ford, who operated the RC in those days, to admit that they allowed a fire hazard that night and his eyes would always twinkle as he said, "I have no idea what you're talking about." The number he admitted to that night was 6,291 in an arena that now, with every nook and cranny filled, seats 5,500. It was also a key ignition game for the fabled '69-'70 team, a revenge game over their biggest non-Little Three rivals who, a year before, behind the 6-10 Nelson twins had twice humbled the Bonnies – which explains why there was such a crowd. Interestingly, not only were the Dukes unranked but so were the Bonnies – for the only week all season, having fallen out of the Top 20 despite a quick 3-0 start.
Feb. 25, 1970: St. Bonaventure 91, Canisius 68 – OK, so this is an outlier from the rules we set for this list: Canisius was brutal that year (at 9-13) and lost all four of its Little 3 Games against Niagara and Bona that year by an average of 16 points. But this really belongs in a category all its own because it was the last home game that Final Four-bound team would play, the last RC game ever for Billy Kalbaugh (whose number would soon hang in its rafters) and Bob Lanier (whose name would eventually be etched onto its floor). And at game's end, perhaps the most famous snapshot in the program's history captured Kalbaugh and Lanier – the white kid from Troy and the giant black kid from Buffalo – on the bench, wrapped in a hug, four years of brotherhood capsulized in a split second. The photo also shows Larry Weise watching the roommates and best friends, undoubtedly in that moment just before he – and 6,000 witnesses – felt the room get awfully dusty.
Feb. 12, 1977: St. Bonaventure 91, Syracuse 84 – The Orangemen were 19-2, riding a 13-game winning streak, ranked 17th. The Bonnies had jumped to the verge of the AP's Top 20 by starting 13-3 but had stumbled on a brutal two-game road trip that included losses to 15th-ranked Providence and 19th-ranked Detroit and were now hoping to fight their way back into a limited postseason picture that still included only 32 NCAA teams and 16 for the NIT. The house was every bit as packed as it had been more than seven years earlier (though the official number was 13 shy of 6,000) and those who were there insist it was the loudest they've ever heard a sporting event – any sporting event. Essie Hollis turned in the game of his life, scoring 27 of his 37 in the first half as Bona zoomed to a 50-27 lead and was never in any serious jeopardy despite the reasonable final score.
Jan. 16, 1988: Temple 73, St. Bonaventure 63 – OK, I'm including this one as a personal indulgence because it was the loudest game I ever saw as a student and because I was editor of The Bona Venture that semester and personally made sure we hyped the hell out of the game (Ask any BV staffer of the time and they'll remember the 64-point "RC Thriller" headline). Temple was ranked fourth in the country (and would eventually reach No. 1) and had probably the nation's best freshman, Mark Macon; the Bonnies were actually a surprising 7-4 after capturing the Gator Bowl Tournament in Jacksonville a few weeks before. The Owls nearly chased the Bonnies out of the gym in building an 18-point first half lead but down 63-61 with under two minutes left Pat Allen's lay-up did a lap around the rim and fell away and … well, that was that.
Jan. 10, 1995: Massachusetts 81, St. Bonaventure 76 – This is a no-brainer because it remains the first time the Reilly Center has hosted a consensus No. 1 team (UMass returned as No. 1 the next year, too). It can also be argued that this is the single most important game in the modern history of Bonnies basketball because after eight consecutive losing – really non-competitive – seasons, it was becoming a fair question to ask if it was even possible for Bona to compete in a killer league like the A-10 – or in Division I at all, for that matter. This one game seemed to change so much; David Vanterpool's game-tying 3 (and, dammit, you'll never convince me he wasn't fouled on the play, too) sent the game to overtime and that game seemed to infuse that team with a mojo that lifted them from 5-7 after that game to 18-13, fourth place in the A-10, and a win over Southern Mississippi in the NIT that remains the program's most recent postseason victory.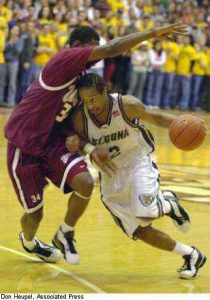 Jan. 15, 2000: St. Bonaventure 57, Temple 56 – You call it the Cookie Game. I call it one of the most unprofessional moments of my career, sitting next to Adrian Wojnarowski courtside at Madison Square Garden covering a Knicks-Hornets game, getting the final seconds of play-by-play shouted into my cell phone from an RC witness as J.R. Bremer drilled a corner 3 with 2.8 seconds to go, forcing both Woj and I from our seats and into a high-five that undoubtedly looked every bit as awkward to our colleagues on press row as the Apollo Creed-Rocky Balboa beach hug at the end of "Rocky III." Beating Temple – especially a 23rd-ranked Temple that would utterly flatten the Bonnies two months later in the A-10 finals – was always a signature win in those years, partly because it happened so infrequently but mostly because it was the program against which every A-10 always measured itself. It was after that game that the Bonnies edged as close to the Top 25 as they'd been at any time since Jan. 19, 1971 (no need to describe what was probably my second-most-unprofessional moment exactly seven days later, sitting press row at Rose Hill for Fordham 66, Bona 60. #@###$#@!!).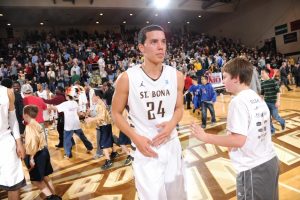 Feb. 29, 2012: St. Bonaventure 98, St. Joseph's 93 – While it's true that any list of RC games that wants to take itself seriously probably has to include this, which was probably the single-greatest game ever played there, the build-up was enormous. Bona was in the midst of a late-season roll (that would only grow larger afterward, of course) and needed the win to ensure a bye into the quarterfinals of the A-10 tournament. Mostly, of course, it was the final home game for Andrew Nicholson, the iconic player who'd restored so much faith and hope in the program. Also: Phil Martelli (enough said). The game itself was downright Shakespearean: the Bonnies rallied late in regulation and Matthew Wright hit a corner 3 that should have won it with 1.9 seconds to go – only the refs made what might have been (no, what ABSOLUTELY WAS) the most brutal call in the RC's history (though a litany of opposing coaches might have a few nominations of their own) to gift the Hawks' C.J. Aiken two tying free throws. Then, the Bonnies trailed by five with 20 seconds left in overtime and 3 with 11 to go but were rescued by a pair of 3s by Wright and Nicholson before finally winning the game in double overtime.
And, now, this:
Feb. 16, 2018. St. Bonaventure vs. Rhode Island – No. 1 on my list.
Yours?