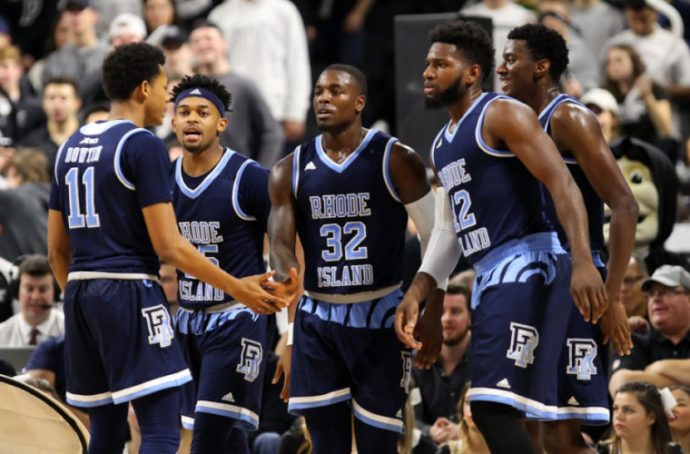 URI Preview with Rams' Expert Chris DiSano
For an in depth preview and scouting report in advance of Friday's game vs. #16 Rhode Island, we enlisted the help of Rams expert and long time Atlantic 10 Basketball guru Chris DiSano. Chris covers the program for Cox Sports New England, among others, and is the foremost expert on all things URI Basketball. Chris is also regularly the host of the A10 Media Day Coaches' Interviews and a lifelong friend of the Blog. We thank him for his time and input ahead of the big game…
---
1. Nearly all A10 fans know a lot about Rhode Island by now (21-3, top RPI, deep back court, 16 game winning streak). But you're an expert on them, so tell us a few things we don't know about this years' Rams…
Jeff Dowtin makes them go. Jared Terrell will be a front runner for A-10 Player of the Year and E.C. Matthews (though day-to-day, knee) is as talented a scorer as you'll find. But they're both better because of Dowtin. He owns a ridiculous 136 assists to 31 turnovers on the season and gets everyone involved. He can score it himself but is obviously pass-first - leading the conference in assists per game at 5.7. He's also an extremely good defender, takes great angles, and has length that frustrates opposing guards.
Other quick hitters:
- Stan Robinson has taken nearly 30 charges on the season.
- Cyril Langevine is fully healthy and as active as I've seen him this year as an offensive rebounded and finisher.
- I don't expect Matthews to play and, if he does, it will be limited. Only a contusion, but Rhode Island pacing for March and there's no need to jeopardize the long term goal and play Matthews. He'll play only if he's 100% healthy.
- They are the most poised team that I've seen in Kingston in 20+ years. They do not panic when down. Much like the Scoochie-led Dayton teams.
2. URI only has three losses, but was there any trend in those L's? Did those teams did any one or two things that helped them get past Rhody/Did URI fail to do any one thing in those losses?
Hmm… Matthews either not playing or being hurt and the games being away from home against Top 25 caliber teams. He was hurt late in a one-possession game at Nevada that Rhode Island would lose, then didn't play against either Virginia or Alabama. But URI has also beaten Seton Hall and Providence without Matthews. One other point worth noting, but not applicable here, was that Alabama's length bothered them in spots and led to rushed offense, too many perimeter pulls, etc.
3. Looking at the Ram's metrics (advanced and traditional) they seem to have literally no weakness. But, if you had to pick one what would it? Where could they be vulnerable?
They're vulnerable to wing scorers with good length and the ability to deck it. If Berry and Langevine both get into foul trouble, they'd be vulnerable on the boards to teams offering more length. But in the Atlantic 10, the reason why they're 13-0 to date is because not many teams possess the personnel kryptonite (is that even how you spell that?) to do them in. Duquesne did have some success by playing 4 guards which allowed them to run offense a bit more effectively than other A-10 teams have versus URIs pressure defense.
4. Stan Robinson seems to be URI's most underrated player by those casual fans. What makes him so good?
He does whatever is asked game-to-game with no ego. He's a chameleon. Some games he'll grab 10 boards. Some he'll score in double-digits. Some, he's quiet and more of a facilitator. The other area where he's so important is in his ability to guard 1-4 on the floor. He frustrated the hell out of Peyton Aldridge the other night despite giving up 4-5″ to him because he's physical enough and long. It gives Hurley the ability to play four guards because Robinson adapts and functions like a forward when needed.
5. If you were Bonas' coach Mark Schmidt how would you game plan to beat URI?
Deploy additional ball handlers to help initiate offense more effectively, limit turnovers and - defensively - make Rhode Island make jump shots. La Salle went under almost all screens often earlier in the year at the Ryan Center and played a fairly competitive game because Rhode Island doesn't always make perimeter looks. That's not to say they can't… because they do, but you have to pick a poison and forcing them to beat you from deep is the preferred choice… because if they dribble penetrate and crack you from within, you're done. Also, unlike what SBU did to Richmond, you're not going to "out-offense" this Rhode Island team and win. You have to defend.
6. If you were URI coach Dan Hurley how would you game plan to beat Bonas?
The way he has for the past few match-ups. Throw the waves of guards he has at Mobley and Adams with the goal of holding them under 35 combined and making them into inefficient, volume shooters… force other Bonnies to beat you. "Make the guards take and make tough twos with no clean looks beyond the line. URI does not want to trade 2's for 3's on the road." In this one, an average to above average start will be critical for Rhode Island too, to put the crowd in a more reactive position and not let the momentum generate. The Reilly center and that unbelievable crowd is worth 5-6 points alone. 
6. How has Dan Hurley had this much success at URI? What has he done outside of recruiting that has turned their program around?
He's understood the value of fitting the right pieces together and adjusted his team's personnel as needed. After losing Hassan Martin and Kuran Iverson - an elite defender and a versatile, long forward - people wondered how he'd modify style with this smaller team this year. He's used Robinson effectively, found rotation minutes for all of his guards, and game-planned accordingly. He's a solid tactician and one area Rhode Island has vastly improved is in dead-ball situations. They seem to generate an extra 4-6 points per game off of dead-ball plays, something missing in previous years which often tips the balance in their favor.
7. Final question: Game Prediction.
Tough because of the Matthews uncertainty. I'll say Rhode Island 76-72.