Four Mile Brewing Pre Game: vs. Dayton (10-3)
Quickly: Fresh off their A10 opening win against UMass in Amherst, the Bonnies return to the Reilly Center to face Dayton with an 8PM tip scheduled. SBU used some quality perimeter defense (5-20), a bevy of free throws, a +10 rebounding edge, and another stellar game from their back court to down the Minutemen; who Mark Schmidt seems to beat time and time again. SBU won their forth straight A10 opener and now looks to move to 2-0 against a dangerous Dayton team who is coming off a relatively easy home win over La Salle. Dayton, who is already without stud Josh Cunningham, may be without wing Charles Cooke who hurt his back in the La Salle game. Cooke leads UD in scoring and rebounding. Cooke is listed as day-to-day.
The Skinny on Dayton: Similar to last season, Dayton makes their living on playing outstanding defense in the half court. Dayton ranks 23rd nationally in defensive efficiency, number two scoring defense in the A10 (64.6) and second in field goal percentage defense (.401). The Flyers defensive efforts begins with a terrific back court who can really get after it, led by senior guards Scoochie Smith and Kyle Davis. The Flyers make life miserable in the half court and have a +5 A/TO margin as well. UD ranks fifth nationally in steal percentage, so the Bonnies must take care of the ball and avoid giving the Flyers easy run outs. Dayton's opponents sport the 335th longest possessions in America, showing that they don't give out easy looks and teams are taking lots of end of clock attempts. If the Bonnies get an open look at any point in the possession, they should take it…this shouldn't be an issue for Adams and Mobley.
Dayton plays a somewhat quick tempo (71st) and prefers to work the ball inside, via entry passes or penetration, opposed to long jumpers. This is no shock given Dayton's lead guards shooting numbers; Smith shoots 30%, Davis shoots 23%. They have some capable shooters off the bench (Sam Miller, Darrell Davis, X. Williams (not spelling the first name) so the Bonnies do have to be aware of that cast when they're out there. So, while Dayton doesn't have any one knock down shooter, they do have a handful of guys who can shoot it from deep if given the chance…something SBU has had issues with. Dayton is always tough to defend and plays great team basketball, moving the rock as well as anyone in the league. They give the Bonnies fits time and time again, but Schmidt's gang did earn a huge win against them at UD Arena a year ago thanks to Adams' heroics. 
Senior wing Charles Cooke is the Flyers best player, without a doubt, but may be doubtful for the game after taking a tough fall against La Salle. Cooke can shoot in from the outside (34%) and thrives on the interior (54%) while excelling at getting to the foul line. If he's out, everything changes.
Kendall Pollard, the versatile big man, is back and starting for the Flyers and appears to be rounding into form from a health perspective. Pollard was a shell of his former self a year ago due to various injuries, but if he's back, Dayton is that much better. He scored 20 against La Salle and played played a season high 35 minutes. Sophomore Ryan Mikesell starts at the four spot for Dayton and is a bit of a pick and pop, stretch four type. Mikesell has made 10-27 three pointers this season, shoots 51% inside the arch and just 65% from the line. He's scored in double figures three times this year and is a marginal rebounder at that spot. 
Scoochie Smith is one of my favorite players in the league, and nobody has bigger stones than SS late in games….aside from Swaggy Jay that is. Scoochie isn't a big time shooter but simply gets buckets. As good as he is, if you make him Dayton's number one scorer and force him to really beat you, UD will feel that pressure. If Adams is defending him this is a huge test. If I'm Mark Schmidt I'm putting Mobley on Scoochie and Jay Adams on Kyle Davis; without question. Jay's defense is an issue (whether folks want to admit it or not) and putting MM on Scoochie should be the play. 
Stats: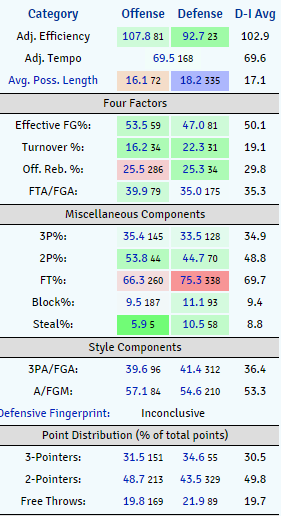 Roster:

3 Things to Watch:
Limiting Turnovers against the UD pressure. Dayton simply knows how to turn people over and they're one of the top five teams nationally in terms of taking away the basketball via steals. SBU has had their issues with turnovers this season, and ranks 89th in TO%. I would expect Dayton to apply heavy pressure to Jay Adams and Matt Mobley and make them pass the ball as often as possible. These two must not only knock down three trifectas, but limit turnovers, especially those leading to lay-ups. This game will be a huge test for our guards both in terms of scoring the ball, and taking care of it.

Defending Kendall Pollard. Pollard played, by far his best game of the season against La Salle, playing 35 minutes and scoring 20 points. When he's healthy, Pollard is an all-league type of player who can dominate games for UD. While he hasn't been that lately, he may be turning that corner. SBU will need to defend him, likely with a number of players. Josh Ayeni is prone to foul trouble and so Schmidt likely calls on the full cast of bigs to defend the 6-6, 230 pound Pollard. If the Bonnies can make KP a non factor they'll force UD to beat them with secondary scoring options down low. It would be nice to have Chinoso back for this one, but that does not appear to be the case.

Charles Cooke's Health.  You can read about more about Pollard's break out game and Cooke's injured back here. If Cooke, Dayton's leading scorer and rebounder cannot go Tuesday SBU will be the favorite in this game (if they aren't already, I would suspect Dayton is a slight favorite). Dayton would then really need to rely on players like Scoochie Smith, Kyle Davis and Sam Miller to carry the scoring load against a Bonnies team that scores it as well as anyone in the conference. If Cooke plays, expect the Bonnies to place Idris Taqqee on the 6-5 wing and make him earn his share offensively. Shutting him down, or having him sit, really puts UD in a place they don't want to operate from offensively. 
3 Things That Will Happen:
UD Holds SBU under 77 points. UD is a tremendous defensive team and they will make life difficult for the Bonnies at home in the RC without the students. 

Dayton makes 8+ three pointers. SBU is giving up about this many per game, but only allowed five against poor shooting UMass. SBU has always seemed to struggle a bit defending Dayton, and I think the Flyers will use a cast of characters to knock down this more or more deep balls. 

If Cooke DNP, Bonas will win. This is not also saying SBU will lose if Cooke does play, but if Cooke cannot go I think Bonas has too much offensively for Dayton in the RC. I have a hard time seeing SBU scoring less than say 74 points in this game and have a hard time seeing Dayton scoring over 70 (they average 76) without Cooke who gets nearly 19 a game. 
Twitter Length Closing Take: If Cooke does not play the Bonnies win this game using the same formula as all the others; their guards get it done, by the final score of 76-72. If Cooke does play…I'll address that on Twitter before the contest. 
Prediction: SBU 76, Dayton 72