Blog Staff
The Bonnies Basketball Blog was created on November 23rd, 2008. The blog intends to provide St. Bonaventure basketball fans with a detailed and in depth look at the program, on a near day to day basis. The Bonnies Basketball Blog hopes to become a must visit web-blog for all fans and alumni of the Brown and White. We hope you enjoy the site, and visit again soon.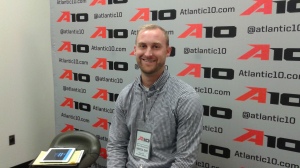 Ian Nolan, Founder- A member of the class of 2008, Nolan spent four years as a student assistant with the program. He worked under head coach Anthony Solomon for three years and was the head student assistant for Mark Schmidt's first season in Olean. He currently is a member of the United States Basketball Writers Association and previously covered the Atlantic 10 Conference for Collegechalktalk.com. He writes annually for such outlets as ESPN.com, Athlon Sports Magazines, Cox Sports Online and Blue Ribbon Previews. Ian was named one of the "140 Personalities to Follow in College Basketball" on twitter by The Sporting News. He is a Jersey Shore native and now resides in San Antonio, Texas with his wife and two dogs.
Vinny Pezzimenti- Lead Contributor, Editor- A member of the class of 2004, Pezzimenti also spent four years as a student assistant in the program, under Jim Baron, Jan Van Breda Kolff, and finally Anthony Solomon. Pezzimenti would spend the next four years covering the Bonnies on a daily basis as the beat reporter for the Olean Times Herald. He is an Olean native who has witnessed hundreds of games in the Reilly Center. He still lives in the Olean area with his wife and son.
Michaela Nolan, Photographer- Michaela is a current member of the class of 2019 at SBU and studying marketing. She is the youngest and only girl of the family and will be the third and the last attending SBU. She started all of our social media networks. In her spare time you can find her sipping coffee while looking at shopping online, or traveling. She plans to do something with fashion in her future and is proud to be a Bonnie just like her older brothers!