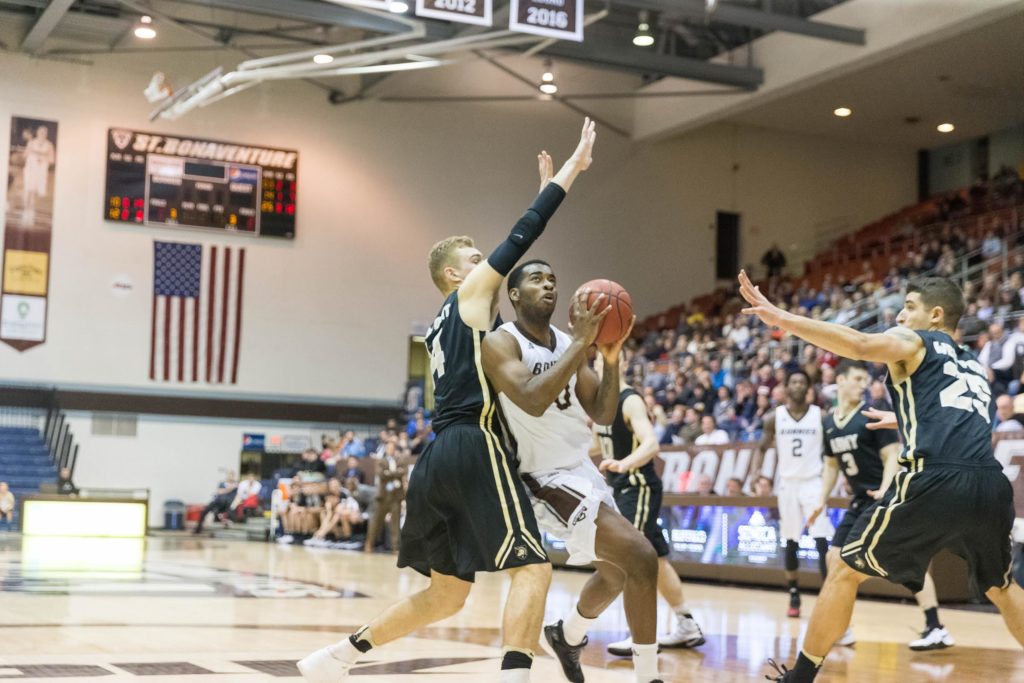 Four Mile Brewing Post Game: 90-74 Loss to Dayton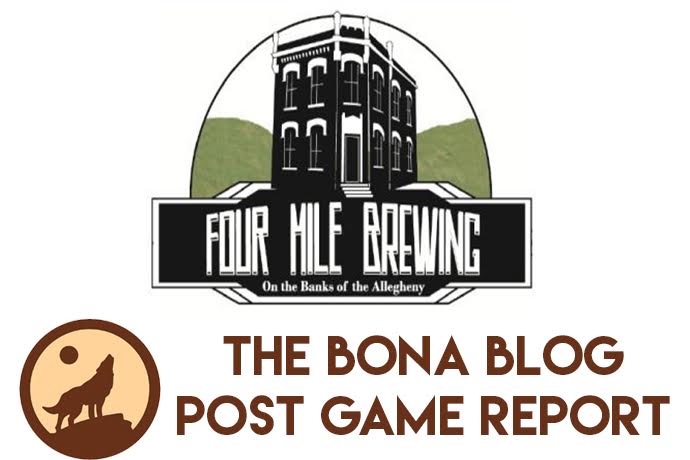 Quickly
Prior to the game tonight, Bonaventure fans read news on Twitter that Dayton's best player Charles Cooke, would not play tonight and were collectively elated. Cooke is the Flyers leading scorer and rebounder and is one of the five best players in the conference.
It seemed the Bonnies had caught a huge break and the Flyers would likely not have the fire power to keep up with Jay Adams and company. I said 74 points would win this game. What could go wrong? 
Well, basically everything.
As Archie Miller and Dayton have proven time and time again…never count them out.
Dayton used a tremendous…wait for it…three point shooting display, to torch the Bonnies all night and coasted to an easy and impressive 90-74 victory in the Reilly Center.  Dayton pinned down 14 trifectas to burn the Bonnies and quiet the crowd the entire night.
Dayton locked up Jay Adams and Matt Mobley about as well as any team can (holding them to 12-30 shooting), and showed once again why they are the cream of the crop in the A10 and why they, to be honest, own our Bonnies…no matter the rosters, injures or whatever else you can conjure up.
SBU falls to 1-1 in A10 play and now preps for a very good George Mason team on Saturday in the RC. 
For the GoBonnies.com recap, click here.
 5 Takeaways
Never Doubt Dayton. I don't know how many times I have to watch this movie to more fully appreciate Archie Miller and company. Dayton is such a well oiled machine, year in and year out. Their ball movement offensively is a thing to behold. Defensively they get after it and apply pressure to guards forcing impossible shots, long possessions and difficult passes. Whose starting? Doesn't matter. Where's the game? Doesn't matter. Dayton is truly a "True Team" and prove it every single night. This is one of those games where you just tip your cap and call them Daddy (Ala Pedro Martinez). Dayton is a far better club than us, and if you weren't sure before the game (I wasn't)…you are now. They are in a different class, like it or not.

Burned by the Three Ball Again. This one is getting very old, very fast, but Mark Schmidt's club guards the perimeter about as a well as a Hickey employee guards pass backs or the OP bouncer checks ID's. Bonas permitted the Flyers to knock down a stupid 14-23 three balls tonight. Considering Dayton was only shooting 35% on the season this effort is even more impressive. Dayton's ability to move the ball and find open shooters was truly fantastic tonight, but we all know this Bonas club has helped teams do this time and time again this year. When these games happen from a defensive standpoint, you better hope SBU is scoring close to 90 points…And in the case of the Canisius game, even 100 wasn't enough. On the flip side of things, when SBU is held down and run off the three point line Schmidt's guys are at a huge disadvantage. Credit Archie and company for taking away our guards and taking that club out of our bag. On the flip side, SBU shot 7-22 from deep; not nearly good enough tonight against white-hot and LOWD Dayton. 

Kendall Pollard is Back. The Dayton big man has suffered from injury after injury over the past few seasons, but when he's healthy he is a game changer for the Flyers. He dropped 20 on Salle in 35 minutes and torched the Bonnies tonight for 21 points on 6-8 shooting with foul trouble too boot. If Pollard is back to form and UD can add Cunningham in February and Cooke shortly, this club is my pick to win the A10. And…Pollard connected on…wait for it….3-3 from deep! He had made two all season entering tonight.

Where in the Hell is Nelson Kaputo? Listen, his presence on the floor tonight likely changes nothing. But, Kaputo came into this year as being a key cog on this team and the top back-up to Adams. Now, he's essentially a scrub who Schmidt refuses to play. I have no idea what's gone on behind closed doors (aside from his ineligibility) but Kaputo's lack of time is this season's great mystery to me. Could it be that Schmidt just needs to play Adams/Mobley 39 minutes a night? I guess…but I'll be stunned, stunned if Nelson isn't gone at year's end. Maybe that's what the staff wants but given his status coming out of HS his story is a real shame right now.

I'm Concerned. Generally speaking I won't take too much away from any one game. There is a ton of basketball to be played and 40 minutes shouldn't change your outlook on the next two months. Having said that, this game really worries me. Bonas had a golden opportunity to beat a top club in the league short their best player (and two if you count Cunningham) and not only did they not win, they got worked tonight. The three point defense has reached Defcon whatever level (I don't know what's highest) and when SBU faces a great defensive team like a URI, you feel like Adams and Mobley are going to be bottled up. Archie likely laid out the blueprint to slow our back court tonight by saying: pressure the heck out of us, stay with the ball handler on screens, make those passes hard to make and frustrate Adams at every chance. I'm not upset that we lost (though I'm not happy about it) but I am a bit concerned at the way we lost, and the way we continue to lose. Needing to make a ton of threes is a tough way to live and when you can't defend that line either….very, very tough. 
Stats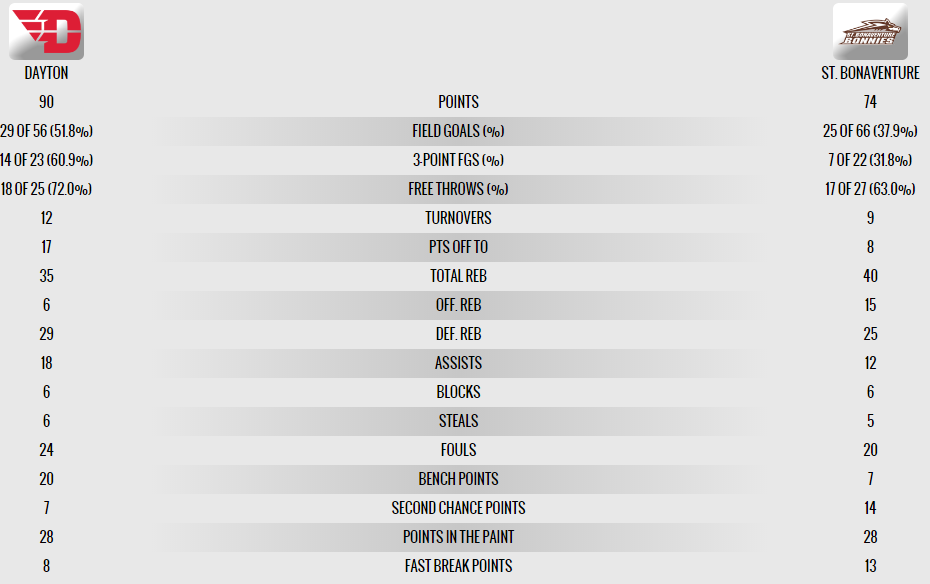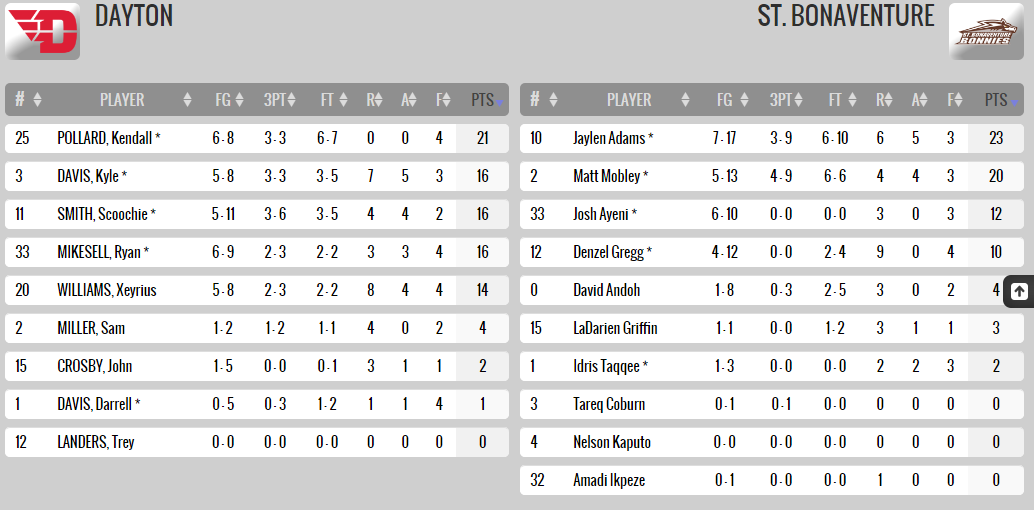 In Game Thoughts
First Half: SBU started the game missing three lay-ins in the first minute of action, two of which by Denzel Gregg. Really a frustrating start after getting some good looks from close range. Gregg would play hard, but miss a ton of these tonight. 

Josh Ayeni opened the scoring with an 18 footer; becoming his staple offensively.

Dayton's half court defense is ultra-aggressive, they really get up in guards and make all passes and cuts uncomfortable. This is the back bone of their success and has been for some time.

Bonas burned a timeout with 16:35 left having trouble in bounding the ball; not something you like to see early. 

How many fouls do the Bonnies pick up on hard hedges? Answer: A lot. Andoh got called for SBU's first foul on such a play.

SBU was late or slow on quite a few switches in the first half leading to some good UD looks.

SBU did a great job of allowing Ayeni to punish Dayton when they stayed with the ball handler on traps. His mid-range jumper is going to make him a potentially elite forward.

Considering SBU had a lead with eight left in the first half and Adams had two points and Mobley three…you had to be happy.

A 6-0 run with 6:25 left gave SBU a 23-16 lead. Fueled by three lay-ups from Taqqee, Gregg and a fast break one from Adams. High percentage shots all. This was part of an 11-2 run. (This was the high watermark for the game). 

SBU did not make a free throw until 4:11 left in the half. Not ideal for a team that shoots these so well.

Credit Denzel Gregg for getting UD into some foul trouble down low in the first half. He did great work on the interior. Still, his 3-10 shooting in the opening half was less than ideal in any world. 

Dayton took a 30-28 lead after four straight three pointers. This was a 12-3 run with a Gregg FT mixed in.

SBU trailed by four at the break 35-31 after Jay Adams missed a some-what-open lay up.

Second Half: Pollard picked up his third foul with 18:54 in the game after he converted a traditional three point play.

Dayton took an 11 point lead with 17: 36 to play after a Scoohie Smith lay-in. 

Scoohie made another fast break lay-in to make it 61-48 after stripping Adams of the ball. At this point I essentially declared the Bonnies dead in the water.

Dayton was up ten for a lot of the second half, and had Cunningham out, Cooke out and Pollard playing with foul issues the whole game. Imagine this team at full strength? 

Gregg's defensive efforts should not be forgotten. He continues to block shots and save buckets each game.

If you had Ryan Mikesell and Xeryius Williams…combined for 30 points, as this games' version of Bobby Wherli (from a previous Dayton beat-down in the RC) you win. These two spanked the Bonnies all night from inside and out. 

For anyone (including myself) who thought SBU would be a winner in this one after Cooke was called out…shame on us. We should have known better. Dayton is too well coached. I should have seen this one coming. I need to be better. 

Archie Miller has to be the league's best coach. Year after year Dayton seems to deal with injuries and other issues and they just keep trucking along. Doesn't matter how many healthy bodies they have, how many forwards they have, etc. They just show up, defend, move the ball as a team and win 20-something games year after year. I'm surprised he's still in Dayton but it's got to be only a matter of time before some P5 school gives him a ton of cash. He's done the smart thing in waiting for just the right job, but when it does come along he's going to cash in big time. 

Moment of the Game:  Let's go with Scoohcie Smith's back to back fast break lay-ins in the second half that put UD up a dozen or so points. It was at this point in the game I knew our boys didn't have a come back in them and I could start penning this piece to have it out ASAP for all our readers. I love Scoohcie, and now I never want to see him play my team again.
Up Next: SBU continues the home stand on Saturday afternoon with a tilt against a good George Mason team. Jon May will have the full preview of that one coming later in the week for you all. 
Photos courtesy of Steve Harrison Photograph. Check out his great work and amazing shots here.