PostGame: Hofstra 89 St. Bonaventure 83
The Result:  Despite some late game excitement and a push from the Bonnies fueled by Hofstra turnovers, SBU was ultimately downed by Hofstra by a score of 89-83 on Saturday afternoon in the Reilly Center and fell to 3-2. The Bonnies held a ten point advantage at times during the opening frame, and a five point lead at the break, but the second half was all Hofstra save the final minute or so where they nearly handed the Bonnies the game with turnovers. The Bonnies had a chance inside of the final minute to tie the game down three but Jay Adams hoisted an ill-advised three pointer before looking for a better shot in the possession. It was eerily similar to a mistake he made a year ago at home in a loss, but it's a mistake in game management that really cannot happen for a sophomore. The play there was to get a quick two and extend the game. Instead, Adams opted to take a deep three pointer just seconds into the shot clock. When Hofstra got the rebound the game was not fully over but it was essentially a loss. A game certainly does not come down to just one play but that play was the biggest in the game given the situation and score/time. 
Prior to that miss, SBU failed to capitalize on many Hofstra turnovers as their guards missed three pointer after three pointer.  All told, the Bonnies shot a very poor 6-26 (26%) from the field from deep. A figure that was never going to be good enough to help knock out a high scoring team like Hofstra. You knew this game was going to be played in the 80s so SBU had to shoot it well from deep to get there…especially when you consider what they have inside.
SBU struggled, especially in the second half to defend Hofstra's back-cuts and pick and rolls. Hofstra scored 52 points in the second half after scoring 37 points in the opening 20 minutes. Still, there were signs for concern in that first half as Hofstra was shooting 48% from deep. SBU was leading on the heels of some very hot shooting from Posley and Jay Adams, and did very well without the services of Dion Wright who again picked up two quick fouls and spent a majority of the half on the bench. When that shooting went cold SBU failed to keep pace with the CAA front-runners. 
This was also the first game where I felt like SBU's lack of interior size really came into play. SBU was -5 on the glass and failed to haul in a number of rebounds. Additionally, SBU did a great job on Hofstra stud Juan'ya Green but he exploded in the second half to finish with 23 points. Hofstra finished shooting 37% from three and a very impressive 85% from the line. They certainly iced the game when they needed to down the stretch from the line. 
The Difference (Team): The Bonnies' inability to take advantage of Hofstra's late turnovers. SBU had about four possessions in a row late in the second half after turnovers where they just couldn't score. Generally, this was because of poor shooting from the guards who missed 20 three pointers. Had SBU knocked down just one or two of these in the final minutes the outcome may have been different. Additionally, the Bonnies had just a pair of turnovers in the first 20 minutes but gave it away nine times in the second half; many of these late in the game include a few from Jay Adams and Nelson Kaputo. SBU needed to do much better in the final minutes of this game given their hole but failed to execute in terms of valuing the possessions and knocking down shots when they needed them. Kaputo should be given credit for his huge three late in the game however, that was a big shot that will be forgotten given the final outcome. He was solid off the bench, but his three turnovers were large, no question. 
The Difference (Player): Green of Hofstra. As Jon said in his preview Green was unquestionably the guy that made them go. He was held quite in the opening half but really got aggressive and went at the SBU defense in the second half finishing with those 23 points on 10-10 shooting from the line. He also had nine assists to just two turnovers, showing his ability to create space for those around him with his play. He is a really dynamic player who in the end helped but the Bonnies down. Since I'm in a giving mood post Thanksgiving we can also talk about a Bonnie here too. I'll go with Marcus Posley who had 22 and seven rebounds. Posley was only 2-10 from three (so after two games of hot Posley we got cold Posley tonight) he did find a way to score and contribute despite this. He made 7-19 shots overall and had four offensive boards. These are the kinds of night Mark Schmidt needs from him when he does not have his shot; which he didn't tonight. I'll also say that Jon Predicted a 86-81 Bonnies loss…so give him credit for calling this game dead on during his Recon post. Unfortunately, nice work.
The Stats: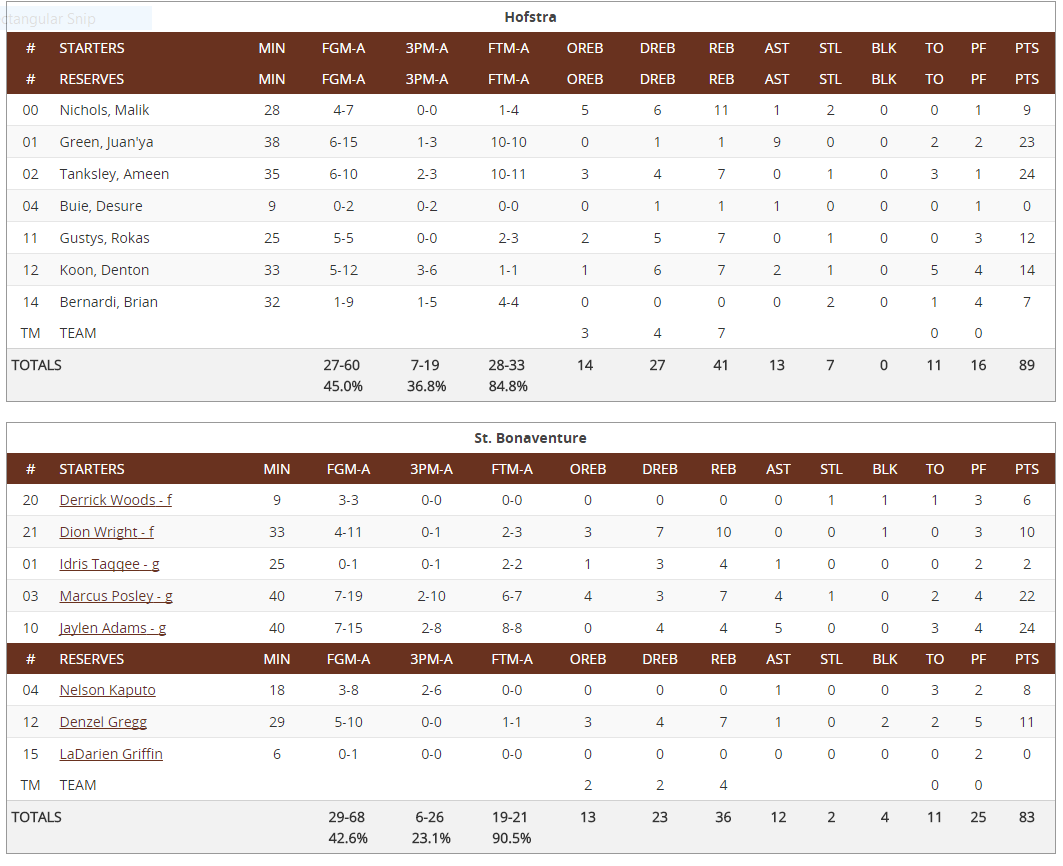 What's Next: SBU takes a few days off before going to Buffalo on Wednesday. They are 4-2 with an RPI of 142.