5 Takeaways from Hofstra Loss
The Bonnies fell to 3-2 last night after a tough loss to Hofstra. SBU tried their damnedest to steal the game late, but they also couldn't hit a big shot in the closing minutes and thus Hofstra left town with a win. Here are five takeways that I have on Sunday morning looking at a trip to Buffalo next.  
1. Where'd the D Go?
The Bonnies held Hofstra to a respectable 37 points in the opening frame but allowed them to slice and dice them for a poor 52 points in the second. While they only made 1 of 6 three pointers, Hofstra got into the lane and paint frequently and finished good possessions with good looks; many close to the tin. They moved the ball well and played unselfish basketball. What else could have contributed to their scoring outburst? How about the Bonnies jacking up 17 three pointers over the final 20 minutes compared to nine in the first half. Long shots generally lead to long rebounds and Hofstra did well on the boards. SBU's poor shot selection and inability to knock down shots certainly made life more difficult on the defensive end. Hofstra attempted 22 free throws in the second half and made 19 of them as further evidence of their increased aggression. SBU will have to win lower scoring games this year given their "hot and cold" guards and lack of interior offense so playing D like this is something they'll need to shake and fast. 
2. Swaggy Jay's Unfortunate Decision 
With the Bonnies down three with just over a minute left (I think…) and the RC crowd in a frenzy sophomore point guard Jay Adams took the ball down the floor, lined up roughly a 26 footer and launched it. It didn't go down and the Bonnies eventually lost. Adams took a very similar shot in a home game last season leading to a loss. As a freshman, you can live with it. As a sophomore he has to know better. Adams needed to get a screen and attack the rim where he can finish…or go to the line…where he can finish just as well. I wouldn't call Adams' shot "selfish" but it borders on a really low basketball IQ and it can't happen again. I'm sure Schmidt will tell him the same thing. Learn and move on. 
3. When Playing High Scoring Foes- Guards need to be Better
Nothing new here. We all know Posley-Adams need to shoot it well for us to beat decent teams, and Hofstra constitutes as just that. When SBU plays teams that likes to get up and down and score (like a Davidson) they have to have their backcourt duo firing on all cylinders. Last night the pair shot 4-18 from three. That won't cut it. SBU got "really good Posley" in their last two games but a "cold" Posley tonight at least from deep (credit him for scoring anyway for sure). But, with the limited offensive range of Idris Taqqee and others, SBU can ill afford to have their best guards be so off vs. quality foes who can score. Nelson Kaputo was 2-6 in his time off the bench. 
4. Needing Mr. Wright
For the second straight game Dion Wright picked up his second personal foul early in the game and was sent to the bench to watch for the remainder of the frame. I'll keep this one short and sweet: this cannot happen too often. SBU looks lost at times with Wright on the bench and lacks any scoring punch inside without him. Additionally, Wright is a sound defensive player who helps organize his back line despite great length and quickness. This team needs Dion Wright on the floor over 35 minutes a game. That can't happen when he picks up two fouls inside of five minutes in half number one. Even if it costs some aggression and a basket or two in the first 20 minutes, Wright needs to find a way to stay on the floor for his team..as hard as it may be.
5. What to do with Taqqee
I stole this last point from a thread posted on the Bona Bandwagon and felt it more than appropriate to post here. Taqqee's numbers through five games are simply put "very ugly". See below for factual evidence in case you need it…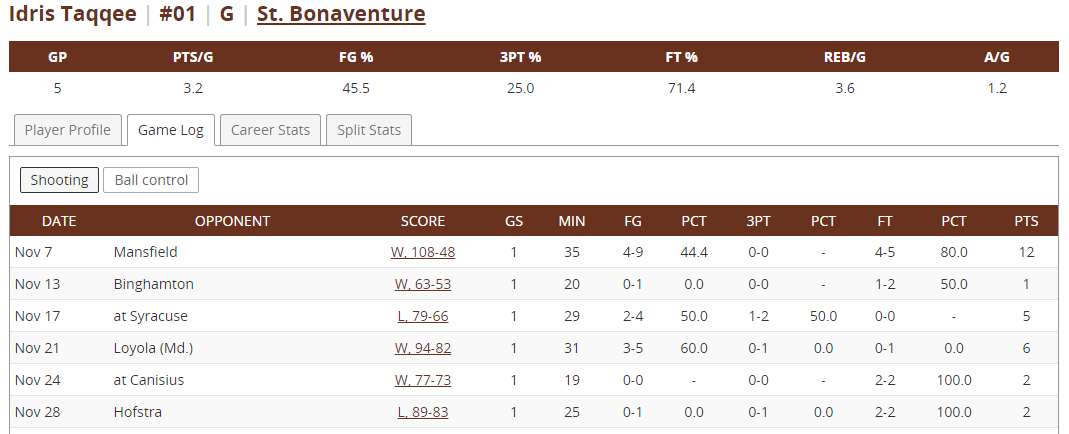 So, as someone asked: What to do? Honestly, there's really only two options. 1- He plays better. 2- Nelson Kaputo steals his minutes, and Taqqee comes off the bench for the rest of the season. With the only other substitutes being Griffin and Gregg, Schmidt has no other options. My guess is that he gives the sophomore some more time to produce before going with the Canadian. But in the meantime there's no question he has to become more of an offensive threat. Making five shots in five games is simply not acceptable for a guard. One three pointer. He's got to be better and he knows it. Unfortunately for Schmidt and fortunately for Taqqee, he's going to get a ton of minutes this season regardless of whether or not he really improves. I'd venture to guess Kaputo starts by league play.