Bonnies Say: "It's Go Time", Squeak by Billikens 65-62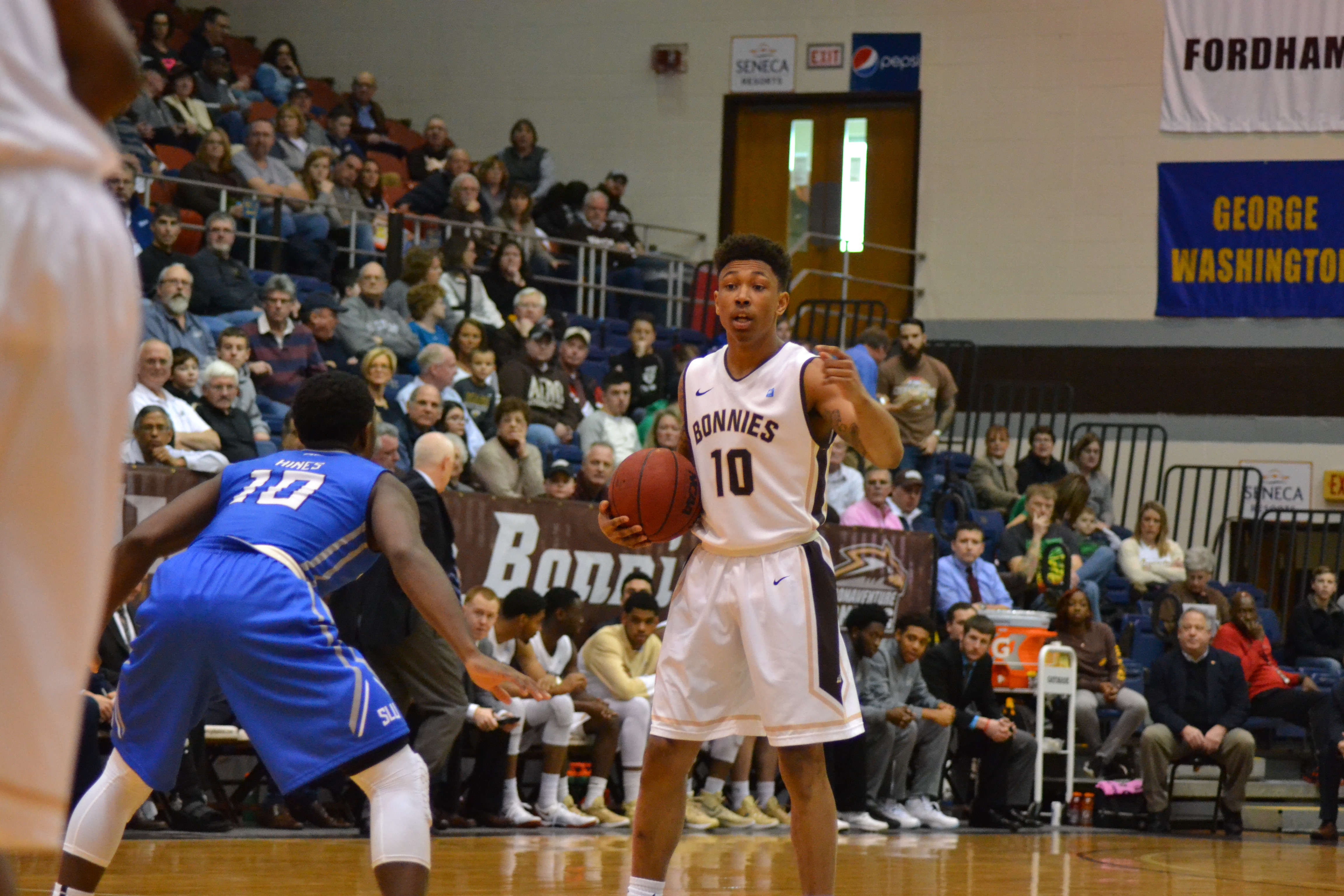 By: Cody Didas, BonaBlog Contributor
How We Got There: On what was nearly a huge letdown game, the Bonnies relied once again on the iciness within their veins to finish off the Billikens.  
Except this time, instead of Marcus Posley finishing off an opponent, it was Jay Adams. 
Following an easy bucket by Mike Crawford, the Bonnies drew up the same exact play that they used to beat a ranked VCU team, a year to the day, except this time Marcus Posley could not get past the interior big man.  He kicked to Jaylen Adams for a deep win three pointer that many of us have already re-watched over and over again. Swaggy J canned the three pointer and the Bonnies escaped the RC with a three point win, 65-62 over Saint Louis.
With the win the Bonnies improve to 15-6 on the season and have won three straight league games after losing three in a row. They are currently tied for 4th in the A10 with GW who they host on Saturday.
Right before the inbound Posley motioned to Jay, tapping on an imaginary watch, saying something along the lines of "it's go time."  In the press conference, Jay said that it is something the team has been doing for awhile this season.  It is time to find a way to win, and someone needs to make a play.
Adams finished with 16 points, 6 boards and 4 assists while MP3 tallied 15 points, 5 rebounds and 6 assists in the thrilling win.
Winning close games when you don't play particularly well is a valuable experience.  Schmidt began to hit on it in his press conference.  Three years ago, the Bonnies were Saint Louis.  A team most underestimated, so they were able to snipe a win in the league here and there.  It happened a few times, but not as often as it probably could have.  Remember, three years ago, in a very different A10, a year after winning the A10 Title, this team didn't even MAKE the tourney.  Now, they cannot let their guard down when it comes to playing lower opposition.  Anyone in this league can beat anyone, and there are no nights off.  A schedule gets "easier," but easier does not make anything a guarantee.  There are going to only become bigger and bigger games as this season goes along, and you can fall back on this game as a learning experience.
A few folks said on Twitter the team looked "disinterested", "flat" and "unprepared". I wouldn't agree with any of those (though you could say they didn't have a ton of energy from the tip), but would say they just didn't play well offensively. A few nights ago this team had their way offensively on the road vs. St. Joe's. Tonight, it was a different story, but they found a way. They scrapped, battled, played very good defense and ultimately earned the W. Those games are vastly important to the growth of a team.
This is a win that this team just had to have.  It shows them growing as a program, learning how to win ugly.  They played let's say C-, maybe C basketball and won a league game in the A10.  I know we were "supposed" to win (were 14 point favorites), but we all know that winning any league game is not as easy as rolling the balls out.  
We had to keep pace with George Washington, the goal has to be a top 4 finish and bye in Brooklyn right now.  The win will allows us to stay on ESPN's Bubble Watch tomorrow morning for now, keep our RPI position and keep pace with GW and company. All huge.
The Difference: Schmidt mentioned this as well in his press conference, but the fact that the Bonnies did not allow some pretty bad offense turn in to bad defense.  
Their defensive effort saved them today, no question. In basketball, shooting comes and goes. But defense can be a constant. Defense and effort. SLU shot 40% from the floor and 21% from three. That defense was good enough to allow SBU to hang in this game until the final shot. 
The Bonnies could have been dead in the water at the half, but instead simply treaded, and actually had the lead at the break.  
SBU chipped away in the second half, but did not lead at any point between 19:17 to 1:34.  That takes guts, smarts, and all around toughness.  Have to love seeing that SLU only shot 4-19 from deep.  AND also the ridiculous rebounding advantage of 40-29.  With an offensive rebounding advantage of 13-7.  Think of some of those offensive boards down the stretch, they lead to some key buckets that only allow us to be in the position to make that game-winning shot.
Note 1: Extremely weird to see Posley 4-7 from the line.  He went out in the second half for a little while, and Schmidt mentioned in the press conference that he has been hurting for a bit.  "Something that he is working through…" More like something to keep an eye on. Posley's deep three with 1:34 left gave the Bonnies a lead they would not relinquish and showed once again, that MP3 has huge stones. This kid loves the big moment, the big shot and he nailed that one. 
Note 2: After one of their best days taking care of the ball, in literal recent history, (Check the GoBonnies recap, no one in the SID department remembered them only having 2 turnovers in a game.) SBU tossed it over 16 times today.  That's pretty close to you "awful" territory.  Dribbling off feet (twice in a row to start the second half), just chucking it to the other team, all sorts of TOs took place today.  Credit the SLU defense, but it was a struggle today.  Posley had 6 assists (including biggest of night) to 1 TO.
The Stats:
What's Next: Bonas will be playing in a gym tinier than theirs on Wednesday night as they travel to the Bronx to take on the Fordham Rams (12-9, 3-7).  Hopefully with the NYC based Bonnies, there will be plenty of "Let's Go Bonas" to hear on TV.  Fordham is similar to the Billikens in that they cannot be taken lightly.  They have some nice players (Mandell Thomas for sure) and are not going to lay down in this league, especially at home in their bandbox.